Maple Glazed Salmon
This recipe for Maple Glazed Salmon is courtesy of Green Mountain at Fox Run, Vermont, and using Vermont pure maple syrup, is a guest favorite. Visit the Green Mountain website to print recipes of the month.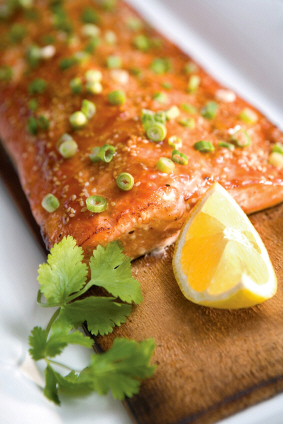 Ingredients
1/4 cup Vermont maple syrup
1 tablespoon lemon juice
2 tablespoons light soy sauce
1 teaspoon Dijon or stone-ground mustard
1/2 teaspoon finely chopped gingerroot, if desired
1 pound salmon fillet
2 tablespoons thinly sliced scallions
Method
Mix all ingredients except salmon and scallions.
Cut salmon fillet into 4 serving pieces. Place fish in shallow glass or plastic dish. Drizzle marinade over fish, reserving about 1/4 cup marinade to serve over cooked fish. Chill the fish about 30 minutes.
Heat oven to 400 degrees. Remove fish from marinade, set aside marinade. Place fish in a baking dish or on a cedar plank (available from culinary stores). Bake 15-20 minutes, until fish flakes easily with a fork.
To serve, drizzle the reserved 1/4 cup unused marinade over cooked fish. Top with scallions.
Grilled Variation: Instead of baking, place on a grill rack, cover and grill fish 5-6 inches from medium coals for about 4 minutes. Turn fish, brush with additional marinade, cover and grill another 4 minutes longer or until fish is opaque and flakes easily with a fork.
By the Numbers
Serving size:
4 oz
| Cal:
111
| Fat (g):
3
| Carbs (g):
24
| Sugar (g):
13
| Sodium (mg):
601
| Fiber (g):
1
| Protein (g):
6
| Chol (mg):
14
---
 

March 24, 2013 | Kitchens Spa Index Green Mountain at Fox Run, Seafood