Biggest Loser Fish Tacos
Season 1 contestant Gary Deckman loved these fish tacos. In his own words: "Oh boy, are these good!"   We concur.  These fish tacos are simple, fresh and  satisfying. Kids love them as well.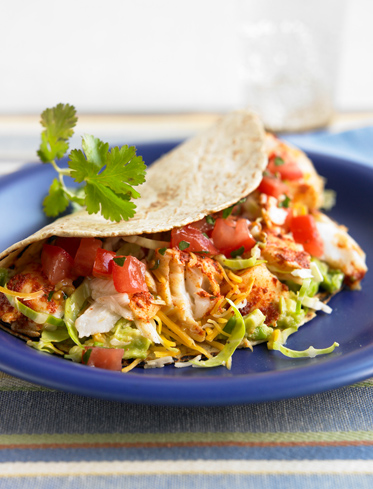 Courtesy of:
Biggest Loser Resorts
Ingredients
Fish:
1 pound orange roughy or other boneless, skinless fish fillet, such as red snapper
3 tablespoons lime juice
1/2 teaspoon paprika
1/2 teaspoon salt
1/2 teaspoon ground black pepper
1/2 teaspoon chili powder (optional)
Tacos:
8 whole grain high-fiber tortillas or stone-ground corn tortillas
1/2 avocado, diced and lightly mashed
1/3 cup shredded low-fat Mexican or pepper jack cheese
1/2 cup tomato salsa
4 tablespoons chopped fresh cilantro
1-1/2 cups finely shredded cabbage
Hot sauce (optional)
Method
Place the fish in a shallow baking dish and sprinkle with the lime juice, paprika, salt, black pepper and chili powder (if desired). Cover, refrigerate and marinate for about 30 minutes.
Preheat the grill to medium-high heat (or preheat the oven to 375¡F).
Lightly coat a 24" x 12" piece of foil with olive oil cooking spray. Place the fish in a single layer in the center of the foil. Fold the foil over and fold the ends upward to seal in the fish. Place the foil packet on the preheated grill. Cook for 7 to 10 minutes, or until the fish is opaque. Remove from the grill.
Wrap the tortillas in foil and place them on the grill to warm for 2 minutes.
Spread about 1/8th of the mashed avocado on each tortilla and top with 1/8th of the fish. Sprinkle each with cheese, salsa, cilantro, cabbage and hot sauce, if desired. Serve with glasses of ice water garnished with a slice of orange and a sprig of fresh mint.
By the Numbers
Serving size:
1
| Cal:
140
| Fat (g):
5
| Carbs (g):
13
| Sugar (g):
1
| Sodium (mg):
480
| Fiber (g):
8
| Protein (g):
18
| Chol (mg):
30
---
March 1, 2010 | Kitchens Spa Index Biggest Loser Recipes