Biggest Loser Cone-Nolis
This is a fun treat, easy and fast. We made these for the birthday party in place of cake.  Everyone gobbled them up and all were delighted with the change of pace dessert.
NBC's Biggest Loser Cone-Nolis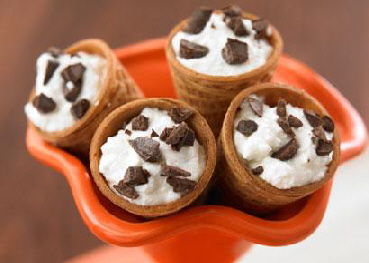 Courtesy of:
Biggest Loser Resorts
Ingredients
1 cup of all-natural low-fat ricotta cheese
1 tablespoon amaretto-flavored agave nectar
1 tablespoon natural 70% cocoa mini
dark chocolate chunks, coarsely chopped
4 naturally sweetened sugar cones (recommended: "Let's Do Organic" brand)
Method
Using a whisk, mix the ricotta, agave, and 1/2 tablespoon of the chocolate until well combined. Cover this mixture and chill it for at least an hour to allow the filling to meld flavors and chill.
Divide the ricotta mixture evenly among four cones (1/4 cup each).
Sprinkle the remaining chocolate pieces evenly over the cones.
Serve immediately.
By the Numbers
Serving size:
1
| Cal:
143
| Fat (g):
4
| Carbs (g):
18
| Sugar (g):
7
| Protein (g):
7
---
 

 

Excerpted from The Biggest Loser Dessert Cookbook by Chef Devin Alexander and the Biggest Loser Expert and and Cast, with Melissa Roberson.  NBC's BIGGEST LOSER program is conducted at the Biggest Loser Resorts, Utah

March 7, 2014 | Kitchens Spa Index Biggest Loser Recipes