Red Mountain Spa Pumpkin Mousse
Did you know that the majority of fat and calories in a slice of pumpkin pie actually comes from the crust?   If this holiday treat is one of your favorites, cut the calorie count down a few notches by whipping up this flavorful, velvety, light and airy Pumpkin Mousse, courtesy of Red Mountain Resort in Utah.
Red Mountain Pumpkin Mousse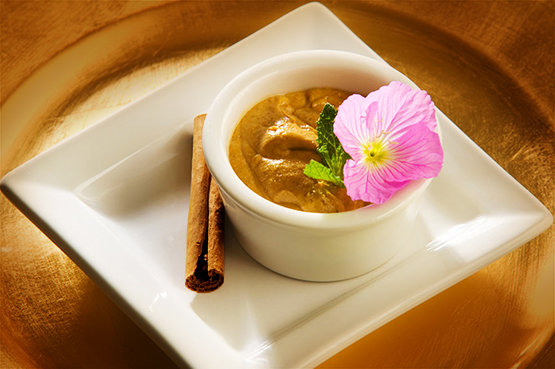 Courtesy of:
Red Mountain Resort, Utah
Ingredients
1 cup cashews unsalted raw
1/2 cup pecan pieces, raw
1 cup pumpkin puree
2 tablespoons coconut oil
1/2 cup FruitSweet (or agave syrup, maple syrup or honey)
1/2 cup water
1/4 teaspoon kosher salt
1/4 teaspoon ground allspice
1/4 teaspoon ground ginger
1/8 teaspoon cloves, ground
1 teaspoon cinnamon
Method
Combine all ingredients in blender; puree on high speed until smooth.
Use a rubber spatula or pastry bag to transfer the mixture into half cup creme brulee ramekins
Chill to refrigerator temperature.
Serve cold, garnished with a light dusting of cinnamon and a sprig of mint.
---
Few places on earth match the beauty and tranquility of the red rocks surrounding St. George, Utah. Red Mountain Resort is the perfect setting to start or renew your health and fitness goals.   Our programs  include a wide variety of fitness assessments and tools to meet your goals. However you choose to spend your time at Red Mountain, the peace and solitude of the facility, daily fitness activities, guided hiking, healthy gourmet cuisine and an array of wellness classes will set you on the path to lifelong fitness and health.
---
 

October 14, 2015 | Spa Index Pumpkin, Red Mountain Spa Recipes