Pritikin Fat Free Potato Salad
Regular potato salad is laden with mayonnaise, which does a great job of adding belly fat to your body. This Fat Free Potato Salad, created by the chefs at the Pritikin Longevity Center in Florida, is light on calories but full of rich, zesty flavor thanks to fat-free sour cream, Greek yogurt, and herbs.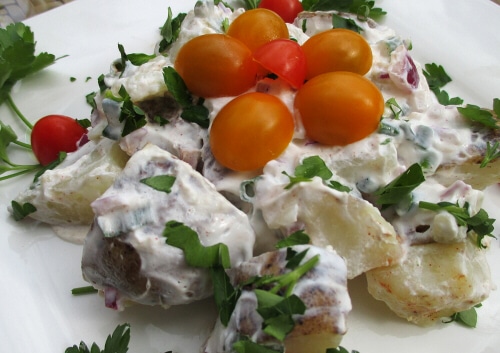 Prep time:
Cook time:
Total time:
Ingredients
3 pounds red bliss potatoes partially peeled
1 cup fat free sour cream
1/4 cup plain, fat free Greek yogurt
1/2 cup dill fresh, chopped
1/2 teaspoon black peppercorns ground
1 teaspoon Splenda
1/4 cup cider vinegar
1 teaspoon Dijon mustard low-sodium or no salt added
1 tablespoon stoneground mustard no salt added
Method
Place a large saucepan filled two-thirds with water over high heat. Cut potatoes into 1-inch pieces. Add potatoes to pan, cover, and bring to a boil. Reduce heat to medium-high; cook 5 minutes or until tender. Drain.
In a large bowl, mix remaining ingredients until well combined.
When potatoes are cool, add to bowl with dressing, gently combine, and let sit for at least 1 hour before serving.
---
 The Pritikin Program promotes weight loss but also enhances health, and powerfully so.  A stay at our all-inclusive weight loss resort, Pritikin Longevity Center in Florida, will change your life. Lose weight, get fit and return home with the tools needed to live a healthier life.
---
 

 

March 1, 2015 | Kitchens Spa Index Miami, Pritikin, Weight Loss