Gluten Free Quinoa Blueberry Muffins
Christine Denney, the chef for the Oaks at Ojai health spa in California, created these guest-favorite Quinoa Blueberry Muffins.   They are both gluten-free and dairy-free, and make for a nutritious, light and flavorful addition to the breakfast bread basket.  Serve them for breakfast or tuck them in a lunch box for school or work — they freeze well and are nicely thawed by lunch time.
Quinoa Blueberry Muffins
Make these tasty muffins for breakfast, lunch or dinner. Equally good with raspberries!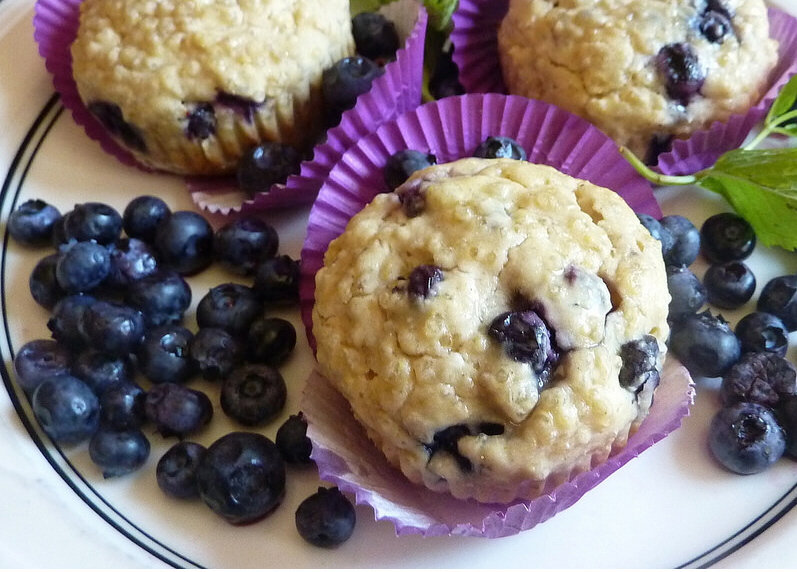 Recipes:
Breads and Muffins
Ingredients
3 cups gluten-free flour mix (such as Bob's Red Mill Gluten-Free All Purpose Baking Mix)
1 1/2 teaspoons baking powder
2 cups cooked quinoa
1/4 cup agave syrup
3/4 cup almond milk
1 egg
1 tsp. vanilla extract
1 1/2 cups blueberries
Method
Mix flour mix and baking powder together in a small bowl.
In a medium sized bowl, mix the quinoa gently with the agave, milk, egg and vanilla.
Stir in the flour blend just until blended and then fold in the blueberries.
Put 1/4 cup of the batter in each of 24 muffin cups
Bake at 350 degrees approximately 20 minutes or until top of muffin springs back when touched.
Notes

Equally good with strawberries and raspberries or diced peaches!

By the Numbers

Serving size:

1

| Cal:

120

More about the Oaks at Ojai:

The Oaks at Ojai is an all-inclusive destination spa in California, a healthy retreat offering guests a range of activity from guided hikes into the mountains, to water aerobics, to restorative yoga.    As an American Plan Spa, The Oaks provides a well-rounded calorie-conscious food plan that consists of three meals, snacks and beverages. The varied menus feature natural foods, fresh fish and poultry, locally-grown fruits and vegetables, homemade salad dressings and soups – all without a touch of additional salt or refined sugar used in the preparation.

April 19, 2016 | Spa Index Oaks at Ojai