Canyon Ranch White Bean Soup with Pesto
Both the bean soup and the pesto in this recipe can be served separately. The soup is good served cold with chopped leftover vegetables added to it and the pesto is a wonderful sauce for pasta. This simple faux pesto sauce has fewer ingredients than the recipe for Pesto Sauce in Canyon Ranch cookbooks, which also contains Miso and pine nuts. It can be served for vegan-vegetarian menus at Canyon Ranch because it does not contain cheese.
Canyon Ranch White Bean Soup with Pesto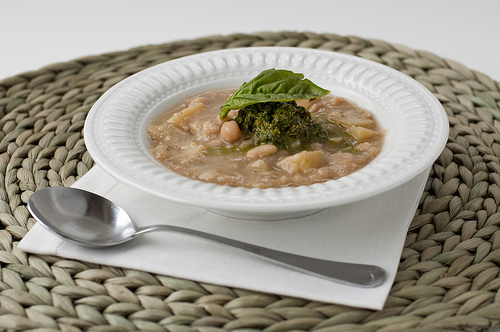 Ingredients
Soup
3/4 cup dried white beans, soaked overnight in water and drained
2 1/2 teaspoons canola oil
3 tablespoons chopped onion
1 garlic clove, chopped
1 small leek, white part only, chopped
7 cups vegetable stock
2 medium potatoes, peeled and diced (about 2 cups)
1/2 teaspoon chopped fresh thyme
1 teaspoon sodium-reduced gluten-free soy sauce
pinch freshly ground black pepper
Pesto
2 cups packed fresh basil leaves
2 garlic cloves
21/2 teaspoons extra-virgin olive oil
1 teaspoon chopped shallot
1 1/2 tablespoons water
Method
Rinse and drain the beans and set aside.
Heat the oil in a large saucepan. Add the onion, garlic, and leek and cook over medium heat until the onion is translucent, about 3 minutes, being careful not to burn it. Add the drained beans and vegetable stock to the pan and cook until the beans are tender, about 11/2 hours.
Add the potatoes, thyme, soy sauce, and pepper and continue to cook for 30 more minutes.
Meanwhile, combine the pesto ingredients in a food processor and blend until smooth. Transfer the pesto to a bowl and set aside.
Spoon 3/4 cup of the soup into a blender and puree. Pour the puree back into the pan with the remaining soup.
Ladle 1/2 cup of soup into each of 8 bowls and garnish each serving with 2 teaspoons pesto.
By the Numbers
Serving size:
1/2 cup
| Cal:
125
| Fat (g):
3
| Carbs (g):
21
| Protein (g):
5
---
 

February 25, 2014 | Spa Index Canyon Ranch