Jillian's Biggest Loser Reuben Sandwich
The typical Reuben Sandwich is a hearty two-hand two-napkin affair, served hot with corned beef, Swiss cheese, usually dripping with Russian or Thousand Island dressing, and sauerkraut. These ingredients are grilled between slices of rye bread.    A spinoff exists — the Rachel sandwich, which is a variation using pastrami instead of corned beef and coleslaw instead of sauerkraut.
Rival restaurateurs have long claimed creation of this deli special and to our knowledge there has never been definitive proof as to who we should thank for the interesting flavor profile, or, if you think about fat and calories, who we should blame.
We do have Jillian Michaels of Biggest Loser Resort fame to thank for crafting this lower-calorie but protein rich and flavorful version of this popular sandwich.  Add it to your Game Day sandwich rotation so you can enjoy a hearty sandwich but stay out of the penalty box.
Biggest Loser Reuben Sandwich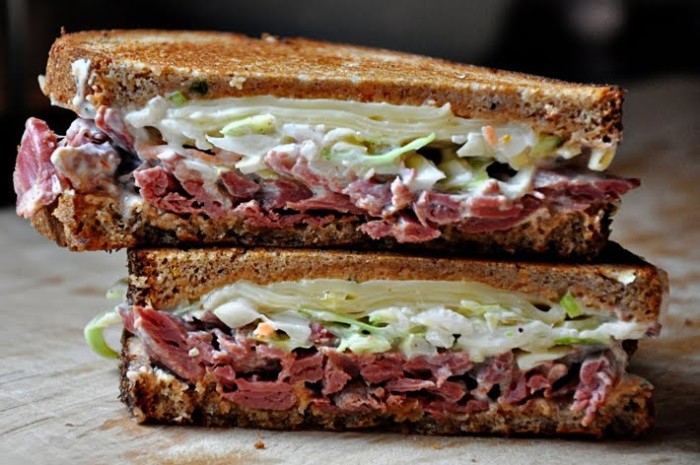 Courtesy of:
Jillian Michaels for Biggest Loser Resorts
Ingredients
I Can't Believe It's Not Butter spray
2 ounces lean corned beef (2 slices)
2 slices whole-grain rye bread
1 ounce low-fat Swiss cheese (1 slice)
1 tablespoon low-fat Thousand Island dressing
sauerkraut to taste
chopped cabbage slaw to taste
Method
Coat a skillet with butter spray.
Make a sandwich with the remaining ingredients.
Grill sandwich on both sides until cheese melts.
Notes
Optional: Open grilled sandwich and add chopped cabbage slaw dressed with low-fat yogurt, for added crunch and coolness.
By the Numbers
Serving size:
1
| Cal:
500
| Fat (g):
15g
| Carbs (g):
40g
| Sodium (mg):
322mg
| Fiber (g):
3.8g
| Protein (g):
22g
NBC's Biggest Loser program is conducted at Biggest Loser Resorts
---
 

January 28, 2015 | Kitchens Spa Index Biggest Loser Recipes