Ananda Spa Cheese Cannelloni
This vegetarian dinner entree is courtesy of Ananda Spa in the Himalayas. The executive Chef, Narenda Sharma, carefully creates recipes for guests which feature wholesome ingredients like natural cheeses, whole grains, locally sourced vegetables and hand picked herbs and spices.  In this recipe for Cheese Cannelloni, he uses an Indian type of farmers cottage cheese called "paneer" which has  a texture like firm tofu and can be sliced and pan-fried.
CHEESE CANNELLONI WITH SAFFRON AND TOMATO RAGOUT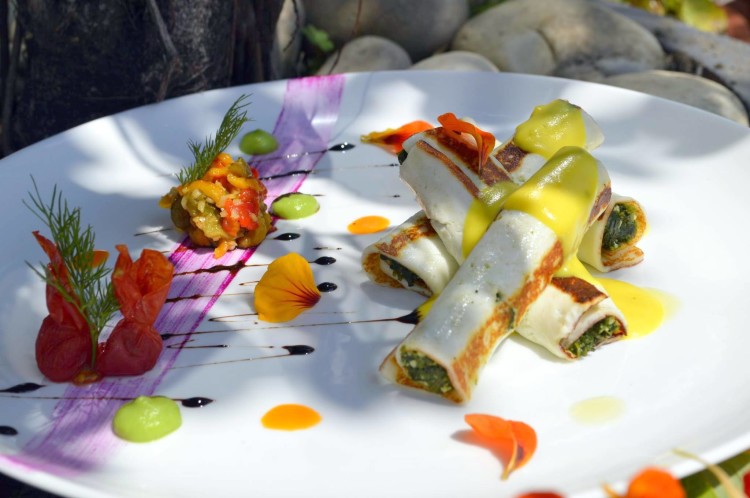 Ingredients
For the Cheese Cannelloni
Paneer Cheese (firm cottage cheese which can be sliced)
For the Filling
500 gm spinach (blanched and chopped)
01 gm nutmeg powder
05 gm onion
05 ml olive oil
05 gm garlic
Salt and pepper to taste
For the Saffron Sauce
05 gm onion
100 ml fresh cream
50 ml béchamel sauce
10 gm saffron
Salt and pepper to taste
For the Tomato Ragout
50 gm blanched tomato (peeled and diced)
50 gm peeled Italian tomato
05 gm onion
05 gm garlic
50 ml olive oil
05 gm sweet basil
Salt and pepper to taste
Method
Prepare the Filling
Clean and wash the spinach, blanch, drain properly and chop it finely.
Sauté onion and garlic in an iron pan and add spinach and seasoning.
Let it cool, add little parmesan and nutmeg powder, and adjust seasoning.
Prepare the wrappers
Slice paneer (Indian cottage cheese) very thin and sear on a hot iron pan, until it becomes soft enough to handle and roll.
Place in on a working table, add dollops of spinach filling and roll the cheese in the form of cannelloni.
Prepare the Saffron Sauce
Sauté onion and garlic in a pan.
Add little stock when it turns light golden in color.
Add cream and saffron water..add seasoning
Check the consistency of the sauce.
Serve along with cannelloni.
Prepare the Tomato Ragout
Sauté onion and garlic in a pan.
Add diced tomato and let it cook...add little salt
Add peeled Italian tomato and basil stalk for flavor
Plate the dish
Allow for 2-3 cannelloni per person
Dollop both sauces over the dish
Finish the dish with seasoning, olive oil, shredded basil leaves, and flower petals
Notes
Chef Sharma garnishes this dish with Nasturtiums flowers, which are used in herbal medicine for their antiseptic and expectorant qualities. They are said to be good for chest colds and to promote the formation of new blood cells.
---
Ananda Spa in the Himalayas is a destination spa with yoga, weight loss, wellness and stress relief packages.  The resort and spa is located in the region that gave birth to Ayurveda, the science of identifying and correcting the imbalance in  bio energies of the body.    For centuries most of the herbs used in Ayurvedic therapies have been sourced from the natural wealth of its forested foothills.  Its healing cuisine is an integral part of its wellness programs.  Executive Chef Narendra Sharma says "Ayurveda says 'what you eat is reflected in your body, mind, and action', which makes it very essential to know what is good for me and what is healthy and nutritious for my body type. Such a focus on the food groups consumed and correct cooking methods used will leave you feeling fresh and energetic rather than passive and debilitated."
---
February 5, 2016 | Spa Index Ananda Recipes, Favorites