Rancho La Puerta Strawberry and Herb Salad
Chef Dan Richer was nominated by Rancho La Puerta guests to teach at La Cocina Que Canta. When he came to The Ranch, Chef Dan offered hands-on culinary experiences where guests prepared farm-to-table dishes under his direction. Dan's clean cut and approachable teaching style kept the evening light and fun.
Dan Richer is known for his fresh assembly of succulent salads and mouth-watering pizzas at his popular New Jersey restaurants, Razza Pizza Artigianale and Arturo's Osteria & Pizzeria. He considers himself the anti-chef, trying to do less to the ingredients while allowing the meals he prepares to represent his philosophy of curating dishes of local, seasonal ingredients. Each ingredient is chosen for how its flavors influence its neighbor; they all must work together to form a tasty assembly.
Chef Dan taught us that properly preparing the salad dressing is one of the keys to making his Strawberry and Herb Salad light and delightful. The trick to the emulsification process when making the vinaigrette, he says, is to add the oil very slowly, and he means very slowly, almost drop by drop, a drizzle, to the other ingredients in the blender. Adding the oil to quickly results in a thin and watery dressing instead of a thick and delicious vinaigrette.
Strawberry and Herb Salad
A garden to table entree created by Guest Chef Dan Richer at Rancho La Puerta's La Cocina Que Canta.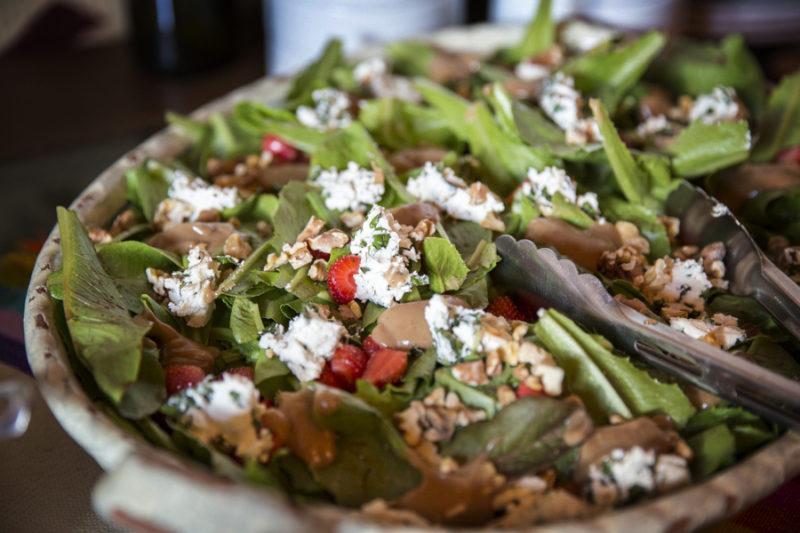 Ingredients
FOR THE SALAD
Strawberries - 3-5 per person.
Goat Cheese - 1 ounce per person
Fresh Basil - 1 bunch, finely cut
Chervil - 1 bunch, use leaves picked from stem
Tarragon - 3 sprigs, use leaves picked from stem
Black Pepper - 5 turns of a mill
Walnuts - 1 ounce or any of the freshest toasted nuts available
Baby Salad Greens - 1 loose handful per person
FOR THE BALSAMIC VINAIGRETTE
Balsamic Vinegar - 2 ounces by volume
Apple Cider Vinegar - 1 tablespoon
Honey - 1 teaspoon
Mustard - 1 teaspoon
Grape Seed Oil - 16 ounces by volume, can use any neutral oil like canola if preferred
Black Pepper - 2 turns
Salt- to taste
Method
Make the Dressing
Add the apple and balsamic vinegars, honey, and mustard to a blender or food processor.
With the machine running at mid tempo, very slowly add the grape seed oil to create an emulsion. Season with the salt and pepper.
Assemble the Salad
Gently mix the baby salad greens and tarragon, basil and chervil.
Dress lightly with the balsamic vinaigrette, tossing until each leaf of baby salad greens is gently coated.
Hull and dice strawberries, add and toss to coat.
Serve family style mixed together in a big bowl or plate each serving,
To plate, space the strawberries around the edges of salad plates and add a small spoonful of the basil goat cheese in between. Place the greens in the center of the plate. Top the greens with a few walnuts, and serve.
Notes
For a seasonal variation, try pears or apples in place of strawberries.
About:
Rancho La Puerta Destination Spa has been welcoming guests for more than 70 years, in Baja, Mexico.  Rancho La Puerta translated means "Ranch of the Door."  A Ranch vacation invites you to "open your door" to a healthier, more balanced life.
July 6, 2016 | Spa Index Favorites, Rancho La Puerta