10 Things to Do in St Louis – Spas, Fitness, Food and Fun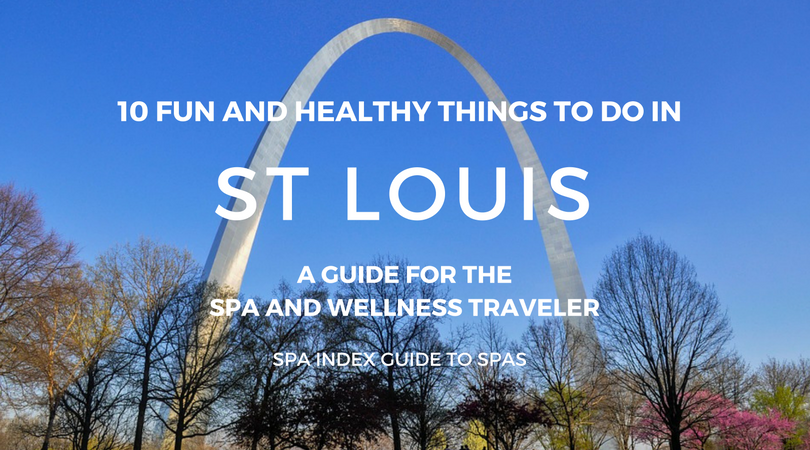 Hello from St Louis, Missouri! This Guide to St Louis Spas is courtesy of our field staff members George and Kathy, who live in Town and Country (East St Louis).  Our team is here to guide you to spas and spa hotels in the St Louis area, plus share a few bonus picks of their favorite things to do, places to shop, and things to eat, drink and savor in St Louis.
Greater St Louis is a large city so there are plenty of day spas and salons to choose from.  My personal favorite day spa is Ginger Bay in Town & Country.  It's my go-to spot for skin care and hair care.  I love the spotless environment and the sustainable Aveda products.  For a massage, I head over to MassageLuxe for a Swedish massage, while hubbie George is a fan of their Hydro-Lux massage.  He can lay fully clothed on the soft table and control the water jets which pummel in the right spots.  For a Spa Day experience with friends and visiting family, we head over to Ara Spa at the AmeriStar for their hydrotherapy circuit and champagne in the lounge.
Kathy
SUITE DEAL
St Louis, with a major convention center, has many major hotel brands to support visitors, but also boutique hotels and lodges.   This list has two places our friends and family most like to call home.
212 N. Kingshighway Blvd,  St. Louis
314-633-3000
The Chase Park Plaza is an elegant and grand hotel, built in the heyday of 1930's St Louis.  It is home to a full service Aveda Salon & Spa servicing hair, skin, nails and body, the  enormous (18,000 sq ft) Sante Wellness Center (it offers more than 40 fitness classes each week), a 5 screen movie theater, outdoor heated swimming pool, fine dining in three different restaurants, and stunning event space for weddings and receptions.
This is our 'Anniversary Home' — those weekend trips you take in your own city to get a different view, a different vibe, be pampered a little, fed a little, to celebrate a lot, and return home refreshed.
George
MARTINIS in the MOONLIGHT
6177 Delmar Boulevard, St. Louis | 314-721-1111
The Moonrise Hotel is located in The Loop, right in the middle of our shopping district.   The hotel is a blended wonder of Astro Rocket and Art Design and Contemporary Art, but manages to avoid the Camp Factor almost completely.  For that, head to the Rooftop Terrace. The Terrace Bar offers excellent skyline views of St. Louis, the Arch and The Delmar Loop. Sip a cocktail under the world's largest rotating man-made moon.
When we booked family friends into this hotel in St Louis, the husband promptly said 'I feel like I finally got my childhood wish — to live in George Jetson's world without any of the work drama.  Sophisticated George Jetson.'
George
3821 Lindell Boulevard, St Louis
The Moolah Theatre (part of STL Cinemas) captions itself "The Adult Alternative to the MegaPlex" and we couldn't agree more.  This theatre is in the renovated Moolah Temple building, built in 1913 for the Shriners.  It now hosts movie lovers of all ages.  All seats are $5.00 before 5:30 p.m., and they have discount nights for students.  See a first run film, and for your food and beverage concession?  Oh, that would be beer, wine, and cocktails from the lounge, which you can enjoy at the bar or take with you to your seat.   
Main Dr & Center Cross Drive, St. Louis, MO | 314-771-4410
On Saturday mornings, you'll find us at our favorite outdoor market, buying local produce, baked goods and cheeses.   The market is held outdoors through late November, and after that it moves to an indoor location for what it calls "the Winter Market" from December through March.  We are fond of the coconut butter spreads from My Coconut Kitchen, for jazzing up our smoothies and bagels (Exotic Sweet Orange and Tart and Toasty Cherry are our favorites), and our dogs are always grateful (well they seem to be) when we bring home biscuits from the Doggie Wanna Cookie stand.
Downtown
This neighborhood is home to two 19th-century mansions – the Lemp and the DeMenil and the Lemp Brewery (once the world's largest brewery), and a local's favorite shopping district, the Cherokee Antique Row. The Row is home to more than 30 antique and specialty galleries, shops, salons, and restaurants. The merchants cooperatively host holiday and seasonal events and sidewalk sales, and there is a free Historic Tour.  Don't miss Bohème Atelier Bohemian Workshop where owner Lala Franklin will help you pick the perfect Paris Flea Market find for your loft or a gift to take home.
120 North Ballas Road, Kirkwood | 314-822-8359
The Ebsworth Park House was designed by FLW for Russell and Ruth Kraus, and was Wright's first building in the St. Louis area (and 1 of only 5 in Missouri).   The house is one of his Usonian designs.  Wright's legendary insistence on homeowners using not only his architecture but his interior designs as well, is easily appreciated here because this home retains all of its original Wright-designed furnishings and fabrics.  The home is listed on the National Register of Historic Places and tours are available Wednesday through Sunday by appointment.
6073 Wells Road, St. Louis
Susan Park is considered one of the top 10 parks in the USA, and joins the ranks of Central Park in NY, Grant Park in Chicago, and Griffith Park in Los Angeles.  It's no wonder — there is no child (or adult) who won't love a visit to this Park, a working farm of nearly 100 acres.  Unplug the devices, take out the headphones, and visit almost every type of farm animal enjoying life.  See draft horses plow soil, sheep munching the meadows, pigs chasing one another.  Bring your permit to fish in one of the lakes stocked with bass and trout, or cross charming bridges to picnic at the edge of the kiddie pond.  Be sure to visit the playground.  Best of all — it's free.
568 S Lewis Road, Eureka | 636-938-7353
Take a drive just 20 miles outside the city to this farm and winery. It's worth it.  Claverach Farm sits on 300 acres of Ozark Hills.  The owners have been farming with organic methods for almost two decades, and has sourced its produce to local restaurants and Farmer's Markets.   It also hosts seasonal Farm Dinners in a 100 year old barn with incredible farm-to-form meals with its own herbs, produce, fruit, baked goods and more.
Head away from STL and in under 2 hours you'll be in Pickle Springs, a National Natural Landmark.  Hike a well-charted and established 2-mile trail — the Trail Through Time — past waterfalls and canyons, through fascinating rock formations and natural arches, and reach a scenic overlook.    Pack a picnic; you'll want to stay awhile and commune with the frogs and songbirds.
FIND MORE MISSOURI SPAS
Click here to browse our complete directory of Missouri Day Spas, Spa Hotels, Resorts and Retreats.
SPA DEALS
Browse our Spa Packages, Deals and Coupons to help choose your next spa-cation.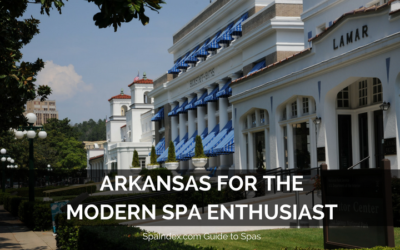 Arkansas plays an important role in our nation's spa history, and offers progressive spa and wellness resorts for a new generation of visitors.

January 1, 2017 | Spa Index City Guides, Missouri, St Louis, Top 10