Hot Springs and Mineral Springs Spas offer an on-site source of natural mineral, thermal or seawater used in hydrotherapy treatments.  The resulting benefits are the backbone of "balneotherapy", defined by the Collins English Dictionary as "the branch of medical science concerned with the therapeutic value of baths, especially those taken with natural mineral waters". Balneotherapy as a field of study is truly ancient and has been an accepted part of education in medical schools worldwide, particularly in Europe and Asia. The practice has thrived most in regions where ample water sources exist.
---
ALASKA
---
 Chena Hot Springs Resort
Fairbanks, Alaska

The resort is truly a one-of-a-kind destination whether you are interested in Aurora viewing tours, relaxing in the hot springs, enjoying an "appletini" in the Aurora Ice Museum, getting a fabulous therapeutic massage, taking dog sled or cart rides, enjoying flight-seeing tours or any of the other fabulous activities offered year-round. Come visit with us today!  Chena is a scenic 60 miles from Fairbanks.  Shuttle available.




---
ARKANSAS
---
---
 CALIFORNIA
---
Avalon Springs Eco Resort
Avalon Springs, California – Lake County
Under Construction; Target Open Date 2014

Calistoga Spa Hot Springs
Calistoga, California – Napa County
Spa services and Mineral Pools available to day guests, but certain restrictions apply.  Read more on the website.

Mercey Hot Springs
Firebaugh, California – Fresno County
Hot tubs, outdoor swimming pool, lodging, RV hookups.
Beverly Hot Springs
Los Angeles, California
Located just 10 minutes from downtown and 15 minutes from Beverly Hills lies LA's only 100% Natural Hot Springs Spa. Beverly Hot Springs offers soaking pools as well as a full menu of day spa services, massage, saunas, acupressure, beauty treatments, dining options, and more.
Harbin Hot Springs
Middletown, California – Lake County
Schedule a break from your routine at this retreat and workshop center hidden in the wine region north of Calistoga.  Enjoy natural hot spring pools, clothing-optional sunbathing, 1700 acres of hiking, daily classes, yoga, ongoing workshops, professional massage, Watsu®, and delicious vegetarian meals. Choose camping, dorms, private rooms, or cabins for overnight stays.  Day visits available. Free Catalog of workshops and events available.
Mono Hot Springs
Mono Hot Sprigs, California – Fresno County
Hot tubs, outdoor swimming pool, Hydrotherapy, Jacuzzi, massage, cabin lodging, cafe.
Desert Hot Springs
Desert Hot Springs, California – Riverside County
A small spa community in Coachella Valley near Palm Springs. Most hotels and mote offer pumped hot mineral water used in Jacuzzis and therapy swimming pools.
Carlsbad Mineral Water Spa
Carlsbad, California – San Diego County
Couples treatments and mineral baths are available in our Exotic Oriental Room. All of your treatments are done in private theme rooms and your therapist will work with you from beginning to the end with no interruption or  waiting time between  treatments providing you complete relaxation. All therapist are professionally licensed.
Sierra Hot Springs
Sierraville, California – Sierra County
New Age Retreat and Workshop Center; indoor and outdoor soaking pools; massage; lodging; camping; dining.
Vichy Hot Springs Resort and Inn
Ukiah, California – Mendocino County
Vichy Hot Springs Resort and Inn is designated as California Historical Landmark No. 980.  Established in 1854, Vichy Springs is a two hour drive north of San Francisco featuring eighteen rooms and four cottages, naturally sparkling 90º mineral baths, a communal 104º soaking pool, an Olympic size swimming pool (seasonally), therapeutic massage, herbal facials, and 700 private acres with trails and roads for walking and hiking.
Saratoga Springs Retreat Center
Upperlake, California – Lake County
This retreat specializes in exclusive use for your group or classes.  Amenities include an 8 ft x 17 ft in-ground hot mineral pool for Watsu®, hiking trails, fire pit area, labyrinths and drumming circles.  Also, a 2,000 square foot multi-purpose room with radiant heated hardwood floors, large and airy with lots of warm energy for yoga, breath work and other healing arts. Saratoga Springs Retreat Center and Conference Center is nestled in a private 260-acre pristine valley, in the beautiful rolling hills of Northern California, 2-1/2 hours north of the San Francisco Bay Area.
Wilbur Hot Springs
Wilbur Springs, California – Colusa County
A nature retreat, a mineral hot springs spa, a resort hotel.  A Sanctuary for the Self in Northern California's coastal range.  Bathe your senses and cleanse your soul in the healing magic of Wilbur Hot Springs.



---
COLORADO
---

Dunton Hot Springs
Dolores, Colorado

Neither the impossible beauty of the drive beside the West Fork of the Dolores River, the road perched above haunting beaver ponds nor the dancing light through the aspen groves prepares you for the first sight of Dunton Hot Springs. A Ghost Town so lovingly restored, so honestly weathered, nestling beneath the glistening snow fields of the San Juan peaks.
Box Canyon Lodge & Hot Springs  – Ouray, Colorado
Box Canyon Lodge is one of Ouray's most popular inns. All four seasons offer a variety of activities for Box Canyon Lodge guests, so visitors find themselves returning frequently to enjoy the relaxing, quiet atmosphere year-round. The Lodge is well situated in a peaceful location away from the noise of highway traffic but within easy walking distance of all the shops and restaurants.  Several 135 to 155-degree Sulphur-free hot springs surface on our property and revitalizing in the hot springs water is enjoyed by guests year-round. Terraced on the mountainside, our outdoor redwood spas (at 103 to 108 degrees) are situated so you can enjoy the mineral hot springs and the spectacular 360-degree views of the mountains surrounding Ouray. Other amenities include freshly brewed coffee in the lobby each morning, direct dial phones and televisions in all rooms, and premium movies available at no extra charge.
Cottonwood Hot Springs and Spa – Buena Vista, Colorado
Historic Hot Spring; three soaking pools; massage, dining, lodging.
Hot Sulphur Springs Spa – Hot Sulphur Springs, Colorado
We are known as one of the nation's oldest, largest and finest natural hot mineral springs resort and spa. Come visit, relax, and enjoy the sacred waters where the Ute Indians once bathed, healed mind, body, and spirit.
Indian Springs Resort - Idaho Springs, Colorado
Full service, historic resort; cave baths, soaking pools, swimming pool, Jacuzzi, massage, spa treatments, mud baths, dining, camping, lodging.
Mt. Princeton Hot Spring -  Nathrop, Colorado
Modern hot spring; indoor soaking tubs; outdoor swimming pools; water slide; lodging; dining; picnic areas.
Waunita Hot Springs Ranch -   Gunnison, Colorado
At Waunita Hot Springs Ranch, we've been providing guests with "the best weeks of their year" for over 40 years. Maybe it's the ranch itself. Located high up in the Colorado Rockies and surrounded by Gunnison National Forest land and summer pasture, we provide a relaxing, laid back atmosphere for you, your family and your friends.  Maybe it's the water!  We are blessed with an almost unlimited supply of crystal clear hot springs water…about 300,000 gallons a day. That means you can use all the hot water you wish and never be concerned about running out. Our swimming pool feels like a warm bath – 95 degrees most of the time – the favorite gathering spot after the evening's activities. And the pool is huge by comparison. The generous supply of hot water also means there's plenty for keeping the lodges cozy and warm.
Yampah Hot Springs and Vapor Caves – Glenwood Springs, Colorado
The Yampah Spa & Vapor Caves are natural underground steam baths located in the historic hot springs mountain retreat of Glenwood Springs, Colorado. Hot mineral waters flow through the cave floors at 125 degrees F. to create our natural geothermal steam baths. In addition to the Vapor Caves, we now offer a full range of contemporary health and beauty treatments: massage, facials, herbal body treatments, private hot mineral baths and salon services. Yampah Spa Vapor Caves are easily accessible from Interstate 70, Colorado's major east-west thoroughfare. We're located just east of the Hot Springs Lodge and Pool complex. Glenwood Springs is a scenic 3 hour drive from Denver and Boulder along all-weather highways. We are only 1 hour from Aspen or Vail and 1 1/2 hours from Grand Junction.



---
IDAHO
---
Idaho Rocky Mountain Ranch
Stanley, Idaho

Our Ranch location was chosen in the 1920s largely because of an active natural hot springs which could be fed directly into a swimming pool, providing a soothing, "therapeutic" swim and soak experience. Today, this authentic natural hot spring-fed pool is as it was when it was originally built. The swimming pool, with decking area and lounge chairs, is a perfect place to pass the many sunny afternoons at the Ranch, or refresh after an invigorating hike or bike, and it provides an incomparable moon rise and star gazing experience.
Lava Hot Springs
Lava Hot Springs, ID
Bubbling out of natural underground springs, the hot water is laden with minerals, but has no sulfur and therefore no bad odor.  Over 3 million gallons a day course through the springs and are diverted into the Portneuf River keeping the springs ever changing and clean. The spring's temperatures range from approximately 102 to 112 degrees. Visit our Massage Center for pure, natural relaxation available to complete your Hot Pool experience.



---
ILLINOIS
---
Original Springs Hotel and Spa
Okawville, Illinois
The Original Springs Hotel has thirty six guestrooms, and indoor heated mineral water swimming pool, and a game room area. Our guestrooms are a mix of respect of our past and enjoyment of today's comfort. Some guest rooms do have telephones. Most of the guest rooms enjoy the privacy of no telephone; there is someone at the Front Desk twenty-four hours a day to take messages for you. Wireless internet is available throughout the hotel. We have several hotel packages that include Room, Spa, and the Restaurant.


---
MONTANA
---
Boulder Hot Springs Inn and Spa 
Boulder, Montana

Boulder Hot Springs Inn and Spa has a variety of beautiful, comfortable and home-like Bed & Breakfast rooms.   All have bathrooms and are spacious and well-appointed with breathtaking views of the magnificent Montana wilderness.   Our B&B rooms come complete with a hearty, satisfying, nutritious breakfast prepared for each guest according to her/his needs and desires. We use only natural fiber sheets, towels, bath sheets, and spa robes are used. Our room rates also include use of our pools and spa.   The natural geothermal mineral baths and steam rooms are an important part of the spa facilities at Boulder Hot Springs Inn and Spa.   In addition we offer massages, healthy outdoor exercise, nutritious food to meet individual needs, and a natural environment of healing.



---
NEVADA
---
Steamboat Hot Springs
Reno, Nevada

Steamboat Hot Springs is a historic landmark located about seven miles south of Reno, Nevada on Route 395 on the way to Carson City.  Steamboat Hot Springs offers hydrotherapy in combination with sound, color, light, and massage therapy, creating a comprehensive system that promotes health and healing. Our talented staff is committed to searching out and incorporating some of the world's most innovative and effective techniques and technologies for health and rejuvenation. Visitors are welcome year-round to experience these wonderful healing mineral waters and therapies.



---
NEW MEXICO
---
Artesian Bath House and RV Park
Truth or Consequences, New Mexico 
575-894-2684
The Artesian Bath House and RV Park has been owned and operated for the past ten years by Eleanor Martin. Guests are offered five individual and three double-occupancy tubs. Massages are available by appointment.  The baths and RV Park are open daily except for Wednesdays.
Blackstone Hotsprings
Truth or Consequences, New Mexico
Blackstone Hotsprings is located in the historic downtown hot spring district of Truth or Consequences, New Mexico.  Our lodging guests enjoy newly remodeled luxury accommodations, with a custom tub for unlimited private soaking in each lodging room.  Both Lodging guests and walk-in bathers can use our spa – The Wet Room – a tropical paradise, with water features flowing from the hotspring for soaking, steaming, showering and massage. Two historic baths are available.
Charles Motel and Spa
Truth or Consequences, New Mexico
Characteristic 1940′s style motel and mineral bath house. Built specifically as a healing center, current spa services include massage therapy, reflexology, holistic healing, Ayurvedic consultation, wraps and 112 °F mineral baths.  Twenty remodeled apartment-style motel units, nine private individual drain and fill soaking tubs with both hot and cold water. Group tub on the roof. Massage therapy and spa service available.
Fire Water Lodge
Truth or Consequences, New Mexico
Decorated in a Santa Fe style, reminiscent of old New Mexico, the rooms at Fire Water Lodge are New Mexian with saltillo tiled floors and adobe walls, and handmade furnishings by local artisans. The Lodge offers three rooms including the Waterfall Room with a private hot mineral bath.  Hot mineral tubs are the main feature in each room. The temperatures of the water are approximately 104 to 109 degrees. The Lodge is situated on top of a very hot geothermal aquifer known for its high percentage of healing minerals without the unpleasant odor of sulfur. The water is crystal clear.    Each room rate includes a full breakfast for two and unlimited mineral bathing.   Hourly rate available for day guests, and massage by appointment.
Hay-Yo-Kay Hot Springs and Artesian Hot Mineral Water Bath House
Truth or Consequences, NM

Hay-Yo-Kay Hot Springs, originally known as Hot Springs Bath House, was constructed in 1920 and has been owned by the same family since the early 1970′s.  We are the oldest, continuously operating bath house in town.  Our facility features six (6) private pools of hot mineral water, each fed by its own artesian spring.  Water temperatures range from @98 degrees F to 108 degrees F (104 degrees F = 40 degrees C). Our mineral water is some of the most heavily mineralized water in the United States at approximately 2541 parts per million of total dissolved solids.
La Paloma Hot Springs & Spa
Truth or Consequences, New Mexico

La Paloma is located in the historical district of Truth or Consequences. We operate one of the three bath houses that provide private soaking in free flowing pools. Our water flows up directly from the source through the ground into our five rock-bottomed pools. No pumping or pipes are necessary!  Formerly called "Marshall Hot Springs," La Palomas was the first car park in T or C. The rooms were constructed for housing for the workers building the dam at Elephant Butte Lake. The dam was completed in 1922 and the "cabins" were then moved to the present site. Continuing renovation and upgrades have been made over the years to provide a comfortable homey setting for guests.
The Pelican Spa
Truth or Consequences, New Mexico

Featuring affordable overnight lodging at several great locations, including rooms, apartments and a loft, some with private mineral baths and others adjacent to mineral spa bath. The Pelican Spa is within easy walking distance to T or C's downtown galleries, restaurants and shops.
Riverbend Hot Springs
Truth or Consequences, New Mexico

Located in the historic town of Truth or Consequences and near Spaceport America, Riverbend is an affordable, smoke free, hot springs spa, where our guests can relax in a beautiful, laid back environment. Riverbend is one of the best hot springs in the southwest for its clean, comfortable pools and its unmatched views of the Rio Grande river and Turtleback mountain.  Come soak by the hour, day, or stay the night in one of our quaint, affordable non-smoking accommodations and soak for free. Choose from our various public pools or rent your own riverside private pool.
Sierra Grande Lodge & Spa
Truth or Consequences, New Mexico

Sierra Grande Lodge & Spa offers New Mexico travel at its finest. The Hotel at Sierra Grande provides a relaxing New Mexico vacation destination with rustic charm and timeless elegance infused into each room.  The Spa offers visitors the finest holistic spa treatments designed to melt away stress and tension.   The ancient restorative private Hot Springs honor the legendary healing traditions first established by the region's Native Americans.  Mineral baths are included in room rates.  Day guests are welcome to visit for a modest fee.
Giggling Springs
Jemez Springs, New Mexico
The property and hot springs pool are located along the Jemez River (a natural "cold plunge"), in Jemez Springs, New Mexico. The property is the site of the oldest bath house in the area, which was built sometime in the mid to late 1800′s.  No lodging available, but day guests welcome. A wonderful place to relax in a hammock near the river with a good book, and if you get hungry, there are restaurants within walking distance.
Jemez Springs Bath House
Jemez Springs, New Mexico
Reflecting the tranquility of the Jemez Valley by nurturing the health and well-being of mind, body and spirit. Escape to the Jemez to relax, unwind and rejuvenate with natural mineral soaks and therapeutic massage!   The Jemez Springs Bath House is owned and operated by the Village of Jemez Springs, and offers mineral soaks and healing massage by licensed therapists in private treatment rooms.



---
NEW YORK
---
Spa Castle
College Point, New York
Your escape from the ordinary begins at Spa Castle, five stories high and 100,000 square feet of luxurious serenity. Spa Castle is the perfect combination of traditional Asian saunas and luxurious European spas.   In consultation with overseas experts, we created numerous innovative spa and sauna systems never seen before in the United States. From invigorating massages to savory cuisine, our high-quality facilities and services are designed to promote the health and well-being of our clients. Modeled after traditional Asian and European bathing houses, there are four different heated mineral pools in the center of the indoor spa. The dry and wet sauna rooms cleanse pores and helps rid the body of minor aches and pains.
Gideon Putnam Hotel – Saratoga Springs, New York
Gideon Putnam Resort combines historic character with exceptional service and modern facilities for the ideal Saratoga Springs spa vacation. Roosevelt Baths & Spa  offers mineral baths, with each bath is set up for individual use.  Our Saratoga Springs hydrotherapy spa staff has been trained to draw the mineral baths to the proper temperature (97-100 degrees) by adding a minimal amount of hot, fresh water to the natural, cold mineral water. Any deviation may cause dizziness and excessive perspiration.  Offered individually for 40 minutes or before any treatment for 20 minutes, guests are encouraged to relax and experience this legendary Upstate New York hydrotherapy at their leisure. For those who simply cannot get enough, you may enroll in our "Frequent Bather" program. This unique program allows guests to receive every eighth bath for free.  Read a blogger's 2010 review with photographs
Saratoga Turf and Spa Motel
Saratoga Springs, New York
We invite you into the unique environment of our mineral spa. Explore the healing minerals of Saratoga water while luxuriating in the soothing heat of our hot tubs. No matter what the season, you will be surrounded by the warmth of its rustic setting.



---
NORTH CAROLINA
---
Broadwing Farm Cabins
Hot Springs, North Carolina

The naturally warm mineral water at Broadwing Farm is drawn from a well deep below the valley and comes up at 85 degrees.  We fill private hot tubs at each of our cabins with fresh, warm mineral water,  setting the temperature control to  101 degrees. You may adjust the temperature to your liking. Each of our tubs is private, surrounded only by pine trees for relaxing soaks under the stars.
Hot Springs Spa & Resort
Hot Springs, North Carolina
Come to where Mother Nature waved her magical wand and created one of the most natural of all wonders, Natural Hot Mineral Waters. Heated deep within the earth, these crystal clear carbonated waters are world famous for their mineral content and legendary healing powers.



---
OREGON
---
Bagby Hot Springs
Mt. Hood National Forest, Oregon

Bagby Hot Springs is managed by the USDA Forest Service.  Bagby Hot Springs are open for 24 hour use. The waiting time for a soaking tub varies depending upon the number of people visiting the hot springs at any given time. Summer weekends and holidays can be quite busy.  There are three bath houses at the site. The main bathhouse has five cedar log tubs each in a private room. The lower bathhouse has three log tubs and a large round tub located on an open deck. The upper bathhouse is located approximately 100 yards from the other two bathhouses. It has one large round tub on an open deck.
Lithia Springs Resort
Ashland, Oregon

Deep beneath the lawns and gardens of the Lithia Springs bubbles Ashland's hot springs, unique hot mineral water reminiscent of the soft mineral waters of Europe. While thewater at Lithia Springs Resort is naturally highly alkaline, it also has a high level of positive ions. Relax and enjoy a good soak in what the Indians considered "holy water."
Breitenbush Hot Springs
Detroit, Oregon

Nestled in the beautiful Oregon Cascade Mountains, Breitenbush Hot Springs is a retreat and conference center you will want to return to over and over. Whether you come for the healing waters of our sauna and hot tubs, a Personal Retreat, to take a Workshop, to enjoy one of our Daily Well Being Programs, or simply to experience the peace of one of the last areas of Old Growth Forest, you will be amazed to discover how good you can feel in this quiet and beautiful setting. Leave your troubles at the gate and come to relax. No one visits Breitenbush just once!



---
PENNSYLVANIA
---
Omni Bedford Springs Resort
Bedford, Pennsylvania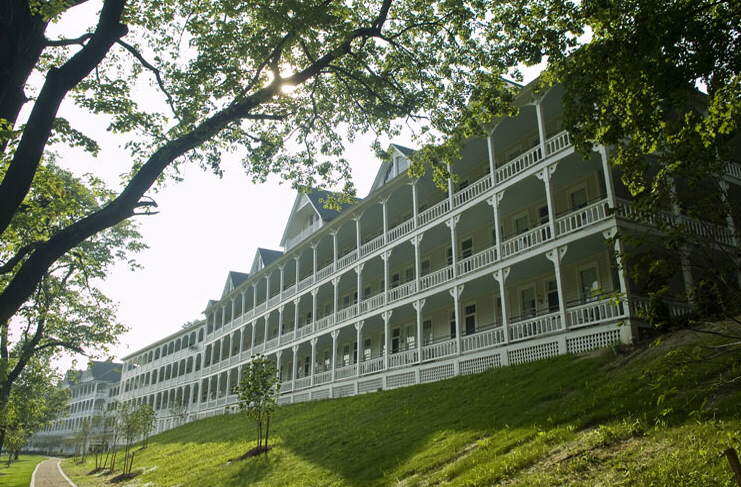 For spa enthusiasts, Springs Eternal Spa at the Omni, a 30,000-square-foot full service spa, is one of the few spas in the country utilizing natural spring water in all of its treatments. The spa's treatments are inspired by the resort's eight mineral springs, first used by the local Native Americans for their healing properties.



---
SOUTH DAKOTA
---
Evan's Plunge 
Hot Springs, South Dakota
Try our waterslides or relax in our gigantic pool filled with rejuvenating naturally warm mineral water (87 degrees F). This sparkling spring water flows from an enormous thermal spring at a rate of 5000 gallons a minute. The therapeutic "healing" water has soothed visitors for over one hundred years. Today it's no different, only with more excitement available with three Waterslides, Tarzan Rings, Fun Tubes, Kids Pools and a full service Health Club. Enjoy some quality time with your family at Evans Plunge, it will make everyone feel younger



---
TEXAS
---
Chinati Bath House
El Paso, Texas
An oasis nestled deep in the Chinati Mountains of West Texas, The Chinati Hot Springs offers its visitors a one-of-a-kind experience. Opened in the 1930's by the Kingston family and once owned by renowned minimalist artist Donald Judd, the natural spring has provided healing waters to the indigenous people of the area for thousands of years. Today, the Springs offer a peaceful atmosphere for people to relieve themselves of the stresses of everyday life and discover the restorative waters that have made this area so magical.



---
UTAH
---
Homestead Resort Spa
Midway, Utah

Tucked away in the majestic Wasatch Mountains, the Homestead Resort Spa offers a charming alternative to traditional Park City resorts and Utah spa resorts. This four-season resort hotel is set in the heart of "Utah's Alps," offering charming accommodations, spa services, and numerous outdoor recreational activities, including the Homestead Crater, where you can swim, snorkel, scuba dive, or take a warm mineral bath inside a 55-foot limestone cavern.
Mystic Hot Springs
Monroe, Utah

Natural hot springs. Soothing soaking, grassy tent campsites, pioneer cabins, tropical fish ponds, hiking, biking and more! We take pride in keeping our facility clean and safe. We clean the pools once per week and the bathtubs every day.We want everyone to feel welcome at Mystic. We don't allow alcohol, nudity, glass containers of any kind, or any illegal activities in the hot springs or any public area. We love animals. Dogs are welcome as long as they are well-behaved, except up around the soaking pools. We appreciate responsible dog owners who clean up after their pets.



---
WASHINGTON
---
Doe Bay Resort
Orcas Island, Washington

Some say Doe Bay is Magical. We make no such claim but we are a relaxing waterfront resort on over thirty-eight acres on Orcas Island in the San Juan Islands, with houses, rustic cabins, yurts, a hostel and campsites available for your enjoyment. Relax, Dream, Meditate.  Enjoy our solitude or time with your friends.  Hike our hills and walk our beaches and end your day in the Doe Bay Spa.  Soak in our mineral water tubs.  The springs at our resort are piped from the beach into two tubs on a deck. A third is used as a "cold plunge" tub and there is also a sauna.  The Doe Bay Café and the Doe Bay Garden create gourmet healthy fresh meals that are getting national attention.



---
WEST VIRGINIA
---
---
WYOMING
---
Thermopolis
Thermopolis, Wyoming
Thermopolis is home to the World's largest mineral hot spring. Swim, soak or slide into adventure at one of our spas, filled with the healing waters of the mineral hot spring. Spas feature indoor and outdoor pools, relaxing sauna and steam rooms and huge water slides for the kids.  Visit Hot Springs State Park where the minerals have created the beautiful Rainbow Terraces and other natural wonders. A Buffalo herd in the park bring to life visions of an old west frontier where Butch Cassidy and The Sundance Kid made Thermopolis a regular stop.
Saratoga Resort & Spa
Saratoga, Wyoming

Take a dip in the Saratoga Resort & Spa's healing mineral hot springs. The incredible high mineral content and no sulphur odor ranks these springs with the world famous German springs.
---
OUTSIDE OF THE UNITED STATES
---
The natural thermal waters, hot springs and mineral springs in Canada and Europe are abundant.  We've selected a few for this guide, but don't miss browsing our Canadian and European Spas Guide by using the  navigation menu from our home page.
Ainsworth Hot Springs
British Columbia, Canada

The springs originate in the Cody Caves area, which is directly above and to the west of Ainsworth Hot Springs. The water works its way down through porous rock to a depth of 1-1/2 to 2 km. The water picks up temperature at a rate of 40C per km down until it strikes what is known as the Lakeshore Fault.


Temple Gardens Mineral Spa Resort
Saskatchewan, Canada

Located in historic downtown Moose Jaw, Saskatchewan, Temple Gardens features Canada's largest therapeutic Geo-Thermal Mineral Water indoor/outdoor rooftop pool, a Leading Spas of Canada treatment facility, and an array of relaxing hotel guestrooms and suites which include signature terry cloth robes for use during your stay, and free High-speed wireless Internet. Sun Tree Spa is named after the Sun Tree that was built by local Moose Jaw artists, saved from demolition, and moved to its current home at Temple Gardens in 2002.


Natur-Med Hot Springs and Health Resort
Aegean Coast, Turkey

The resort has both indoor and outdoor thermal pools, an outdoor swimming pool, a pool for children, Infrared Medical Saunas and a Turkish Bath (Hamam). All these features constitute the crucial elements for climatotherapy. Guests are served in a natural environment surrounded by the sea and thermal waters. Natur-Med is a distinguished health resort looking forward to welcoming you on your destination spa journey.