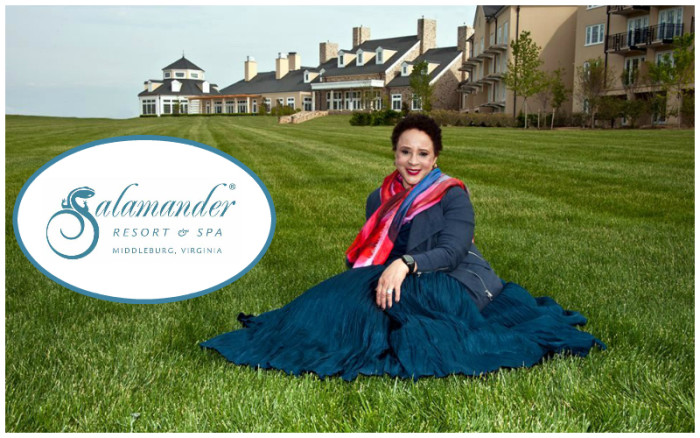 Sheila C. Johnson's vision for the former horse farm of renowned Washington D.C. socialite Pamela Harriman was to create a country estate that incorporates uncompromising quality, sustainable practices and healthy lifestyles to benefit resort guests and the Middleburg community alike. The Salamander Resort is a LEED Certified resort with fine dining, spa and wellness services, equestrian programs, culinary classes and programs for couples, families, and groups.
Did you know? Spa Index Guide to Spas was the first popular and mainstream spa directory to recognize the need and offer a guide to Black Owned Spas and Salons to enable our readers and visitors to find experts in ethnic skin care and hair care services!   
Symmetry MedSpa
Obelisk Healthcare
4705 Woodmere Blvd.
Montgomery, AL  36106
334-558-0262
D'Livro L. Beauchamp, MD is a Board-Certified Physician of Urgent Care Medicine. Dr. Beauchamp earned a Doctor of Medicine from Howard University College of Medicine in Washington, DC. He performed General Surgery Residency Training at Howard University Hospital in Washington, DC. Dr. Beauchamp has a special interest in aesthetic medicine and anti-aging medicine.
Gigi's Mind Body & Soul
1130 E. Missouri Ave, Suite 580
Phoenix, AZ 85014
602-441-2279
Gigi's was founded by Germaine Abraham-Leveen in 2009. Gigi's strive to bring you the best current treatment methods customized to your specific skin type For the past 4 years, Gigi's personal mission has been to provide clients with the most professional and relaxing experience. The Day Spa services all your skin care needs from head-to-toe. Gigi's believe in providing a "personal touch" to each client that give a sense of individuality in resolving their skin care concerns.
Delord Clinical Skincare
Traci Williams, Ph. D., L.E
Beverly Hills, CA
310-273-8751
Since the start of her esthetician career, Traci Williams, Ph.D., Integrative Esthetician, Beverly Hills Facialist, has been on the cutting edge of esthetics, as she developed the Alternative Acne Therapy and Medical Esthetician training protocols in 1990. After studying Health Science at a local university she also received her holistic nutrition degree's through Clayton College of Natural Health.
Lady Dee's Day Spa
155 S. Robertson Boulevard
Beverly Hills, CA
310-659-7082
We have a unique approach to skincare which delivers the best results in a very short period of time. During your initial visit to our studio, you will be seen by a para-medical esthetician who will provide an in-depth analysis of your skin, addressing your specific concerns. Your skincare program will have two distinct stages. The first is to achieve the desired results, and the second is to maintain those results.
Le Skintique Day Spa and Beauty Salon
1620 Centinela Avenue, Suite 302
Inglewood, CA 90302
310-337-9555
Full service salon and day spa for women and men.  Skin care,  body rituals, make overs, waxing, complete ethnic natural and synthetic hair care, men's grooming.  Call for an appointment now and receive a free skin analysis and complimentary samples of products.
JoJuDa's Salon and Day Spa
18526 Devonshire Street
Northridge, CA
818-718-0000
We offer a wide selection of professional services including styling, cutting, color, weaves / extensions, braids, makeup application, brow shaping, nail care, facials, massage therapy and more.
Nailphoria Day Spa
1212 Broadway, Suite 910
Oakland, CA
510-893-2181
Manicures, Pedicures, Skin Care for Men and Women, Waxing, Eyelash Enhancements, Brow and Lash Tinting, Massage, Herbal Foot Soaks with Massage, Spa Parties, Mobile Services Available for your Special Events.
Violet J Spa & Wellness
1345 Lincoln Avenue
San Jose, CA
408-297-4899
Violet Johnson, PhD developed a spa menu to reflect her background as a nurse midwife and psychologist and her skill as an acclaimed esthetics professional. Violet is also a leading expert in the unique issues of multi-ethnic skins, including pigmentation problems, sensitivity and acne.
Essenza Medi Spa
125 Mall Drive #201
Hanford, CA
Dr. Edythe Woodruff Stewart is the Medical Director for Essenza Medi Spa.  Dr. Stewart attended medical school at the University Alabama-Birmingham.  Always one devoted to the health and well-being of all people, her most recent endeavor is to heal not just the body, but to raise the self-esteem of both men and women in the Central Valley.   She has a full staff of Registered Nurses, licensed Aestheticians, and certified Massage Therapists who are all qualified to help you look and feel your best.
Francine's Salon and Day Spa
3 Barnard Lane
Bloomfield, CT 06002
860-242-6500
Francine Austin is the proud owner of Francine's Salon and Day Spa, the first African American Salon & Day Spa in Hartford County, located in Bloomfield, Connecticut for over a decade. She is a 20 year plus veteran of the cosmetology industry were she utilizes her passion to inspire others to embrace their outward appearance, but more importantly their inner beauty.
Beautiful Spirit Salon & Spa
166 South DuPont Hway
New Castle, DE
302-287-3582
Bernadette Johns is a licensed beautician and cosmetologist providing the best hair care using quality products.  Offering natural hair and weaves, braids, scalp treatments, manicures, pedicures, lash extensions and facials.
Edward's Wellness & Skin Care
1608 Marsh Road
Wilmington, DE
302-479-9399
Thelma Carole Edwards is a Licensed Aesthetician (Skin Care Therapist), Certified Massage Technician (CMT), Reflexologist, and a Nationally Certified Make-Up Artist. Come enjoy the art of wellness in Skin, Body, and Spirit.
Flawless Wax & Spa
202 E Colonial Drive, Ste B
Orlando, FL 32801
407-792-5677
We provide the ultimate spa experience while being Downtown Orlando's premier wax and skin spa. Specializing in waxing, eyelash extensions, semi permanent makeup, and skincare.