Rancho La Puerta Spa Butternut Squash Soup
This delicious and nutritious Butternut Squash Soup with Onions and Apples is perfect for the Autumn and Winter seasons, healthy enough for the spa enthusiast, and elegant enough for your dinner party table.It was created at Rancho La Puerta, in Baja, Mexico, founded by Edmond and Deborah Szekely in 1940.  Rancho La Puerta is the original destination fitness resort and spa — family-founded, owned and operated.    Rancho La Puerta is renowned for freshly picked produce and nutritious natural foods. It has developed, tested, and proven hundreds of recipes in its more than sixty years of culinary creativity, experimentation and dietary research, which have culminated in a superb all-natural diet.
Each week, some 150 guests share 3,000 acres of mountains and meadows beneath 3,885' Mount Kuchumaa. The peak straddles the U.S. Mexico border, and Native Americans consider its slopes and summit a sacred place — so much so that it was the first geographic feature in the U.S. to be named a National Historic Site by the Department of Interior based on spiritual significance.
Rancho La Puerta Spa Butternut Squash Soup with Onions and Apples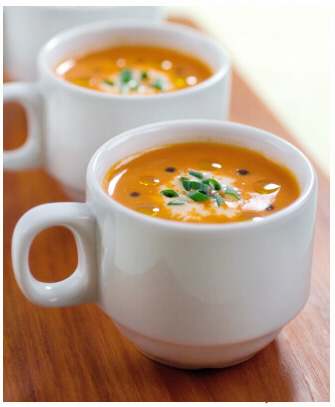 Courtesy of:
Rancho La Puerta Spa
Ingredients
Soup Ingredients
1 rib of celery, chopped
1 carrot, peeled and chopped
1 teaspoon olive oil
4 cups butternut squash, peeled and seeded
3 cloves garlic, minced
1 tablespoon fresh oregano, chopped
1 quart vegetable stock or water, more may be needed
salt and pepper to taste
Garnish Ingredients:
1/2 teaspoon olive oil
1 onion, large dice
1 Granny Smith apple, peeled and cored
1 tablespoon curry powder
2 tablespoons non-fat yogurt
6 sprigs fresh dill, washed
Method
In a soup pot, sauté the onion, celery and carrot in the oil over medium heat until the onion is golden, about 5 to 6 minutes.
Add the squash and garlic cooking 5 minutes, stirring.
Add the oregano and stock and simmer about 15 minutes or until the veggies are soft.
While the soup base is cooking, sauté at medium-high heat 1/2 teaspoon of olive oil and diced onions.
Cut the apple into a large dice and when the onions are golden, add to the pan, sautéing 2 to 3 minutes.
Add the curry powder and cook 1 minute.
Remove from the heat, add the dill and set aside.
Place all of the soup base -- cooked veggies (except the curried onions and apple mix) and liquid -- from your pot in a blender or food processor and blend until smooth and silky.
More chicken stock may be needed to adjust consistency to your liking.
You may also use an immersion blender so that no transfer between pots is necessary.
Return the pureed soup base to the soup pot and add the curried onion and apple.
Simmer for 2 minutes.
Season to taste and adjust consistency.
Serve hot or, on warm days, chilled.
Garnish with a dollop of yogurt and a sprig of fresh dill, chives, or herbs of your choice.
Notes
Makes 6 cups (1 cup per serving)
By the Numbers
Serving size:
1 cup
| Cal:
95
| Fat (g):
1
| Carbs (g):
20
| Sugar (g):
8
| Sodium (mg):
252 mg
| Fiber (g):
5
| Protein (g):
2
About:
Rancho La Puerta Destination Spa has been welcoming guests for more than 70 years, in Baja, Mexico.  Rancho La Puerta translated means "Ranch of the Door."  A Ranch vacation invites you to "open your door" to a healthier, more balanced life.
---
October 22, 2012 | Spa Index Rancho La Puerta