Kathy's Peppermint Lip Scrub
Chapped lips are no fun, and the drier they become, the more you want to chew on them, worsening the problem. This handy peppermint lip scrub will help fix your chapped lips in a hurry, and was submitted by one of our readers.

"I used to have a pot of mint lip scrub which I absolutely adored.  it was really good for my lips and I soon ran out. The scrub was made of sugar so I reckoned I could probably make it again myself at home, and this is what I came up with." — Kathy S.
Kathy's Peppermint Lip Scrub
Submitted by our reader Kathy S.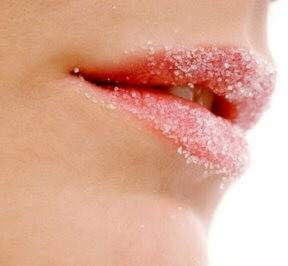 Courtesy of:
Reader Contribution to the SpaIndex.com Home Spa Collection
Ingredients
1/2 teaspoon brown sugar
1/2 teaspoon caster sugar
Peppermint oil
Almond Oil/Vitamin E oil*
Glass Ramekin (for mixing)
Lip Balm Pot
*Optional: Substitute any COOKING oil you like the taste of
Method
Pour the sugar into the ramekin and then add the oils depending how you want the consistency of the lip scrub.
Kathy used about a quarter of a teaspoon of each oil as she likes to add the liquid so there is enough flavor and enough liquid for it to hold together, but not so the solution is runny
Add to lip balm pot
To use the scrub, dab a small amount onto lips and rub together to gently exfoliate.
You can then lick off the scrub or wipe off with a cloth.
Notes
SpaIndex Tips: This product can be stored at room temperature. If you have Vitamin E capsules, poke one with a pin and squeeze the oil into your recipe.
---
---
Originally published  by SpaIndex.com and SpaFlyer.com in 2005; Updated in 2013
---
October 18, 2013 | Kitchens Spa Index DIY