Healthy Chef Skinny Dips
It's time for a little skinny dipping over the holidays so I've given you my favorite healthy dip recipes.  There are 4 purely delicious dips to choose from and what I love about them is that they are easy to make and much healthier then store bought versions.  They all keep for about 4 – 5 days in the fridge, any leftovers are perfect to serve along side summer salads, dollop over steamed vegetables or pan roasted salmon or use as a sandwich spread in place of butter.

The secret to a good baba ghanoush is firstly to choose a great eggplant.  The seedless variety are available at the moment and what's great about them is that the taste is sweet and velvety which makes for a delicious baba ghanoush.  It's the seeds you see that can sometimes make your eggplant taste slightly bitter.  I aways roast my eggplant in a hot oven in preference to charing on top of a stove.  Mainly because I'm always doing other things in the process and like to be able to set and forget as opposed to standing over a stove. What I love to do is serve this dip topped with delicate jewels of pomegranate then drizzle over a little cold pressed olive oil just before you serve it.
What's good about them:
Eggplants are low in fat, carbs and calories and are a good source of fibre that fills you up.  They are also high in the mineral magnesium that helps with nerve and muscle contraction in the body. Avocados are nutrient dense, low in carbs, high in fibre, antioxidants and healthy mono-unsaturated fats that are anti-inflammatory to the body. A number of age-related diseases have been linked to inflammation, including obesity, cancer, type 2 diabetes, atherosclerosis, arthritis, osteoporosis, depression and dementia. Eating plenty of fresh fruits and vegetables, reducing saturated fats from animal sources, and choosing good oils coming from omega-3 and oleic sources — such as fish, linseeds, avocado, olives and almonds — are steps in the right direction. Red capsicum (bell peppers) are low in fat, carbs and calories and high in antioxidants such as beta-carotene a precursor to vitamin A, helping to promote vision and support a healthy immune system. Beetroots are packed with phytonutrients called betalains that provide antioxidant and anti-inflammatory support to the body. They are also high in  minerals  such as calcium and magnesium that help with bone mineralization and muscle contraction.
Recipes for Skinny Dips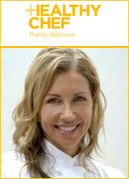 About the Chef
Teresa Cutter is one of Australia's leading authorities on healthy cooking and the founder of The Healthy Chef.  Healthy Chef is a company that creates purely delicious functional foods for optimum health + wellbeing.  We use organic and natural wholefoods and pride ourselves on developing quality that will inspire a deeper commitment to healthy living. A change in diet can bring about a change in health.   Teresa is the author of five healthy cookbooks – Bite Me, The Anti-Aging Cookbook, Fit Food, The 80/20 Diet, and 101 Ways to Lose Weight.
---
December 18, 2016 | Kitchens Spa Index