Grilled Turkey Tacos
This is a very satisfying turkey based taco, with enough density of high quality calories and flavors to make a complete meal at lunch or dinner.  Some of the healthy fats come from the nutrient rich avocado.  You can reduce the carbs and fat grams by using lettuce leaves in place of the grilled tortillas, or, use lower or fat free tortillas.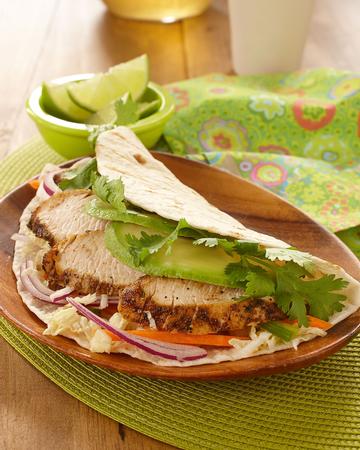 Courtesy of:
Ontario Turkey
Ingredients
1 teaspoon (5mL) each, ground cumin, oregano and chili powder
1/4 teaspoon (1mL) sea salt
3 tablespoon (45mL) olive oil
1/4 cup (50mL) fresh chopped cilantro
1 lb (500g) boneless, skinless Ontario turkey fillets
1/2 small red onion, sliced
2 carrots, peeled and thinly sliced
2 jalapenos, sliced (ribs and seeds removed)
2 tablespoons (25mL) cider vinegar
1 teaspoon (5mL) sugar
1/4 teaspoon (1mL) salt
2 cups (500mL) shredded cabbage
8 6-inch (15cm) flour tortillas
Garnishes: sprigs of cilantro, lime wedges, avocado slices
Method
In resealable bag, combine cumin, oregano, chili powder, salt, olive oil and cilantro, rubbing to make a paste.
Add turkey fillets and shake to thoroughly coat turkey. Let sit for 30 minutes and up to one day.
In another bag, combine red onion, carrots, jalapenos, vinegar, sugar and salt. Let sit at room temperature for at least 30 minutes and up to one day, tossing occasionally.
Grill turkey over medium high heat until browned and cooked through, about 5 minutes per side. Transfer to cutting board and let rest for 5 minutes before slicing.
Toss carrot mixture with cabbage. Divide turkey and cabbage mixture over warm grilled tortillas. Garnish with cilantro and avocado and serve with lime wedges and coarse salt.
By the Numbers
Serving size:
1
| Cal:
460
| Fat (g):
16
| Sat Fat (g):
3
| Carbs (g):
42
| Sodium (mg):
790
| Fiber (g):
5
| Protein (g):
35
| Chol (mg):
45
About Ontario Turkey
Ontario Turkey is the consumer brand of the Turkey Farmers of Ontario (TFO). Turkey Farmers of Ontario is located in Kitchener, Ontario and represents 185 turkey farmers across the province. The producer-run, producer-funded organization has been achieving success in the turkey industry for over 45 years, and continues to ensure humane treatment and care of turkeys while providing safe, high quality food to consumers.
---
September 2, 2015 | Kitchens Spa Index