DIY Bath Cookies
Our most requested and reposted recipe — these DIY bath cookies are baked in your oven and then added to a warm bath to soften and dissolve and bathe your skin in skin softening oil and sea salt.  They may be customized with your favorite add ins.
Bath Spa DIY Bath Cookies
Our most requested recipe!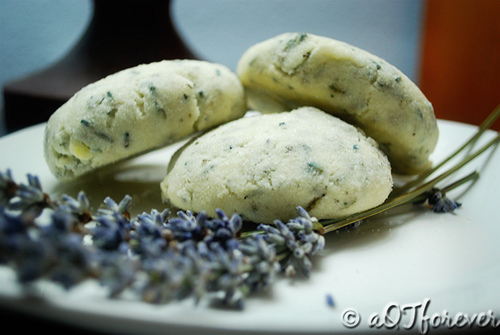 Courtesy of:
SpaIndex.com | Spa Lifestyle Daily, with a great photo by A QT Forever
Ingredients
2 cups finely ground sea salt
1/2 cup baking soda
1/2 cup cornstarch
2 tablespoons light oil (see Note)
1 teaspoons vitamin E oil
2 eggs
5-6 drops essential oil of your choice
Method
Preheat your oven to 350 F.
Combine all the listed ingredients and form into a dough.
Using a teaspoon or so of dough at a time, roll it gently in the palm of your hand until it forms a ball.
Form all dough into one teaspoon balls, and gently place them on an ungreased cookie sheet.
Consider sprinkling the bath balls with herbs, flower petals, cloves, citrus zest and similar aromatic ingredients.
Bake your bath cookies for ten minutes, until they are lightly browned. Do not over bake.
Allow the bath cookies to cool completely.
To use, Drop 1 or 2 cookies into a warm bath and allow to dissolve.
Yield: 24 cookies, enough for 12 baths.
Notes
What is Light Oil? We are asked this very frequently. An olive oil or melted coconut oil would be "heavy." Baby oil, Squalane Oil, Vitamin E, Jojoba, Argan, Apricot, Vita and similar "cosmetic oils" are "light" in both texture and viscosity. By "light" we mean an oil which is not thick, heavy, dark or overly fruity.
---
---
DIY Bath Cookies Comments
Carrie C. comments:

"Made these. Take them out earlier than u think. Do not want them to brown or get golden. Used mini-heart cupcake tin-worked perfectly! Didn't seem to matter if greased or not. Yay!" — 2012


Sharon G. comments:

"Hi! I enjoy your site, and appreciate all the recipes you provide. However, I just made the "Bath Cookie" recipe and I have to say I am quite disappointed. I followed the recipe exactly and found upon use that they sink like a rock, take a long time to dissolve and not completely at that- I think it is due to the egg. I did an internet search and found this exact recipe on many sites. I also found on a forum (for those who make bath products) that others have found this recipe to be terrible and have had the same experience I have with it. You should test the formulas before you post them.  Thank you."  – 2010

Spa Index Responds:

"Hello, Sharon, first things first.  We DO  test each and every recipe we post, in the test kitchen in our office building, and, we use the products among our staff extensively, prior to posting.  We receive far more 'blah' recipes than worthwhile recipes, and testing is essential to sort the wheat from the chaff.

For that reason, while we regret you had unfortunate results, it would be impossible for us to surmise why the recipe is popular and works for most of our readers, but not others, without overseeing the process and knowing the quality of ingredients (fresh or not, large or small egg, hard or soft water, true temp oven, etc). 

I can't turn out a single decent loaf of bread in my home oven, but at the office oven, I turn out beautiful bakery-worthy bread because the "temp" is true, it holds steam, and it doesn't over-vent. "The devil is in the details" as the saying goes.

We have learned from one staff member that the Bath Cookies recipe doesn't work as well for her in hard-water area, whereas with our water at the office, which is quite soft, it works quite well.

As for finding the recipe on many sites, we have always encouraged our recipes to be shared, and we are accustomed to our recipes being reprinted (with and without permission) on hundreds of sites (frequently without any credit back to us, darn it all).   We are glad so many forums and sites are sharing our tips and hope everyone enjoys our content.   We do wish we'd get more feedback in our comments section, and not just on the forums where our content is posted — because it would help everyone finding our recipes, too!   Or, a link to bloggers who share our recipes, like this one — here's a blog post from A QT Forever who had great results (and that's her photo featured, above).  

We are happy to post both your useful comment and our observation regarding hard water vs. soft water, to alert future home spa enthusiasts that 'results may vary' and we regret we can't analyze precisely why.

Thanks for writing. We hope you can enjoy some of the other recipes on our website — and we've tested all them or they wouldn't be here!   — Spa Index Team

April 17, 2003 | Kitchens Spa Index DIY