Crostini with Lima Bean and Pecorino Puree
Hart & Hind Fitness Ranch (now closed) was formerly home to cowgirl chef, Paula Disbrowe, who spent time cooking in Tuscany and Provence. At Hart & Hind, she had access to locally grown produce (think citrus fruit, vibrant greens, fragrant peaches), fresh herbs, grains, beans, and lean proteins played a starring role on the menu. This appetizer is based on the fava bean purees enjoyed by Paula, in Tuscany. If you can find fresh fava beans, they are well worth the effort (the peeling them is a labor of love). Fordhook lima beans have a similar flavor and color, and they are available all year round. The garlic and cheese add a delicious, savory flavor while the lemon and mint add freshness. This puree is an unexpected bread topping and a wonderful appetizer with sparkling wine or sauvignon blanc.
Crostini with Lima Bean and Pecorino Puree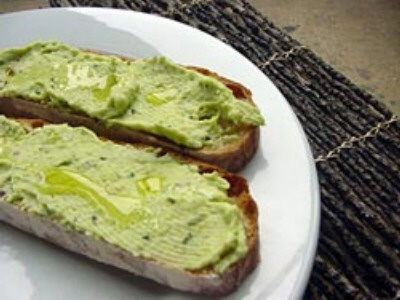 Courtesy of:
Paula Disbrowe
Ingredients
12 pieces French bread, thinly sliced and toasted
1 10-oz package Fordhook lima beans
2 cloves garlic
kosher salt, as needed
3/4 cups Pecorino Romano cheese, grated
1/2 cup fresh mint, roughly chopped
juice of one large lemon, (about 3 tablespoons)
1/2 cup best quality extra virgin olive oil
freshly ground black pepper
additional olive oil, if desired, for garnish
shaved icicle radishes for garnish, if desired
Method
Blanch frozen lima beans in boiling water until just tender, about 7 minutes.
Shock lima beans in cold water, drain immediately. Pat dry with paper towel.
In the bowl of a food processor, puree garlic and salt.
Add lima beans, cheese, mint and lemon juice and pulse until well mixed.
Add olive oil in a thin, steady stream until well incorporated.
Taste again for salt and season with freshly ground black pepper. The mixture may need more lemon juice.
To serve, spread the puree on the bread toasts. Drizzle with a drizzle of additional extra virgin olive oil and shaved icicle radishes, if desired.
---
The former Hart & Hind (now closed) was a private 5,250-acre fitness oriented ranch an hour and a half from San Antonio, where small groups enjoyed the unique experience of hill country ranch life. Cuisine was prepared by Cowgirl Chef Paula Disbrowe.
---
April 13, 2014 | Kitchens Spa Index