Green Mountain Chocolate Zucchini Cake with Orange Glaze
Zucchini season is in full swing and if you have a garden, you'll likely have a bumper crop of squash by now.  While it's great on its own, zucchini also provides wonderful texture and moistness when added to cakes and breads. This chocolate zucchini cake with a hint of orange is a very popular dessert at
Green Mountain at Fox Run, Vermont
, a health retreat for women.  Taste it and you'll know why!
.
Chocolate Zucchini Cake with Orange Glaze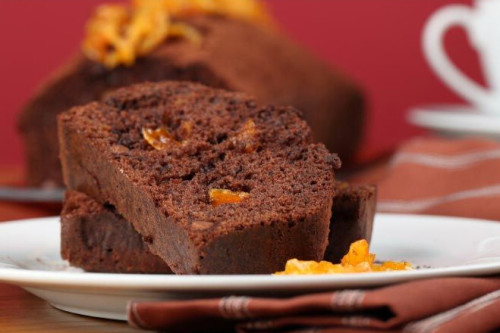 Ingredients
Cake Ingredients
1 1/4 cups all-purpose flour
1 cup sugar
1/4 cup cocoa
1 teaspoon baking powder
1/2 teaspoon soda
1/2 teaspoon salt
1/2 teaspoon cinnamon
2 eggs
1/3 cup canola oil
1/2 cup plain yogurt
1 teaspoon vanilla
2 teaspoons grated orange peel
1 1/2 cups grated zucchini
Orange Glaze Ingredients
1/2 cup powdered sugar
1 tablespoon melted butter
2 tablespoons orange juice
1/2 teaspoon grated orange peel
Method
Heat oven to 350 degrees. Lightly grease an 8×8" cake pan or 8" round spring form pan.
In medium mixing bowl, sift together flour, sugar, cocoa, baking powder, soda, salt and cinnamon.
In large mixing bowl, beat eggs and stir in canola oil.
Beat dry ingredients into egg mixture alternately with yogurt.
Stir in vanilla, orange peel and zucchini.
Pour batter in baking pan and bake 50 to 60 minutes or until toothpick inserted in the middle comes out clean.
Cool.
Make glaze. Mix together powdered sugar and butter. Stir in orange juice and grated peel. Drizzle glaze over cake.
---
October 10, 2017 | Kitchens Spa Index Favorites, Green Mountain at Fox Run