Canyon Ranch Cornbread
It's New Year's Eve.  It's cold outside.  Our healthy Chicken Stew is bubbling, the fire is crackling, and while we're feeling virtuous for having made it through Christmas without overdosing on sugars and other treats, we are sorely in need of some spa style cornbread.    Is there  such a thing?  A lower fat healthier cornbread which doesn't require a greased cast iron skillet?    You bet there is.

We'll save that time-honored method for special occasions, and skip the honey butter entirely, but tonight, this is just the ticket.  Thank you, Canyon Ranch Spa!
Canyon Ranch Spa Style Cornbread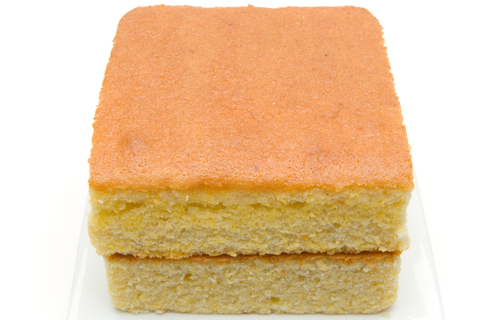 Courtesy of:
The Kitchen Staff of Canyon Ranch Spa
Ingredients
5 tablespoons cane sugar
Pinch sea salt
3 tablespoons unsalted butter, melted
1 large egg
½ cup water
½ cup fat-free milk
½ cup yellow cornmeal
1¼ cups all-purpose flour
2 teaspoons baking powder
Method
Preheat oven to 325F. Lightly coat a 9-inch square baking pan with canola oil spray.
In a large bowl combine all ingredients and mix until just combined.
Pour batter into baking pan. Bake for 35 minutes, or until a knife comes out clean when inserted in the middle.
Remove from oven and let cool. Cut into 24 pieces.
Notes
Honestly, 24 cubes out of a 9 inch pan was a bit small for our tastes. We made larger squares because the calorie count was still less than a full sized corn muffin, but you could also add a dollop of batter to 12 mini muffin wells (either 1 or 2 batches) to make small pieces for portion control. All things in moderation -- including moderation.
By the Numbers
Serving size:
1
| Cal:
55
| Fat (g):
1g
| Carbs (g):
9g
| Sodium (mg):
115mg
| Fiber (g):
1g
| Protein (g):
1g
| Chol (mg):
5g
---
 

December 31, 2015 | Spa Index Canyon Ranch