Best Spas in Chicago
STAY TUNED! WE'RE GETTING READY TO UPDATE THIS PAGE WITH OUR 2018 BEST SPA WINNERS!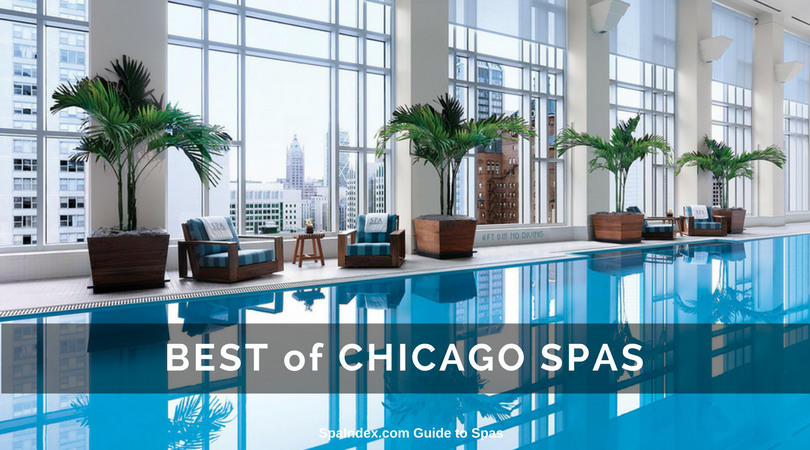 The votes are in for the Best Spas in Chicago. Check out our list of award-winning and reader favorite spas and use our guides to both Spas in Chicago and Spas in Illinois to find the perfect place for your next spa day or spacation.  These day spas offer skin care, massage, manicures, pedicures, aromatherapy, couples treatments and much more.
These spas are considered the Best of Chicago based on polls and ratings from our readers and spa enthusiasts, visits and reviews by SpaIndex.com, local radio, print and digital media, and spa industry professionals.
BEST HOTEL SPA
The Peninsula Spa
108 East Superior Street, Chicago, IL
The Peninsula Spa was a runaway favorite of our readers and secret spa reviewers for the best place to spend a spa day in Chicago. The Peninsula's spa and fitness areas are an integral part of the hotel, occupying the entire 19th and 20th floors of the hotel.   Guests are treated to luxury treatment rooms, a modern fitness centre, half-Olympic length swimming pool, 20-foot floor-to-ceiling windows looking out over the cityscape.
I feel as if I won the lottery when I was chosen to review this beautiful spa. I visited with my mother for her birthday, and the team could not have been more welcoming of both of us, taking care to wish her well. We enjoyed expert treatments, relaxing manicures, soaked up some sun out on the terrace with delicious tea, and made a pact to return as often as we can. We felt as if we had enjoyed a full weekend's vacation by the time we reluctantly left for the day. My mother said "This spa earned and deserves the 'worth every penny' saying."
Secret Spa Reviewer
I visited the Peninsula Spa for a massage, manicure and pedicure.  All were excellent, and for the price, I expected them to be. True, this isn't where I would come on a regular basis for a pedicure given the high price when compared to my city haunts, but that's not what this spa is for. This is a Spa Day — not a day spa. You come here for the views from that beautiful terrace, the pool with poolside dining service, the incredible relaxation room with lounge chairs, the lux locker rooms, the service, the mature and respectful staff and clients (both), and the day-long vacation. You can't find a better 8 hour spa getaway in the city. 
Secret Spa Reviewer
BEST DAY SPA
Kohler Waters Spa at Burr Ridge
775 Village Center Drive, Burr Ridge, IL

Kohler Waters Spa at Burr Ridge is just 20 miles south of the Chicago Loop in the Burr Ridge Village Center and took honors as the favorite day trip of our readers, who remark on the "easy to spend an entire day environment" which is assured by plentiful chaise lounges, sauna, steam room, the 25 foot whirlpool with massaging waterfall, a menu of express and full service treatments, plus first class refreshments and amenities.
This spa offers everything your group will need for a full day day.  If you've got the time, don't miss the Hammam  Ritual. This treatment is based on the ancient Roman thermae and traditional Turkish Hammam bathhouses, focusing on water and warmth, and includes exfoliation, purifying cleansing, Vichy rinse, scalp massage and facial moisturizing treatment. This spa menu is pricier than some of my city favorites, but they overlook nothing and that adds value for me.
Secret Spa Review
BEST ESTHETICS
Cleise Brazilian Day Spa
732 N Wells Street, Chicago, IL
Owner Cleise Gomes offers Chicagoans the signature beauty treatments and techniques that have made Brazil renown throughout the world for its approach to beauty and wellness.  Her team of expert estheticians have developed a cult following for the deft waxing techniques and skin care services in a relaxing and rejuvenating setting in the River  North area.
Having visited dozens of day spas and salons in Europe, the UK and now the USA, for waxing from head to toe, made all the more important to me thanks to my beautiful mother's Middle Eastern ancestry, I can firmly state "technique is everything." My two visits, one with Dana for waxing and one with Darinka for skin care, assured me that they had been expertly trained in techniques and esthetics, and I was a regular ever after.  
Secret Spa Reviewer
BEST SPECIALIZED SPA
Allyu Spa
600 W Chicago Avenue, Riverwalk Level, Chicago, IL 
Allyu Spa has been touted in the community, press and on several reader favorite polls, and our own readers told us in the Best of Chicago Reader Favorites Poll that the Allyu at the Riverwalk Level in Chicago is one of the best places to go in Chicago for massage, threading, sauna and facials, followed by a rest in the Relaxation Tent with a cup of fresh brewed ginger tea.  Allyu Spa says the heart of the spa is its relaxation area: "A place for reflection and transition before or after a treatment. The internal shape represents the Chakana,  an Andean symbol representing balance, oneness, and honor for the earth."
Allyu is the Quechua word for 'community' and Allyu Spa assures it lives up to its own name with complimentary guided meditation sessions for the community, held on one Wednesday each month, during the noon hour.  If you need a Chicago location to stowaway from a storm, real or imagined, Allyu Spa is your safe harbor.
Secret Spa Reviewer
BEST NEIGHBORHOOD SALON SPA
Fuga Italian Escape Salon & Spa
8 S Michigan, 2nd Floor, Chicago, IL
3853 N Southport, Chicago, IL
A first time appearance on our Readers' Chicago Favorites Poll, Fuga Salon & Spa was designed to be an Italian Escape for a few hours in downtown Chicago. Our readers all buzzed over the expert haircare, the specially priced blow-dry club, 75 minute facials "and don't miss the complimentary cappuccino offered during every visit."
I truly enjoyed visiting Fuga overlooking Millennium Park.  I work on my feet in the downtown area and this is the perfect place to spend my mid-day hours when I need my hair styled for an evening event.  By joining the blow-dry club, I get discounted prices on the facials from my esthetician, Georgia. The entire team is very professional, the space is airy and bright and clean, and even the building is beautiful.   It may be silly, but I think this environment contributes to my leaving feeling beautiful.  I visited 7 salons and spas last year for Spa Index — and this is the perfect neighborhood salon and spa for me and my friends.
Secret Spa Reviewer
BROWSE MORE SPAS IN GREATER CHICAGO
Greater Chicago is also called Chicagoland, which includes Aurora, Elgin, Joliet, Naperville, Arlington Heights, Cicero, Evanston, Gary (Indiana), Oak Lawn, Oak Park, Orland Park, Palatine, Schaumburg, Skokie, Waukegan, and Wheaton, Racine (Wisconsin), Kenosha (Wisconsin).

December 5, 2016 | Spa Index Best Day Spas, Chicago