Athlete's Foot Remedy
There are many over the counter remedies for Athlete's Foot, including powders and creams, but for those who find those remedies caustic and harsh, and appreciate a natural approach, try this home remedy which relies on the naturally occurring disinfecting and antibacterial qualities of alcohol, garlic and cinnamon.
Athlete's foot occurs when a fungus grows on your skin in your feet. In addition to the toes, it may also occur on the heels, palms, and between the fingers. The fungus thrives in warm, moist areas. Your risk for getting athlete's foot increases if you:
Wear closed shoes, especially if they are plastic-lined
Keep your feet wet for prolonged periods of time
Perspire a lot
Develop a minor skin or nail injury
Athlete's foot is contagious, and can be passed through direct contact, or contact with items such as shoes, stockings, and shower or pool surfaces.  Always wear pool and gym sandals to give yourself added protection.
DIY ATHLETE'S FOOT REMEDY
Fear not. The cinnamon and cloves are quite strongly scented and mask the garlic so you won't have garlic scented feet. If you want an even stronger scent, add essential oil of cinnamon, but just a drop or two.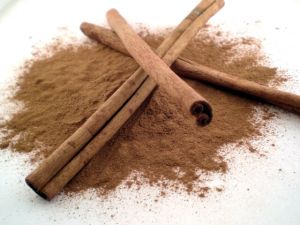 Courtesy of:
SpaIndex.com
Recipes:
Health and Wellness
Ingredients
20 to 30 garlic cloves, minced
2 to 4 teaspoons ground cinnamon
2 to 4 teaspoons powdered cloves
5 oz. 100-proof vodka
Method
Add garlic, cinnamon, and cloves to vodka in a dark-colored glass jar or bottle with lid.
Seal tightly.
Store out of direct sunlight for two weeks, shaking to mix every few days.
The tincture will be ready to use in 14 days.
Strain garlic cloves and remove.
Store tincture in refrigerator and use within 30 days.
Notes
To treat athlete's foot, use cotton balls or a cloth to apply the tincture to the entire sole of the foot as well as between all the toes. Apply twice a day, morning and night. Let dry, then dust the entire foot with cornstarch. If a rash or any unusual irritation develops, discontinue using Athlete's Foot Treatment. If, after having used this treatment for two weeks and athlete's foot symptoms continue, consult your physician.
---
Source: U.S. National Library of Medicine – The World's Largest Medical Library

October 4, 2012 | Kitchens Spa Index DIY, Family