Asparagus Ricotta Bruschetta
This colorful Asparagus Ricotta Bruschetta appetizer is full of color and has a flavor terrific for brunch, spa party, or light lunch.  It can made with soft ricotta cheese, or consider a fat-free herby substitute, like Laughing Cow or Boursin.
Asparagus Ricotta Bruschetta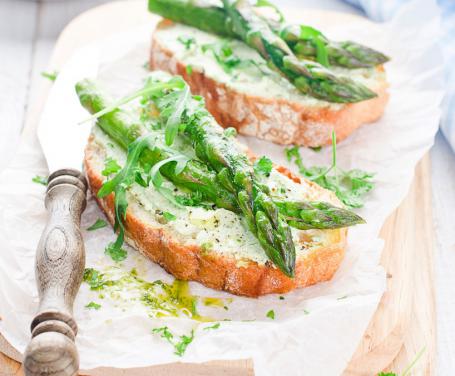 Courtesy of:
Spa Index Kitchen
Ingredients
10 medium asparagus spears, trimmed to 6-inch lengths
10 1/2-inch-thick slices of baguette
5 oz fresh fat-free ricotta cheese or soft herb cheese like Boursin, or Laughing Cow
Extra-virgin olive oil
Salt and freshly ground pepper
Chopped Chives or Thyme
Micro Greens
Method
Heat a grill pan or cast-iron skillet.
Brush the asparagus with olive oil and season with salt and pepper.
Grill the spears over moderate heat for approximately 5-8 minutes, turning occasionally, until crisp-tender and blackened in spots. Transfer to a work surface and cut in half for 20 pieces.
Brush the baguette slices on both sides with olive oil and grill over moderate heat until golden brown with grill marks.
Spread the soft cheese on the toasts and cover with 2 asparagus halves on top of each, season with pepper, top with chopped chives or thyme and Micro Greens if desired, and serve immediately.
Notes
Plan on 2 slices per person. To make this snack even more savory, consider adding a thin piece of prosciutto over the cheese layer. We purchase a small tub of micro greens from Trader Joe's.
By the Numbers
Serving size:
2
| Cal:
157
| Fat (g):
3.4
| Sat Fat (g):
0.4
| UnSat (g):
0.3
| Carbs (g):
20.6
| Sodium (mg):
252
| Fiber (g):
1.3
| Protein (g):
6
| Chol (mg):
5
---
September 2, 2015 | Spa Index