10 Things to Do in Palm Springs – Spas, Fitness, Food and Fun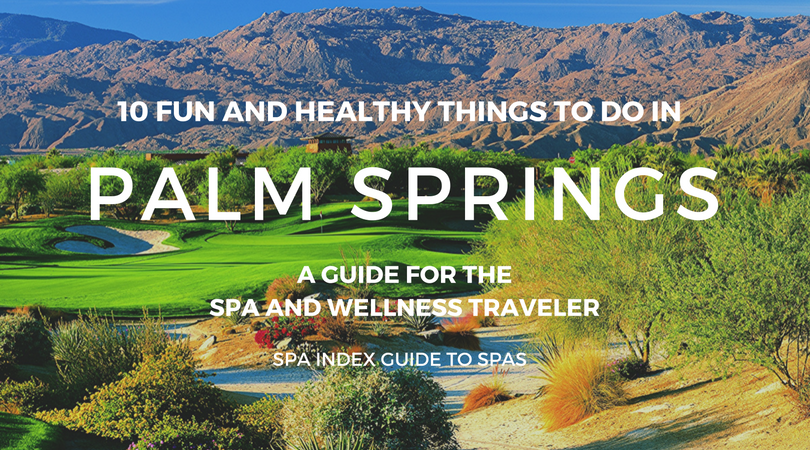 When you think of vacations in the California Desert, you probably think first about Palm Springs and its celebrity history, golf resorts, dazzling swimming pools, lounges, casinos, dance clubs and colorful street festivals, but has so much more to offer for the spa, fitness, outdoors and wellness enthusiast.
If you're wanting to explore the healthier side of this desert getaway, here are 10 Things to Do in Palm Springs and the surrounding area.
Palm Springs is a desert city in the Coachella Valley in Southern California.  It was first settled by Native American Cahuillas, who were drawn to this healing place of hot water and dry air.  It became a mecca for the Hollywood elite in the 1930s, ushing in an era of resort living.   Palm Springs is internationally renowned for both its historic and modern hotels, tennis and golf resorts, the abundance of mid-century modern architecture and design, hot springs pools, fine dining and nightlife.
As with any desert city in an area of natural beauty, its close proximity to desert trails and rock climbing, mineral springs and conservation areas means there are a host of wholesome and healthy activities and day trips for spa, fitness and adventure enthusiasts.
PALM SPRINGS
Known for its historic downtown village of shops, antique and consignment stores, day spas, cafes, theatres, and lounges, all  sharing a variety of architectural styles ranging from Old Mexico to Retro Futurism to Mid-Century Modern.
INDIAN WELLS
A community of luxury golf course residential properties, country club living, golf, tennis and athletic clubs, spa resorts and luxury hotels, convention space, and splendid estates and luxury mid-century modern classic homes.
RANCHO MIRAGE
Known for its outdoor planned shopping mall, Restaurant Row with many upscale restaurants, golf courses, condominiums and golf course properties, and its extensive medical services and hospitals.
PALM DESERT
Known for its Shopping District, The Gardens of El Paseo is an upscale shopping destination with more than 150 name-brand designer shops, art galleries, day spas, and fine restaurants along the El Paseo Drive strip.
LA QUINTA
A family-friendly community with both public and private golf courses, casinos, affordable hotels and restaurants, big box shopping and hardware stores, plus numerous cafes and lounges in its "Old Town La Quinta" and "Plaza Calle Tampico" districts.
DESERT HOT SPRINGS
The only community separated from the greater Palm Springs metro area by the interstate, Desert Hot Springs known for its somewhat quirky, dated or rustic motels, inns and boutique hotels, many historic, featuring spa treatments and soaks in the city's abundant hot springs, mineral waters and thermal wells.
BROWSE MORE PALM SPRINGS SPAS
Click here to browse  Palm Springs Day Spas, Spa Hotels, Resorts and Retreats.
BROWSE MORE CALIFORNIA SPAS
Click here to browse our complete directory of California Day Spas, Spa Hotels, Resorts and Retreats.
WINE & DINE
 Fortunately, Palm Springs, although a desert city, is easily accessible to assure daily fresh foods, fish and meats are available, making it easy to find locally sourced favorites, and avoid the corporate chains.  While there are always a host of dining options in vacation destination towns, including at every major resort, you'll also find copious cafes and bistros serving desert-friendly cool cocktails and fresh juice concoctions, and of course high end steak and chop houses for meets and greets after your winning golf or tennis match. 
Palm Greens Cafe is a local favorite bistro that caters to the clean eating crowd with an extensive menu of fare for vegans, vegetarians, and meat and fish eaters alike, plus those with specialty diets, including gluten-free. All fare is made fresh daily in small batches, using organic and sustainable food, free of artificial ingredients preservatives. Order your breakfast platter with fresh local eggs, lean turkey bacon, or opt for tofu and tempeh bacon. The colorful rainbow salad sampler platter is one our favorite lunch entrees — so generous it's enough food for an entire day and keeps you going for trail hikes and exploring.  The menu includes eye-opening smoothies and acai bowls, organic beer and wine, and delicious baked goods.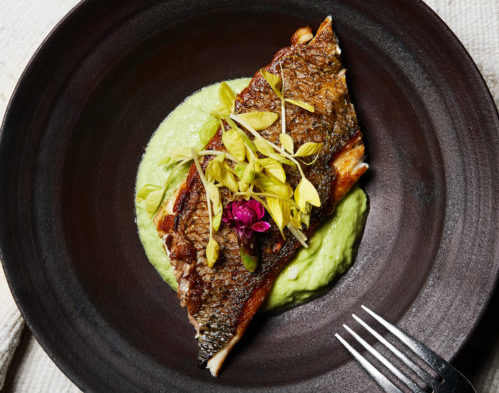 Essence Restaurant is the garden restaurant at the Two Bunch Palms Resort and Spa.  Guests enjoy the fresh, regional fare with spectacular mountain views. The menu features California fresh, organic cuisine, always farm-to-table and seasonal. Choose from shared plates for an intimate dinner, hearty fare for outdoor enthusiasts or calorie controlled for the health conscious.  The menu is designed with a balanced range of vegetarian, vegan, gluten free and nutritional whole foods, like the signature Blueberry Quinoa Pancakes, Body Cleanse Teas and Tonics, Superfood Salads, Grilled Seafood, and much more. Yes, you've spotted fellow guests dining in spa robes — it's all about relaxation, here.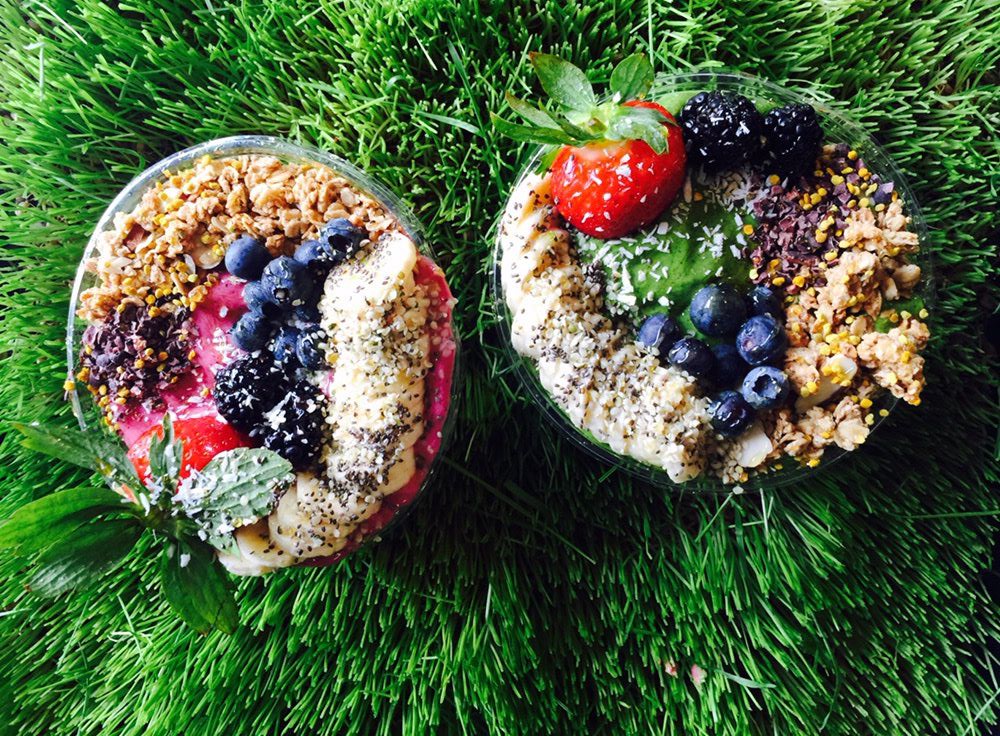 You don't need to be an adherent to a Raw Food Diet to enjoy a visit to this food bar serving fresh, local and sustainable fruit and vegetable based fare.  Raw Remedy is part of the excellent local Farmers' Market community, known for its excellent juices and smoothies, smoothie bowls, salads with daily house made dressings, such as the always good Rainbow Carrot Pad Thai with Almond Lime Dressing, dairy-free frozen desserts, and easily totable wraps and snacks for a day on the trails, and organic coffee and teas.  Look for the mobile juice truck, too, at local events.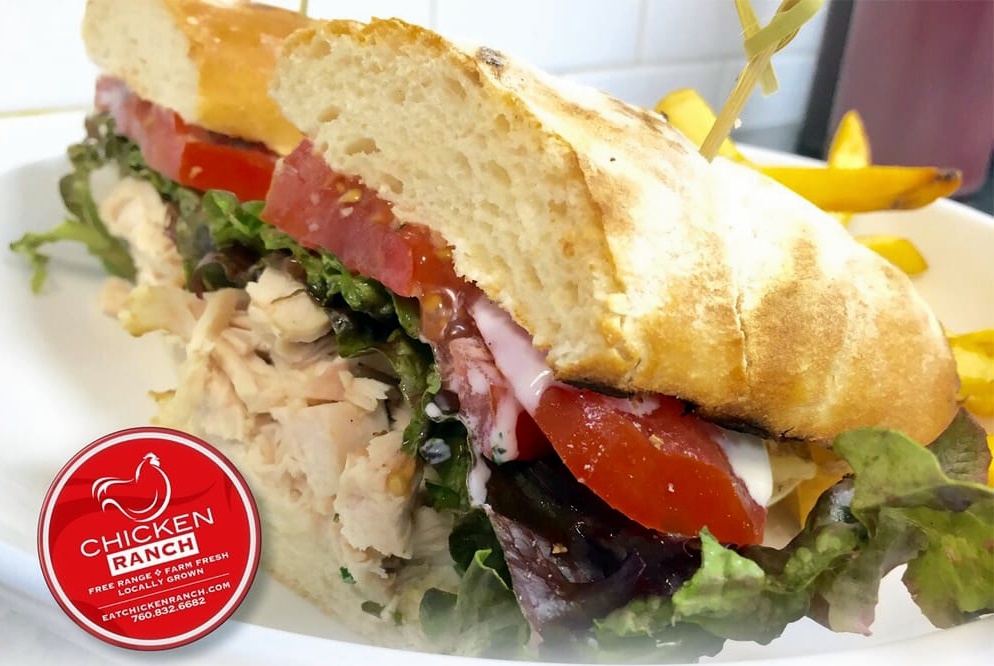 At Chicken Ranch, they like to say they "Good Food is Simple" and it really is.  Locally sourced poultry, produce, fruits and baked goods, all combined for delicious, perfect, clean Rotisserie Chicken or Fried Chicken entrees, sandwiches, wraps, tasty sides served with house made salads and dressings, iced teas, organic beers, and desserts.  Opt for a chicken dinner with roasted local vegetables, or get a baguette sandwich or wrap with thick-cut fries and a cold beer or craft cocktails. Always a delicious, easy, and fast meal.  Watch for Happy Hour and Sunday Brunch specials, too.

August 9, 2017 | Spa Index Palm Springs, Top 10