10 Things to Do in Palm Springs – Spas, Fitness, Food and Fun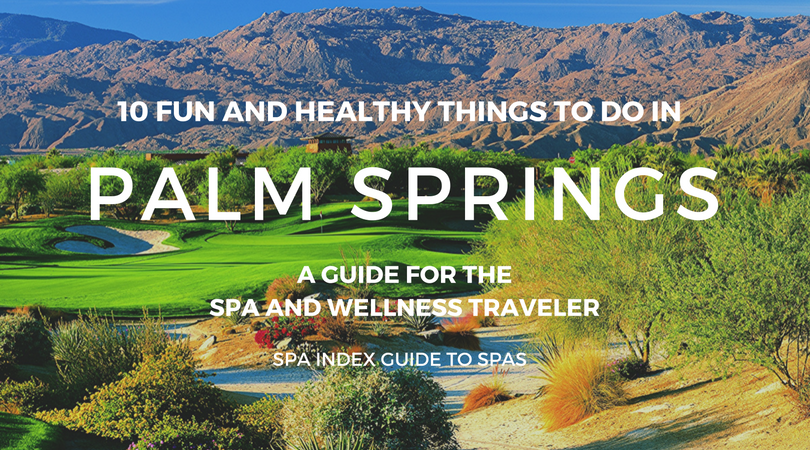 When you think of vacations in the California Desert, you probably think first about Palm Springs and its celebrity history, golf resorts, dazzling swimming pools, lounges, casinos, dance clubs and colorful street festivals, but has so much more to offer for the spa, fitness, outdoors and wellness enthusiast.
If you're wanting to explore the healthier side of this desert getaway, here are 10 Things to Do in Palm Springs and the surrounding area.
Palm Springs is a desert city in the Coachella Valley in Southern California.  It was first settled by Native American Cahuillas, who were drawn to this healing place of hot water and dry air.  It became a mecca for the Hollywood elite in the 1930s, ushing in an era of resort living.   Palm Springs is internationally renowned for both its historic and modern hotels, tennis and golf resorts, the abundance of mid-century modern architecture and design, hot springs pools, fine dining and nightlife.
As with any desert city in an area of natural beauty, its close proximity to desert trails and rock climbing, mineral springs and conservation areas means there are a host of wholesome and healthy activities and day trips for spa, fitness and adventure enthusiasts.
PALM SPRINGS
Known for its historic downtown village of shops, antique and consignment stores, day spas, cafes, theatres, and lounges, all  sharing a variety of architectural styles ranging from Old Mexico to Retro Futurism to Mid-Century Modern.
INDIAN WELLS
A community of luxury golf course residential properties, country club living, golf, tennis and athletic clubs, spa resorts and luxury hotels, convention space, and splendid estates and luxury mid-century modern classic homes.
RANCHO MIRAGE
Known for its outdoor planned shopping mall, Restaurant Row with many upscale restaurants, golf courses, condominiums and golf course properties, and its extensive medical services and hospitals.
PALM DESERT
Known for its Shopping District, The Gardens of El Paseo is an upscale shopping destination with more than 150 name-brand designer shops, art galleries, day spas, and fine restaurants along the El Paseo Drive strip.
LA QUINTA
A family-friendly community with both public and private golf courses, casinos, affordable hotels and restaurants, big box shopping and hardware stores, plus numerous cafes and lounges in its "Old Town La Quinta" and "Plaza Calle Tampico" districts.
DESERT HOT SPRINGS
The only community separated from the greater Palm Springs metro area by the interstate, Desert Hot Springs known for its somewhat quirky, dated or rustic motels, inns and boutique hotels, many historic, featuring spa treatments and soaks in the city's abundant hot springs, mineral waters and thermal wells.
BROWSE MORE PALM SPRINGS SPAS
Click here to browse  Palm Springs Day Spas, Spa Hotels, Resorts and Retreats.
BROWSE MORE CALIFORNIA SPAS
Click here to browse our complete directory of California Day Spas, Spa Hotels, Resorts and Retreats.

August 9, 2017 | Spa Index California, City Guides, Palm Springs, Top 10