Thalassotherapy Spas in the USA
"Hi, I am looking for a thalassotherapy facility in the US. Could you help me to find? Thank you."  G.B.
Some "Thalassotherapy Spas" —  mostly in the United States, describe thalassotherapy simply as "the use of sea products to detoxify, exfoliate, balance the skin's pH, and hydrate."   That should give you pause because true thalassotherapy is an ancient form of wellbeing; using sea water and marine based products for health and beauty.
Thalassotherapy comes from the Greek words for thalasso (sea water) and therapeia (to heal).  Although it is a practice with a natural history (what human beings don't feel rejuvenated and healthy at the edge of sea?), the International Federation of Thalassotherapy (Mer et Sante) was incorporated in 1986.  The Federation is an official group of facilities which voluntarily adhere to a charter with rigorous standards for quality. It calls for a guarantee of quality of the care and respect of name "thalassotherapy" which it defines as "in a privileged marine facility, the combined use, under medical supervision and with a preventive and curative aim, benefits of the marine environment which includes/understands: marine climate, sea water, muds marine, algae, sands and other substances extracted the sea."
Some of the standards it imposes are:
That a Thalasso Center be located no more than 1000 meters from the sea
That it take its seawater from a determined distance and depth (700 meters and 9 meters respectively)
Follow strict water quality control
Offer medical supervision of the program and its participants.
While several spa facilities in the United States may claim to offer thalassotherapy treatments or create a menu "in the spirit of thalasso" you'll often find this is because they offer marine or seawater based products (mud baths, algae wraps, sea salt scrubs), or they have a sea view and invite you to "take in the sea air."  This is  opposed to performing treatments in a seawater-fed facility designed specifically for the performing thalassotherapy.
The only sea water spa we know of, which is classified as a thalassotherapy spa center in the United States, is Gurney's Inn, in New York.
Gurney's Inn describes its "Sea Water Spa" thusly:
The sea is the origin of life; it is the place where life began. It is an ever-changing yet always-present part of our world. In its nature we find ourselves… Human beings know this instinctively. The Sea has been our healer since the beginning of time. Thalasso therapy is the use of seawater and products of the sea in a marine environment to treat ailments and enhance good health. A Thalasso program includes hydro massage in sea water, exercise in heated sea water pools, body treatments using seaweed products and sea water, massage, relaxation, good nutrition and exercise outside in the sea air. Seawater contains 120 chemical compounds in the form of salts and dissolved gas. In Thalasso therapy your body is awash in nitrogen, oxygen, and helium, over 60 different mineral particles, trace elements and negative ions are present and absorbed by the skin through the process of osmosis. The skin absorbs magnesium, calcium, sodium, iodine, silicon, zinc, selenium, sulfur and fluoride, all in the proper combinations present in nature to restore balance and rejuvenate our bodies.

Gurney's Inn known for its unique location, perched at the edge of the sea is the only true Thalasso therapy center in the continental United States. Our highly experienced staff will design a specific program based on Thalasso therapy to help restore balance and good health.

 
To visit a Thalassotherapy Center which is a member of the Federation, we must travel outside of the United States.  Although France and Ireland are considered tops in Thalassotherapy destinations, there is now a very lovely facility in Spain, which we'd like to try this year, ourselves:
At the Hotel Termas Marinas, natural sea water, heated up to a temperature of 34-36 degrees, is used in traditional cures in baths, showers, pressure steams, and other forms of hydrotherapy.  In addition, Hydrocinesitherapy (exercises in seawater) permits the advantages of the weightlessness of the sea water.  Marine vegetation and mud complete the therapeutic action of the sea water because of its contribution of iodine and trace elements that make the substances exchange process more quickly. The Hotel Termas Marinas tells us it proudly adheres to the highest standards set which form the Federation Mer et Sante.
For those who wish to supplement thalassotherapy treatments with marine-based products at home, one very respected brand and a favorite of our staff is OSEA.  OSEA seaweed skincare features marine-based, technically advanced formulations loaded with naturally abundant vitamins, minerals and essential fatty acids derived from the earth and sea.
If you would like to browse spas tagged with "Thalassotherapy" on our spa directory, click here.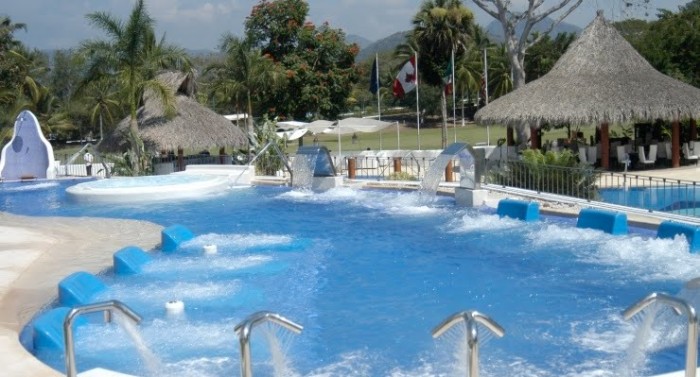 Thalasso Pool at Loma Del Mar, Ixtapa, Mexico
---
April 22, 2006 | Spa Index