Pack a bag for your four legged family member, because it's time for Paws at Spas.  A manicure and pedicure for you, and a dog or cat treat for your friend, is waiting for you at these pet friendly hotels and resorts.   Some will even give your pet a massage of its own!
ALASKA
The resort is one-of-a-kind destination whether you are interested in Aurora viewing tours, relaxing in the hot springs, enjoying an "appletini" in the Aurora Ice Museum, getting a fabulous therapeutic massage, taking dog sled or cart rides, enjoying flight-seeing tours or any of the other fabulous activities offered year-round.  Chena has 8 Pet Friendly Signature Rooms available with pet deposit.
ARIZONA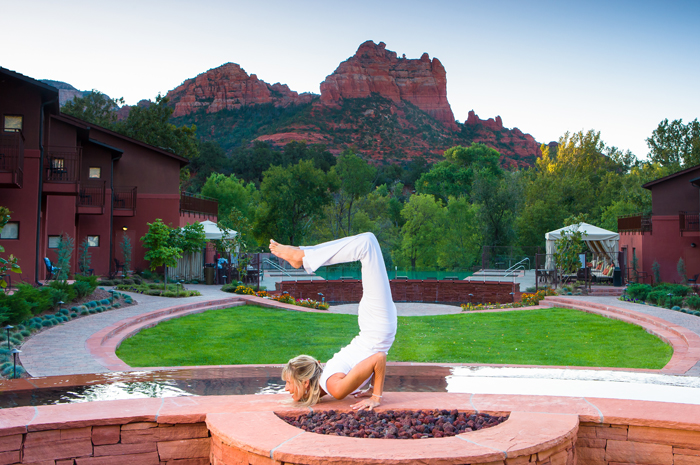 Lucky for you and your four-legged friend, Amara Resort and Spa is one of the top pet friendly hotels in Sedona, AZ. Enjoy luxurious accommodations for your furry pup too. Your canine companion will love to ramble among the sandstone monoliths of Sedona's red rocks, and after a long day on the trails, relax by your side for an evening of stargazing at one of our firepits or have a nice walk along Oak Creek. Amara Resort and Spa distinguishes ourselves from other Sedona pet friendly hotels by providing those little extras that make all the difference. A modest daily fee applies for which our four legged guests receive a cuddly doggie blanket, playful paw-print bag, four doggie biscuits, "Snockster" Eco-Toy, 12 oz. bottle of private label water, water bowl, and doggie waste bags.
FireSky Resort and Spa is an oasis of elements nestled in the heart of Scottsdale near Fashion Square, museums, golf courses and other favorite places that make Scottsdale such a favored destination. Bosco, Director of Pet Relations, is the resort's onsite Cocker Spaniel. He makes certain the resort offers specials and packages designed to welcome your pets, including a welcome board with your pets' name, walksies by staff, free treats, doggie beds, bowls, and more, and no deposits!
Spa enthusiasts are invited enjoy the award winning clubhouse and full service Hilton Spa.  The Hilton Spa offers 20,000 square feet of climate-controlled indoor facilities; Full service beauty salon; Full skin and hair salon; and Social activities/private party options.  We are a pet-friendly resort and permit small pets up to 50 lbs, with a modest deposit.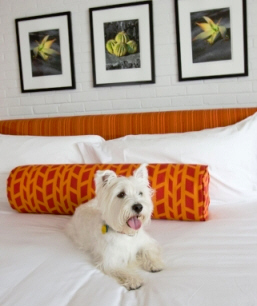 Hotel Valley Ho is classic in mid-century design and lighthearted ambiance. Enhancements include VH Spa for workouts overlooking the pool or relaxing treatments. Pets are always welcome at Hotel Valley Ho.  Pets Will Love the provided Food + Water Bowl, Doggie Treats, A "Pet In Room" Door Hanger, Pet Cleanup Bags, Open grass areas, including Palm Court and Fountain Courtyard, and Amenities are courtesy of MANKINDdog.
ARKANSAS
One of the most relaxing nature spas in Arkansas, Turtle Cove Spa offers Lake Ouachita's only lakeside spa experience. Surrounded by the crystal-infused waters of Lake Ouachita, you will find a wide array of spa treatments, including massages, facials, body treatments, spa pedicures and manicures, and a full-service salon. Mountain Harbor Resort welcomes pets for guests staying in corporate units, for a modest daily fee.
CALIFORNIA
It's no coincidence that Gaia Shasta Hotel takes its name from the Greek word "gaia," meaning Mother Earth. Not only is the Gaia Shasta Hotel an eco-friendly hotel, but its location minutes from Redding puts guests at the doorstep of the most brilliant wilderness areas in Northern California. Looking for an upscale hotel that accepts pets? Gaia Shasta Hotel is the perfect choice for all family members, whether two-legged or four. Our staff can tell you about dog friendly hiking trails near the hotel. Gaia Shasta Hotel also features a state-of-the-art fitness center, outdoor Saline pool and hot tub, and wireless Internet access.
In the heart of the village, this charming brick and half-timbered English Tudor boutique inn and spa is one of a kind. From the magical courtyard and the fireside wine and cheese reception to the detailed service of the staff, The Vagabond's House always feels like home. Spa services include facials and massage.  Artists and Writers Workshops available.  Pets welcome with a fee. Doggie bags and washing areas provided.
"How could you not fall in love with Boon? we're speaking now, of course, about that wiggly-waggly, frisbee-toting, always smiling, black-and-white four-legged guy with the hybrid vigor (i.e., mutt). if you're wondering how the name came to be, it's because of how blessed we feel to have a peach of a dog like this guy – and we believe in focusing on blessings, gifts and benefits. we hope our hotel – and the dog who came before it – are a boon to you."  Select pet friendly accommodations available.
Terraced on a hillside in Laguna Beach, CA amid tropic gardens and flower splashed patios, the Casa Laguna Inn & Spa exudes an ambiance of bygone days when Laguna Beach, California was developing its reputation as an artists' colony and hideaway for Hollywood film stars.  The Inn is certified by the Pets Can Stay Program.  A per night fee applies.
Relax and unwind at Little River Inn. The golf course, tennis courts, lounge, and day spa will keep you busy or relaxed.  The popular restaurant offers breakfast and fine dining. The Little River Inn now has designated pet-friendly rooms.  Your pet enjoy special sheets to cover furniture, towels for muddy coats, a food-and-water dish, waste bags, and a welcome basket of pet treats.
The Iguana Inns and Spas in Ojai offer guest suites, bungalows, and in-room spa services, including massage and skincare. Complimentary breakfast with lodging. Bring your pup for a wonderful relaxing vacation. There are restaurants in town that have great patios that are pet friendly and most hiking trails are pet friendly too!
The Iguana Inns and Spas in Ojai offer guest suites, bungalows, and in-room spa services, including massage and skincare. Complimentary breakfast with lodging. Bring your pup for a wonderful relaxing vacation. There are restaurants in town that have great patios that are pet friendly and most hiking trails are pet friendly too!
The Lavender Inn is a Historic Bed & Breakfast Spa Retreat in the heart of Ojai, built in 1874. More than just a bed & breakfast, we have an on-site day spa, host customized Ojai weddings.  The Lavender Inn is also pet friendly. We provide designated rooms for well behaved pets, a dog bed, water dish, clean up bags, and a doggie cookie.
Costanoa is an eco adventure resort where guests to explore the stunning beauty of the  protected California coastline and discover the Pace of Nature.  Accommodations include rooms in the main lodge, cabins throughout the property, Tent Bungalows, and a pet-friendly campground with RV Access.  A menu of touch-based spa and wellness treatments include several massage modalities, reflexology, cranio-sacral therapy, blanket wraps, as well as saunas and hot tubs.
At Highland Ranch, there are lots of things you can do to have a good time. Go fishing, boating or take a swim in our lake or pool followed by a snooze in the sun. Go for a trail ride. Relax with a massage. Energize and restore yourself with a yoga class. Animals are part of the family at Highland Ranch and we're delighted to welcome your well behaved dog and there is no additional charge under normal circumstances.  We also have a "Bring Your Own Horse" policy.
We encourage guests to bring their dogs — and welcome them with many amenities at our Pismo Beach vacation retreat. For a one time fee, they will enjoy a Cliffs Resort dog taguxurious sleeping accommodations, and plenty of water. Your guest room will be prepared with a dog bed and bowl, and we'll even walk Fido upon request.
COLORADO
Neither the impossible beauty of the drive beside the West Fork of the Dolores River, the road perched above haunting beaver ponds nor the dancing light through the aspen groves prepares you for the first sight of Dunton Hot Springs. Enjoy beautiful lodging, lounge and bar, fine dining, the hot springs in the teepee and bath house, massage and yoga rooms in the Pony Express Spa. Dunton offers two pet-friendly cabins for its four-legged guests.
The Westin Riverfront Resort is located in the heart of Vail Valley. Our resort features direct access to Beaver Creek skiing, Beaver Creek Golf and year round activities. Plus, we are home to the 27,000-square foot rejuvenating Spa Anjali and our signature restaurant in Beaver Creek, Cima. Dogs are welcome at The Westin Riverfront Resort & Spa, Beaver Creek. We are pleased to provide The Westin Heavenly Dog Bed, food bowl and mat, water bowl and a dog amenity kit for your favorite four-legged friend. Restrictions apply.
ILLINOIS
For more than 20 years, the Fairmont Chicago has offered a signature brand of luxury and attention to detail; now, it houses one of the two exclusive mySpa locations. mySpa services include massage, skincare, and body treatments, infinity edge soaking tub, chromatherapy, and JetSetter spa programs to recover from air travel. Pets up to 20 lbs are permitted.
MAINE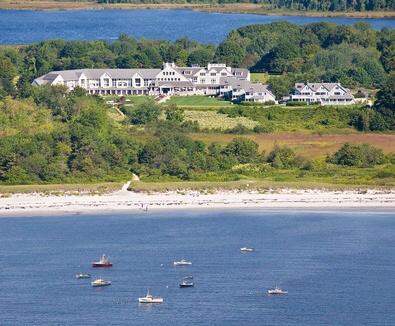 The perfect getaway package for you and the four-legged members of the family – they deserve a little relaxation, too! The INNcredible Pet package includes: Two nights in a single bedroom suite accommodation; welcome Maine-made dog toy; personalized LL Bean dog bed;  one 30-minute in-room doggie massage; nightly entree selection from our gourmet pet menu; nightly pet turndown service including locally made seasonal dog treat.
MARYLAND
Nestled in the Chesapeake Bay village of St Michaels, Five Gables Inn & Spa blends the historic charm and warmth inn guests seek with a luxury spa experience. Rooms and suites with spa tubs and fireplaces, indoor pool, sauna and steam room, generous amenities, superb location. The on-site spa is open daily and offers a full range of relaxing treatments.  The Inn is also home to Flying Fred's, named for the owners' Jack Russell Terrier.
MASSACHUSETTS
Let the pet pal you love travel in luxury with you at Crowne Pointe… where Pets Are Welcome.  Whether checked in for work or play, what could be more wonderful than snuggling up with your favorite furry friend during your stay?   Provincetown was recently named the most pet friendly town in the U.S.
MICHIGAN
The Lakeview Hotel & Conference Center at Summit Village, part of the Shanty Creek family of resorts, offers million-dollar views of Lake Bellaire, miles of pristine hardwood forests and out-the-door access to golf courses and ski slopes. With lavish guest rooms, fine dining, and the Spa at Shanty Creek Resorts, Summit Village is the heart of Shanty Creek Resorts.   Leashed pets up to 25 lbs are permitted in designated pet-friendly units.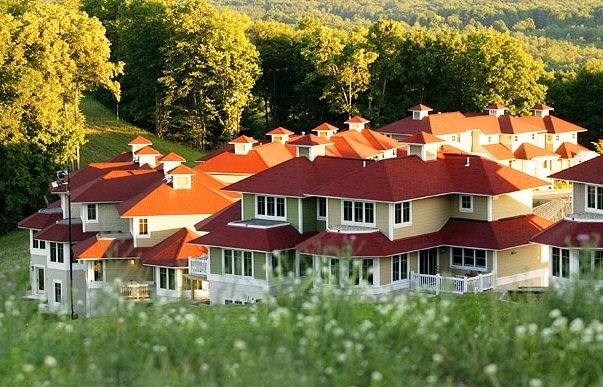 This 18,500-square-foot oasis in the heart of Crystal Mountain honors the art and natural beauty of northern Michigan in a setting that awakens and inspires.  Many lodging units are individually owned and part of the Four Seasons Frequent Guest Club; certain rental units permit pets. Advance approval required, with additional deposit.
MINNESOTA
Surfside offers rental townhomes for a spectacular vacation getaway on the rugged north shore of Lake Superior – America's North Coast™.  At Waves of Superior Spa,  treatments and services are inspired by its surroundings, which are spectacular, pristine and holistic.  Pets welcome in select units.
NEW JERSEY
Hilton Woodcliff Lake Hotel in Bergen County, New Jersey, offers a variety of accommodations with distinctive style and modern conveniences for both today's traveler and spa enthusiasts.  Take time from your busy schedule to indulge yourself with a massage or spa treatment at Spa Hilton Woodcliff Lake. One of few New Jersey Pet Friendly hotels, Hilton Woodcliff Lake welcomes your pets and offers pet friendly rooms with special amenities.
NEW YORK
The Benjamin Hotel is a classic 1927 building carefully restored to its original grandeur, providing discerning New York City travelers with a warm, intimate atmosphere and personal attention.    The Dream Dog™ package at The Benjamin lets you relax in luxury with your four-legged companion at your side. Our exclusive "Dream Dog" program offers everything a pampered pet needs to enjoy tail wagging travels in high style, from a lush bathrobe and gourmet chow to spa treatments and a pet psychic. At the end of the day, your pet can happily doze off to dreamland on a specially designed dog bed.
An eco-friendly pet-friendly hotel spa on the second floor of New York's Ink48, this spa designed its treatments to make a pleasurable imprint on your health and well-being. Each of the hotel spa's three private treatment rooms (including a couples' room and a Swiss shower room) is designed for total relaxation, reflecting the unique stamp of Ink48′s style.
OHIO
The HideAway Country Inn features themed suites with in-room Jacuzzis for two, fireplaces, and a delicious breakfast served fresh each morning.   The Inn is located in central Ohio within easy access of the major cities of Toledo, Columbus, Cleveland, and Detroit. Our on-site spa offers a full menu of spa massage, couples' massage, manicures and pedicures, skincare, body scrubs and exfoliation, spa parties and more. Pets are welcome in select rooms.
OREGON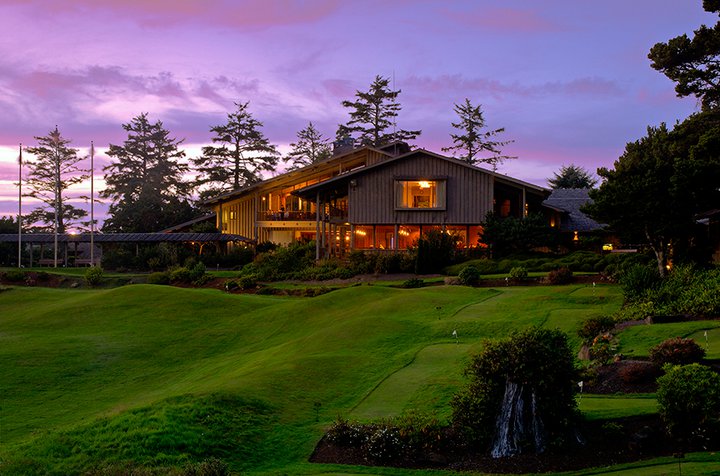 Guests of Salishan Spa and Golf Resort has everything you, your friends, your partner, pets or family will need to have a memorable stay. Whether you're interested in recreational activities, coastal attractions, Salishan and local events, swimming and working out, shopping, or tennis, we've got you covered.
RHODE ISLAND
This steeped in history hotel welcomes pets with a special package. Bring your best friend on vacation with you! The Vanderbilt Grace can cater to a variety of dog-related needs, including: bedding for any size dog, dog bowl for water and food, a complementary dog bone upon arrival, Sojos Dog Treats and the Cain & Able Dog Bath Collection are available for purchase.
 TEXAS
Lake Austin Spa Resort is a luxury destination spa that gives its guests the opportunity to create their own spa experience in a casual, nurturing environment surrounded and inspired by nature.  Designation accommodations are pet-friendly, and, pet-themed programs benefit animal charities are offered.
TENNESSEE
Personalized service, a range of outstanding amenities, and elegant surroundings all in one package. At the Carnegie Hotel and Spa, an intimate pet-friendly boutique hotel, it's all here.   With service-oriented staff, old world ambiance, dining, and a full-service salon and spa, the Carnegie Hotel & Spa offers an exceptional Tennessee Spa Hotel experience.  Pets under 25 lbs are welcome in select guestrooms. Fee applies.
UTAH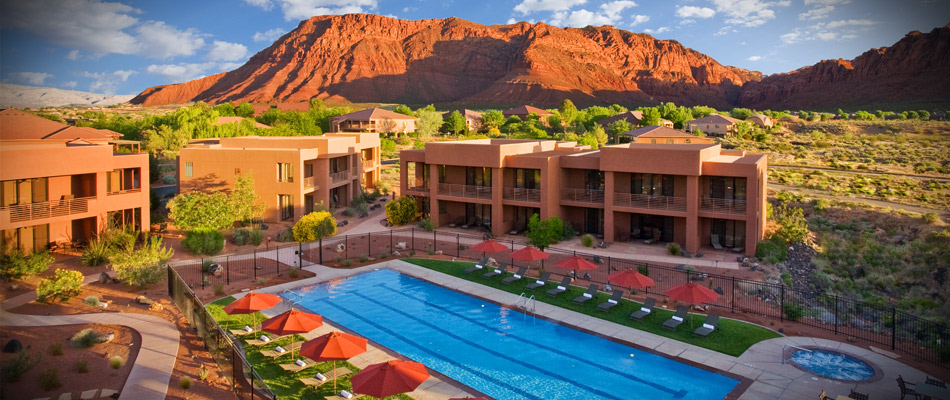 Few places on earth match the beauty and tranquility of the red rocks surrounding St. George, Utah.  At Red Mountain you'll find a vast selection of healthy living activities, dining, spa, and recreational services. The resort features special deluxe accommodations for guests traveling with pets, as well as a 55-acre scenic backyard and nearby Snow Canyon Park that offers bountiful space for four-legged friends to play in. In addition, pets are pampered with organic treats, food, and water dishes upon arrival.
Natural hot springs. Soothing soaking, grassy tent campsites, pioneer cabins, tropical fish ponds, hiking, biking and more! We take pride in keeping our facility clean and safe. We clean the pools once per week and the bathtubs every day.We want everyone to feel welcome at Mystic. We don't allow alcohol, nudity, glass containers of any kind, or any illegal activities in the hot springs or any public area. We love animals. Dogs are welcome as long as they are well-behaved, except up around the soaking pools. We appreciate responsible dog owners who clean up after their pets.