Spa Orange Almond Brown Rice Pilaf
At Hilton Head Health weight loss spa, guests enjoy a meal plan with delicious flavors and realistic portions.  The Chef and Culinary Team have created a low-calorie, healthy gourmet cuisine with an emphasis on local and natural ingredients to ensure a well-balanced weight loss diet.   One of the popular recipes served at the Institute is this Orange Brown Rice Pilaf.

Hilton Head Health Institute's Healthy Lifestyle program focuses on helping guests lose weight. Its weight loss spa approach is a well-rounded, time-tested program that teaches nutrition, fitness, knowledge, and self-awareness for a total healthy way of living.  With over 50 different fitness classes and activities, each Guest can create a fitness routine that is tailored to his or her personal level and interest.  The Healthy Lifestyle™ program will help you learn to incorporate more physical activity in your daily life.
The Institute's experienced and Certified Fitness Specialists and Instructors give you the knowledge and practice to create a fitness plan that works for your lifestyle. Within the first two days, guests have a private one-on-one consultation with a Health Specialist who recommends the classes most suitable for you based on your individual needs and personal health goals.
Spa Orange Almond Brown Rice Pilaf
Serve this savory side dish with your favorite fish, poultry or pork, or use it as a stuffing.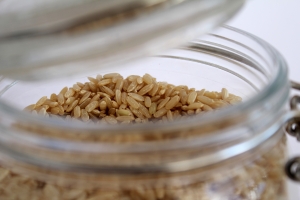 Courtesy of:
Hilton Head Health Institute
Ingredients
1/r cup chopped onions
1 cup chopped celery, with leaves
1 cup uncooked brown rice
1-1/2 cups water or chicken stock
1 teaspoon grated orange zest
1/2 cup fresh orange juice
1 tablespoon fresh lemon juice
1/4 cup slivered, blanched and toasted almonds
1/4 cup pimientos, drained and diced
Method
Lightly coat a large saucepan with vegetable oil spray and heat over a medium flame.
Saute the onion for 5 minutes and add celery. Saute again for 3 minutes.
Add the uncooked rice and saute for 2 minutes.
Add the water or stock, orange zest, orange juice, lemon juice, almonds, and pimientos.
Cover and reduce heat to low. Cook the rice for 15 to 20 minutes until all of the liquid has evaporated.
Fluff and serve.
Notes
We much preferred this with vegetable or chicken stock over water. If you use veggie stock, it's easily made vegan. We substituted red bell pepper for the pimiento on one occasion, and on another, we just left it out entirely.
By the Numbers
| Cal:
120
| Fat (g):
2.5
| Carbs (g):
22
| Sodium (mg):
20
| Protein (g):
3
---
 

March 19, 2013 | Kitchens Spa Index