Whole Wheat Lemon Berry Muffins
For a healthy alternative to all-too-common oversized, high-fat muffins, try these guest favorite Whole Wheat Lemon Berry Muffins from the Green Mountain kitchens. It's made with a mix of whole wheat and all-purpose flour, which gives it a heartier texture and lots more nutrition! Don't forget the lemon zest for extra zip. If you like them sweeter, try sprinkling each one with a pinch of brown sugar.     Photograph by  Torrey Drum, winner of a  $50 gift card from SpaIndex.com and a copy of  "Recipes for Living" by Green Mountain at Fox Run, as part of our Recipes for Healthy Living Contest.
Whole Wheat Lemon Berry Muffins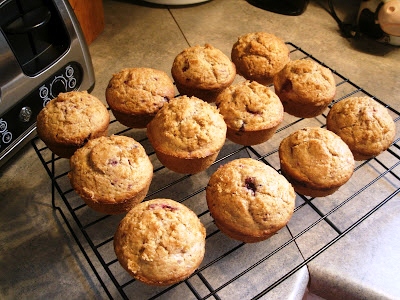 Recipes:
Breads and Muffins
Ingredients
1 cup all-purpose flour
1 cup whole wheat flour
1/3 cup sugar
1/2 teaspoon salt
1 tablespoon baking powder
Zest of one large lemon
1 egg, beaten
3/4 cup fat-free (skim) milk
1/3 cup canola oil
1 cup berries (blueberries, raspberries or combination)
Method
Preheat oven to 400 degrees.
Lightly oil standard 12-cup muffin tin.
Mix together dry ingredients and lemon zest in a medium bowl.
In another small bowl, combine egg, milk and oil.
Add liquid ingredients to dry and stir until just combined. Do not overmix.
The batter should be lumpy, thick and moist, not smooth.
Carefully fold in berries.
Fill muffin tins 2/3 full.
Bake 20-30 minutes or until browned.
 

 

August 27, 2012 | Kitchens Spa Index Green Mountain at Fox Run