Vegetarian Collard Greens
One of our staples during all of our holiday meals is Collard Greens.  I wanted to create a tasty vegetarian option because the holiday season would not be the same without them on my plate.  They have been endorsed from my family members from the south so you know they are good!  Enjoy.
.
Vegetarian Collard Greens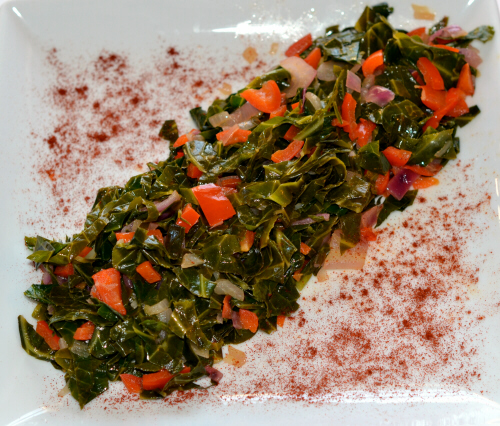 Courtesy of:
Dr. Daemon Jones, ND
Ingredients
1 bunch fresh collard greens
2 tablespoons extra virgin olive oil
Sea salt and pepper to taste
1 medium yellow onion, chopped
1 tomato, seeded and chopped
6-8 cloves of garlic, crushed
1 cup vegetable broth
Juice of 1/2 lemon
2-3 tablespoons rice wine vinegar
Pinch of cayenne pepper (optional)
Method
Clean the collard greens and strip them from the stalk.
Stack 5 or 6 leaves on top of one another and roll them up so they look like a green cigar. Cut across the cigar to make thin strips.
In a large pot, over medium heat, add the olive oil, salt, pepper and chopped onions. Sauté until onions are translucent.
Add garlic, collard greens and vegetable broth. If you are adding cayenne pepper add it now. Simmer on medium-low heat for 30 minutes, stirring occasionally to make sure that the greens are cooking evenly.
Add lemon juice and vinegar, and cook for another 15-20 minutes or until greens are tender. Add chopped tomato during this stage, or, stir in just before serving if you prefer.
---
.
Contributed by Dr. Daemon Jones, ND – Dr. 'Dae" is a naturopathic physician and author of Daelicious! Recipes for Vibrant Living at www.healthydaes.org. Dr. Dae is a member of the Nutritional Magnesium Association at www.nutritionalmagnesium.org.
.

November 4, 2013 | Kitchens Spa Index