Turkey Burgers with Fig Salsa
Christine Denney, the chef for the Oaks at Ojai health spa in California, created this guest-favorite Turkey Burgers with Fig Salsa entree. This is a versatile recipe — it can be used to make a hand-held burger, or as meatballs with dip for a nice snack and appetizer, or even as a tasty salad with fig dressing. 
Summer Turkey Burgers with Fig Salsa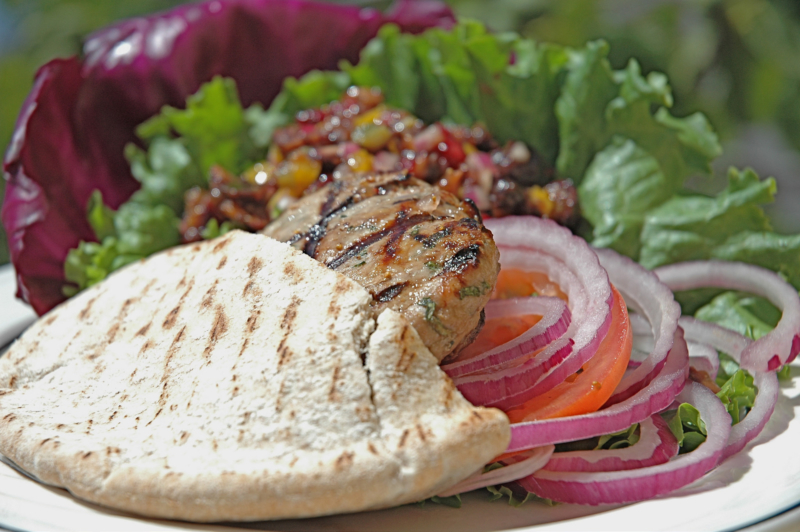 Recipes:
Entree, sandwiches
Ingredients
FOR THE FIG SALSA
2-1/2 cups fresh figs, diced
1/2 cup yellow bell pepper, diced
1/4 cup finely minced red onion
1/2 cup dried cranberries (raisins can be substituted)
1 jalapeno, seeded and minced, or 2 tsp. dried red chili flakes
2 Tbsp fresh lemon juice
2 Tbsp olive oil
1 Tbsp minced or grated fresh ginger
FOR THE TURKEY BURGER
11/2 lbs. ground turkey
1/3 cup chopped fresh figs
1 Tbsp balsamic vinegar
1/4 cup finely minced red onion
1/2 tsp black pepper
2 Tbsp chopped fresh basil (2 tsp. dried)
Method
Combine salsa ingredients and chill for approximately two hours to meld flavors.
Combine all of the burger ingredients, but do not over-mix.
Divide into 6 portions and shape into burgers (or, these can be made into meatballs for an appetizer).
Chill burgers or meatballs for one hour before cooking.
Using a non-stick spray for your grill or sauté pan, spray generously and cook burgers or meatballs over medium heat for 3-5 minutes per side, depending on thickness. (Meat should register 165 degrees in the center.)
Serve warm with fresh fig salsa in a whole wheat pita with your favorite veggies.
Notes
If meatballs are made, they could be served on toothpicks with the salsa as dip, or used with an arugula salad, adding Gorgonzola, feta or goat cheese if desired, and the salsa could be the dressing.
More about the Oaks at Ojai:
This recipe is courtesy of Christine Denney, Food Services Director at the Oaks at Ojai Spa. The Oaks at Ojai is an all-inclusive destination spa in California, a healthy retreat offering guests a range of activity from guided hikes into the mountains, to water aerobics, to restorative yoga.    As an American Plan Spa, The Oaks provides a well-rounded calorie-conscious food plan that consists of three meals, snacks and beverages. The varied menus feature natural foods, fresh fish and poultry, locally-grown fruits and vegetables, homemade salad dressings and soups – all without a touch of additional salt or refined sugar used in the preparation.  You can find purchase a cookbook of recipes from Christine Denney and the Oaks, Recipes from the Heart, on the spa's website.  Browse more recipes from the Oaks at Ojai, click the TAG, below.
---
August 19, 2016 | Spa Index Favorites, Oaks at Ojai, Summer