Swordfish Mushroom Kebabs
Swordfish Mushroom Kebabs are infinitely versatile. Use scallops, shrimp or other firm fish.  Try chicken, lean turkey, or firm tofu, as well, with your favorite veggies.  New Life Hiking Spa in Vermont teaches guests how to make these warm-weather pleasers for a lean, tasty entree.
Swordfish Mushroom Kebabs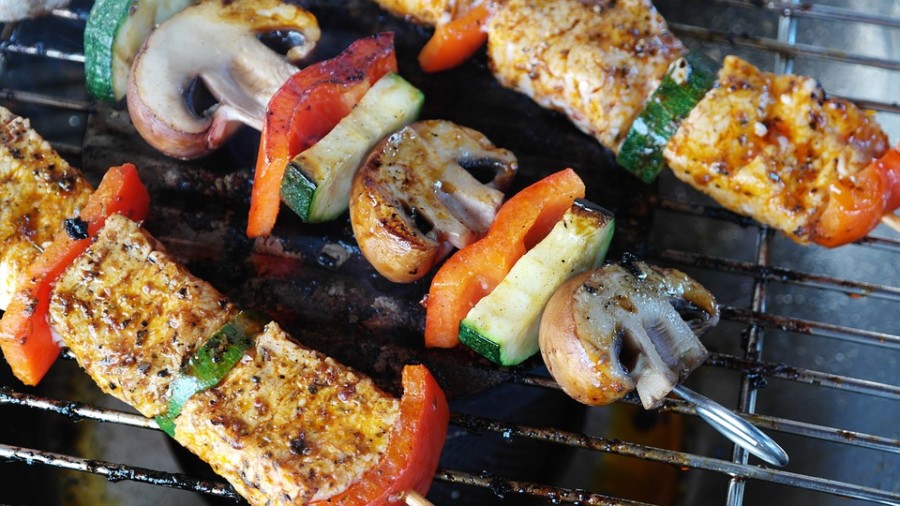 Ingredients
1 lb. fresh swordfish, cut into 1 1/2 –inch cubes - and/or -
1/2 lb. scallops or shrimp
2 bell peppers, cut into large chunks (red or green)
6 large mushrooms
6 cherry tomatoes
1 small zucchini or Japanese eggplant, cut into chunks
2 Vidalia onions, cut into large chunks
olive oil
lemon juice
6 wooden kabob skewers
Method
On skewers, arrange seafood and vegetables in any combination.
Spray a little oil over each kabob, and sprinkle with lemon juice.
Grill slowly about 15 minutes, turning every 3-4 minutes.
Baking kabobs is also possible on a cookie sheet at 325 degrees for 25-30 minutes.
---
About New Life Hiking Spa:
Founded in 1978, and now celebrating 40 years of wellness hospitality, New Life Hiking Spa has been a pioneer in the destination spa industry and is nationally recognized as an affordable fitness and wellness destination.  It offers seasonal hiking and weight-loss retreats in the Green Mountains of Vermont.  All-inclusive stays include hiking, fitness, yoga, massage, accommodations, meals, and more.

 

June 17, 2016 | Spa Index New Life Hiking Spa, Seafood