Stuffed Mushrooms with Feta Cheese
These popular Stuffed Mushrooms are intended as a single-serving treat, but if you increase the ingredients, they can be perfect for your holiday table or Christmas Party.  While this version is vegetarian, you could easily up the protein by adding ground, sautéed Turkey Sausage — a single link for one serving does the trick.

Stuffed Mushrooms with Feta Cheese
This is a single serving size. It is easily adapted for larger portions.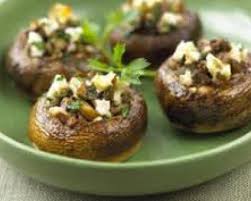 Courtesy of:
Biggest Loser Cookbooks
Ingredients
Olive oil spray
4 medium button mushrooms
2 teaspoons chopped fresh flat leaf parsley
1 1/2 tablespoons crumbled fat-free feta cheese
1/2 teaspoon extra-virgin olive oil
1/8 teaspoon cayenne, or to taste
Method
Preheat the oven to 425°F.
Lightly mist a small baking dish with oil spray.
Pull the stems from the mushrooms by gently twisting the stem until it comes loose and pulls from the mushroom top. Mince the stems and place in a small mixing bowl. Place the caps in the reserved baking dish stem-side up.
Add the parsley, cheese, oil, and cayenne to the bowl. Stir to mix well.
Spoon the mixture evenly onto the reserved mushroom caps.
Divide the remaining mixture evenly among the mushroom caps, mounding the filling on each cap.
Bake for 12 to 15 minutes, or until they are tender.
Let the mushrooms stand to cool slightly before serving.
By the Numbers
Serving size:
4
| Cal:
48
| Fat (g):
3
| UnSat (g):
2
| Carbs (g):
4
| Sodium (mg):
157
| Protein (g):
4
| Chol (mg):
0
Excerpted from various sources including The Biggest Loser Cookbook and Cheryl Forberg, RD, the author of The Biggest Loser Simple Swaps: 100 Easy Changes to Start Living a Healthier Lifestyle (Rodale 2009); Jennie-O Turkey Store;  The Biggest Loser Club
---
 

December 16, 2015 | Kitchens Spa Index Biggest Loser Recipes