Stuffed Green Chilis with Hominy Coulis
This is a terrific savory vegetarian entree from Red Mountain Spa in Utah.  It has a lengthy list of ingredients, so while not a quick entree, it's worth the effort. The colors and depth of flavor make it very satisfying, and with two chilis per person, it's filling.  It's also a recipe which is fun to prepare with friends and family.

The sauces can be ahead and stored until you are ready to prepare the stuffed chilis. You can also omit 1 or 2 of the sauces and substitute a few creamy slices of avocado.  If you prefer stuffed bell peppers instead of green chilis, by all means make the swap!
Stuffed Green Chilis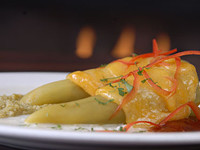 Courtesy of:
Red Mountain Spa, Utah
Ingredients
Chilis (2 per person)
8 mild green chilis
1 tablespoon olive oil
1/4 cup red bell pepper, fine minced
1/2 cup yellow onion, fine minced
1/2 cup button mushrooms, fine minced
1 teaspoon garlic, fine minced
1 teaspoon ground coriander
1/2 teaspoon liquid aminos
3/4 cup red rice, cooked
3/4 cup brown lentils, cooked
3/4 cup yams, cooked and puréed
1/2 cup roasted sunflower seeds
4 oz shredded cheddar or jack cheese (1 oz. per person)

White Hominy Coulis (1/4 cup per person)
1 cup cooked white hominy
1 teaspoon shallots
1 teaspoon garlic
1 teaspoon lemon Juice
1/2 teaspoon cumin
1/8 teaspoon liquid smoke
1/2 teaspoon agave
Pinch Salt
Water
Tomatillo Coulis (1/4 cup per person)
10 tomatillos
1 tablespoons lime juice
2 tablespoons cilantro
Pinch Salt
Water
Chipotle Enchilada Sauce (1/4 cup per person)
1 cup tomato sauce
1 teaspoon chipotle
2 teaspoon chili powder
Pinch Salt
Method
For the Chilis
Bring olive oil to smoke point, add minced red bell peppers, onions and mushrooms. Sauté until onion starts to turn clear.
Add garlic, coriander and liquid aminos. Sauté 1 minute.
Combine with red rice, lentils, yam puree and roasted sunflower seeds. Fill mild green chilies.
Roll chilies in brown rice flour, place on silpat baking mat. Sprits with olive oil, bake at 350 degrees for 10 minutes.
Top with shredded cheddar cheese, bake 5 minutes longer and serve with White Hominy Coulis, Tomatillo Coulis and Chipotle Enchilada Sauce.
For the Hominy Coulis
Combine all ingredients in a blender. Puree, heat, and serve.
For the Tomatillo Coulis
Combine all ingredients in a blender. Puree, heat, and serve.
For the Enchilada Sauce
Combine all ingredients in a blender. Puree, heat, and serve.
---
About Red  Mountain Spa
Red Mountain Spa is blended naturally into a landscape of vivid red rock cliffs and canyons of southern Utah.  The Destination Spa Resort has everything you need to relax, renew and rediscover your passion for adventure. Red Mountain's ideal location allows convenient planning of a customized adventure to Zion or Bryce Canyon National Parks, while Snow Canyon State Park is only about a quarter of a mile down the road. Be as active or relaxed, social or private, as you wish.
---
January 6, 2015 | Kitchens Spa Index Red Mountain Spa Recipes