Spinach Salad with Flax Seed Crunchies
This bright and festive salad is full of flavor, nutrition and anti-oxidants from the pomegranate, spinach and flax.  The Flax Seed Crunchies have butter and sugar, but only a small amount is needed to top this salad — you can omit if you need to eliminate sweets.
There are different varieties of spinach, which is categorized by the type of leaves it produces. This recipe calls for Bloomsdale spinach, which is heartier, with dark curly leaves. You can certainly substitute your favorite spinach variety, or even wilted kale.
Spinach Salad with Flax Seed Crunchies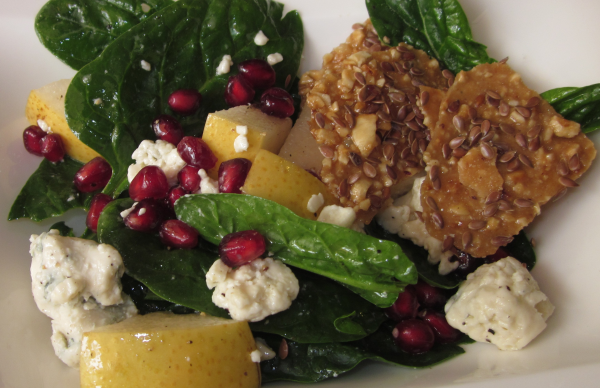 Ingredients
For the Salad
6 cups bloomsdale spinach (cleaned and stemmed)
1 small pomegranate
6 oz crumbled blue cheese or Gorgonzola
2 Asian pears (cut in to 1 in cubes)
Salt and pepper to taste
For the Flax Seed Crunches
1 - 1/2 cups flax seeds
1/2 cup flax meal
2 cups rolled oats
2 cups sliced almonds
3 oz butter
5 oz honey
2 oz light corn syrup
1/2 teaspoon kosher salt
Method
Make the Flax Seed Crunchies.
Pre-heat the oven to 325 degrees F.
In a large mixing bowl add all the dry ingredients together and set aside.
Melt the butter, corn syrup and honey together until well incorporated then using a plastic spatula incorporate it into the dry ingredients by pouring the butter mixture around the sides of the bowl and folding it together. Mix well.
Spread evenly onto a silicon baking liner or a parchment lined baking sheet and bake in the oven till it begins to set. (About 15 minutes.) Let the mixture cool and harden, then break into large crunchy pieces.
Make the salad.
Cut open the pomegranate and remove the seeds discarding the white pith as you go.
Toss the spinach, diced pears and cheese with your favorite vinaigrette and season with salt and black pepper.
Garnish generously with pomegranate seeds and flax seed crunches.
---
January 8, 2014 | Spa Index