GREEN SPAS and ECO-FRIENDLY RESORTS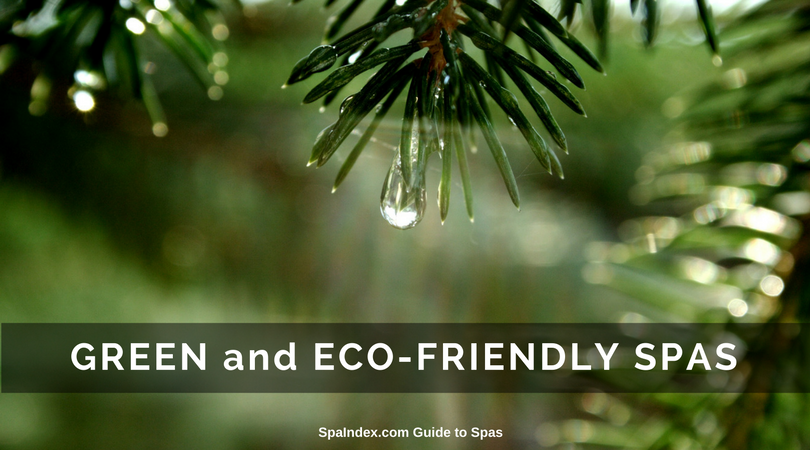 "It's not easy being green" as our friend sings.    In our Green Spas Collection  we spotlight different types of green minded spas — because ultimately, it all matters, and it all helps.   We thank these spas for  every effort made as being a step in the right Green Direction.
Spas with a Green Ethos can be as diverse as those with energy efficient construction with wind-powered or other alternative energy, use of reclaimed building materials, and proudly meeting all the requirements of LEED Certification.
Spas meeting the standards for Leadership in Energy and Environmental Design (LEED) have passed a detailed audit and rating system for the design, construction, operation, and maintenance of green buildings.
For other spas, Going Green can be as simple as offering all-natural spa products or using reclaimed water, reducing their carbon footprint with energy-efficient appliances or garden-grown product ingredients, sourcing as much food as possible from on-site gardens and livestock, or offering benefits for customers recycling product products to reduce packaging waste.
Natural Body Spa and Shop is a leader in the spa community, striving to provide the highest quality services in the most inviting environments.   Natural Body has built upon its origin as a natural products outlet to become one of the greenest companies in the spa business. Natural Body was the first platinum LEED certified day spa in the U.S.  Thirteen locations in Georgia, Florida, North Carolina, and Tennessee.
Massage Green Spas are a group of massage and skin-care spas focusing on affordable services in structures designed to operate in a green fashion.  The spas are constructed from mostly eco-friendly building materials, and use low consumptive lighting and high efficiency furnace and water heaters. The retail departments are stocked with environmentally-friendly products and linens and towels are eco-washed. Nation wide locations.
Ventana Big Sur is a California coastal resort committed to preserving Big Sur's iconic landscape.  Sustainability is a way of life and is incorporated into every facet of the resort operations, from recycling programs, to native landscaping, to farm to fork and fair trade goods, organic spa products,  and supporting the The Planet and the Raincoast Conservation Foundation.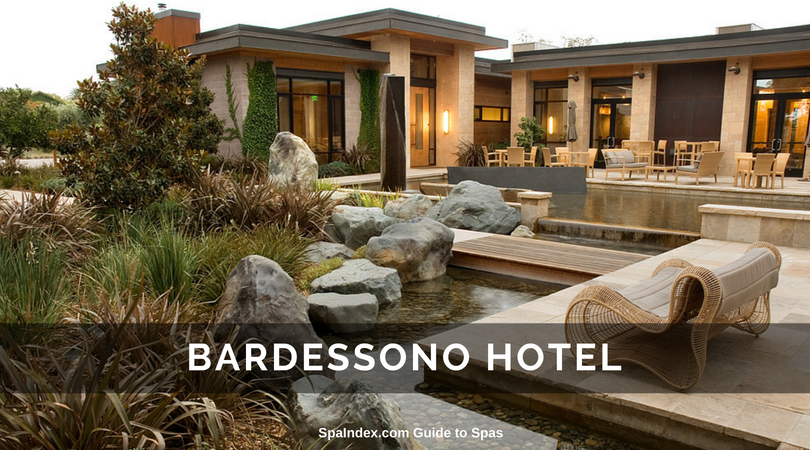 Bardessono Hotel and Spa and Restaurant in Yountville, Napa Valley, is one of only three US hotels with a LEED platinum certification.   At this Napa hotel, you'll see gorgeous woods milled from salvaged trees, organic linens and supplies, consume products in the restaurant and spa sourced primarily from local organic or sustainable producers, and appreciate green policies from energy to conservation to composting.
Calistoga Ranch is committed to "responsible luxury" – from employing green design principles, to using landscaping that preserves water, to installing energy-efficient fixtures and appliances.   The resort strives to make positive contributions to the surrounding environment to preserve the Napa Valley, including the Ranch Bee Well program, which provides hives for more than 100,000 honeybees.
When entering the LEED™ silver certified Hotel Felix, guests are greeted by a ceiling-high mosaic of logs, a water pond, and delicate orbs floating over a gentle fireplace. These elements symbolize an "earth, wind, fire, and water" to emphasize a commitment to the environment.  The boutique spa with three treatment rooms offers eco-friendly products from the purest plant and flower extracts in its treatments.
Chena Hot Springs, known for its popular natural soaking pools, rustic cabins and its natural beauty displays of aurora borealis,  is also home to the Aurora Ice Museum, a marvel of renewable energy engineering, operational year-round using the geothermal energy that heats and powers the Resort. Chena is also home to Chena Fresh, its locally owned produce operation. It is the farthest north greenhouse in the United States.
We-Ko-Pa Resort & Conference Center, is a LEED certified golf club, resort, event center, wedding destination, spa and fitness center, and the Fort McDowell Casino.  Located only 20 minutes from the Phoenix Sky Harbor International Airport, this lushly landscaped oasis offers spectacular views of Arizona's majestic Four Peaks and iconic Red Mountains alongside the free-flowing Verde River.
Westin Riverfront Resort & Spa at Beaver Creek, is a LEED™ certified green resort at the gateway to Vail-Beaver Creek, with access to skiing and golf as well as year-round activities, and the a 27,000-square foot rejuvenating Spa Anjali. The spa's signature treatments are inspired by the healing traditions of the mountains, and the spa offers a unique "Green Check-In" program where guests receive a discount on their services for select green practices.
The Springs Resort and Spa in Pagosa Springs Colorado is home to the EcoLuxe Hotel, a LEED Certified Gold hotel, geothermal springs offering 23 naturally hot therapeutic mineral pools and a mineral water lap pool, a full day spa, and a wealth of family activities. Sign up for a rafting adventure, tour ancient Native American pueblos, or enjoy a good massage and soak after outdoor adventures.
Hyatt Lodge at McDonald's Campus is home to a rejuvenating spa, health club, 70 foot lap indoor pool, outdoor team adventure course, sand volleyball pits and jogging trails, indoor and outdoor dining restaurants, and natural stone fireplaces for a luxury lodge setting.  This LEED Silver Certified green hotel is one of the best family resorts near Chicago.
From concept to construction, Crystal Spa has elevated the model for a "Green" spa to a new level. The 18,500 square-foot spa facility at Crystal Mountain Resort was designed and built to minimize its impact on the environment while maximizing its efficiency. The technologies and materials used in the process have enabled Crystal Spa to be a LEED certified spa.
Inn By the Sea, a boutique inn and spa on the coast of Maine has a Planet Earth First ethos, from its sustainable seafood, to its green amenities, LEED™ certified spa, solar heated pool, biofuel heated rooms, gardening focused events, to its protection of its natural habitat for local wildlife. This lovely coastal retreat is eco-friendly in just about every way it can be.
Hotel Terra Jackson Hole is nestled into the slopeside landscape of Teton Village, just steps from the resort's iconic tram. The hotel is LEED™ certified silver, but pushes well beyond LEED requirements with eco-friendly efforts to preserve and protect the indoor and outdoor environment.  Enjoy eco-friendly natural products and techniques in the hotel's own Chill Spa.
With environmental programs that focus on trees, conservation, and environmental stewardship, Lied Lodge & Conference Center was designed to serve as a resource for the Arbor Day Foundation members and conservation oriented organizations.  It is now home to a lodge hotel, day spa, event center, and welcomes weddings, retreats, and groups.
Blue Osa Yoga Retreat & Spa is off-the-grid, not dependent on any external power lines and sewage system. It relies on an self-sustainable micro-grid, is environmentally conscious, and appreciates commitment to being a self-sustaining, eco-resort in one of the most biodiverse regions of Costa Rica and the world.  The spa treatments rely on natural rainforest botanicals, massage and Ayurvedic healing modalities.
The Parkside Hotel & Spa was designed to showcase its 3-story glass and green roof atrium, rock and stone in and around the building and interior and exterior water features  intended to bring the "inside out, and the outside in."   The 3,000 sqft rooftop gardens help insulate the building and are rainwater irrigated, and the outdoor gardens provide edible fruits and herbs, and Green Living Tips are on evidence throughout the hotel.
La Clairière Bio Hotel & Spa is in complete harmony with its sylvan surroundings.   The environment boosts your energy levels, helps recharge your batteries and inspires you to adopt a healthier lifestyle.  La Clairière espouses an approach of overall well-being, achieved through a combination of holistic treatments, energising, organic cuisine, and the aura of an exceptionally beautiful natural environment.
Probably the world's first "eco" resort, Rancho La Puerta Destination Spa practices sustainable organic gardening and resource conservation, and leads the way in environmental protection and education efforts in the region.    The resort's own Rancho Tres Estrellas grows and raises the healthy fare guests dine on daily, and solar powered and energy efficient fixtures throughout.
Vigilius Mountain Resort is nestled into the alpine landscape on a Vigiloch summit in Italy, embedded in the surrounding landscape of South Tyrol. This 36-key eco-resort is car-free, accessible only by cable-car or by foot.  The resort showcases additional sustainable features, including accessible rooftop gardens and nature-made ethos.
Hare Noi is one of the newest and most exclusive hotels in Easter Island. Nine intimate rooms, spa services, and incredible excursions to experience the history of Rapa Nui in the first person. Enjoy the exquisite local cuisine and the exclusive spa in Easter Island,  where myth and reality fuse in a unique and otherworldy landscape, andnature and an ancient energy and history, give life to the most isolated place on the planet.
The LEED certified Explora Rapa Nui Lodge Easter Island hotel is both stylish and environmentally friendly. The hilltop lodge offers comfortable and well-appointed distraction-free suites and a spa treatment zone with spectacular views.  The hotel and spa was constructed to ensure its impact on the culture and ecosystem of Rapa Nui – the most remote inhabited island in the world – is kept to a minimum.
Spa Index Media is a member of the Green Spa Network
Browse our reader and staff favorite holiday recipes — all perfect for special meals. Light, Healthy, Clean and Crisp Spa Cuisine Meals let you celebrate and keep your goals for clean eating.