What is a Detox Spa Retreat? 
"My liver can clean my body for me, thank you very much."
That's true, and we agree.   The human body actually has the remarkable ability to detox itself, but the problem is we tax it regularly with poor lifestyle choices.  Immersion in a program which has the total removal of toxic substances we've come to think of as "normal" — especially refined sugar, alcohol and caffeine — can get you in the right "head space" to stop junking up the works, jump start your system's own healing tools, and teach you to appreciate, and even crave, a clean-eating palate.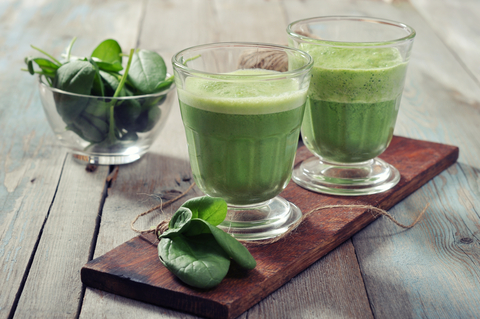 So how do we define a Detox Retreat?  A Detox Spa or Retreat is a facility which has developed and encourages guests to follow either a "Detox Diet" or a dietary plan which focuses on unprocessed or raw food, fruits and vegetables or vegan diets, always with the elimination of refined sugar, caffeine, tobacco and alcohol, which the facility's directors believe will have detoxifying effects.  Detox Spas often offer colon hydrotherapy (colonics) and/or hydrotherapy which they believe will aid in a "body cleanse."  ©
Tip: We believe great care, advance study, and medical advice from a physician should be undertaken by guests before considering following a juicing or elimination Detox Diet for any period of time.

Creacon Lodge is a wellness and retreat centre in the green hills of the Irish countryside. Here you will find peace, quiet, enlightenment, love and a perfect environment in which to find your way back to your true joyful self.
The Creacon Lodge Wellness Centre Food is Medicine Juice Cleanse Programme counsels  that proper nutrition is beneficial in health and healing – helping to clear out toxins and provide a concentrated amount of nutrients to help rebalance your system, improve immunity, rejuvenate skin, and much more.
Creacon Lodge Wellness Centre offers holistic approach to wellness, with classes, workshops, energy treatments, and nutritious meals to promote healing on all levels.  Healing services include Traditional Chinese Medicine, Detox Acupuncture, Hypnotherapy, Psychotherapy, Massage, Skincare  and more.
Grail Springs Retreat offers all-inclusive healthy getaways from 2 to 21 nights for guests to focus on Detox, Rejuvenation, Juice Fasting, Weight Loss, Transformation, and more.  All programs include healthy cuisine supplemented by daily tonics, fresh juices and teas (plus optional juice fasting); anti-aging treatments, massage and holistic therapies; a variety of fitness classes, including yoga, hiking, Pilates, core strengthening and cardio circuit training; seasonal outdoor activities, saunas and soaking tubs and more.
Fresh Start Health Retreat Center offers all-inclusive programs which focus on whole-body detoxification, weight loss, smoking cessation, and rejuvenation, with daily health lectures, exercise classes, emotional wellness workshops, healthy meal preparation workshops;  Yoga and meditation classes; nature walks, delicious organic vegetarian meals and more. Fresh Start offers its health restoration retreats at the Eco-conscious Ocean Resort, Vancouver Island's Spiritual and Wellness Retreat Centre, overlooking Desolation Sound and the Coastal Mountain range.
Copperhood Retreat & Spa in the Catskill Mountains of New York offers transformative getaways of juice fasting detox, weight loss, stress management, and fitness restoration.  Our detox plans rely on fresh delicious juices, super-green drinks, wheat grass juice, potassium broth, citrus water, specialized herbal teas, raw foods and organic cuisine options. We offer Master Cleanse and Liver, Gall Bladder and Kidney Cleanses to help your detox goals. These cleanses, in a supervised, supportive environment, dramatically increases the success rates of your wellness plan. Plus, you will be able to relax and enjoy your beautiful environment while you receive therapies to promote vitality, beauty and wellness. You can expect to lose weight, gain energy and stamina, and be in charge of right choices for your health even after you return home.
The Ranch at Live Oak Malibu assists guests in re-calibrating a healthy lifestyle through an intensive week long endurance, wellness and nutrition program. Limited to fifteen people each week, the Sunday to Saturday stay is designed to deliver sustainable results through a strict, "no-options" philosophy. Choose from that week long program at the Malibu ranch, or a shorter jump start program — R 4.0.   Gain physical endurance, shed unwanted pounds, tone up and detoxify in a healthy and sustainable way.
Sanivan Holistic Retreat and Spa offers customized retreats for those seeking a transformative wellness vacation. Whatever your wellness goal – rest and relaxation, stress-reduction, weight-loss or detoxification, we can support you in meeting your goals.   The intimate retreat accommodates a maximum of six guests at a time in spacious, comfortable and clean lodgings, to assure you enjoy a private and personalized experience.  Guests are welcome to book simple bed and breakfast packages, or request a personal wellness retreat with spa treatments, juice fasting and detox programs, organic meals, holistic healing, and more. Spa Index Readers save 25% with this Booking Offer.
Jump Start Detox Retreats are hosted in New York, New Mexico, and Costa Rica.  This program is dedicated to the restoration of health and fitness, aggressive natural weight loss and detox, and a return to life filled with vitality and well being. Detox your body, restart your metabolism, and lose weight in beautiful surroundings with like-minded guests. Change your body chemistry from fat hoarding to fat burning. Overcome cravings and binge behavior. Exercise and Increase stamina.
One of the country's first boot camp retreats, Vita Vie Retreat has been inspiring and motivating people from all over the world to lose weight, regain energy and live a happy, healthier lifestyle with our weight loss retreat and fitness vacation.   Vita Vie Retreat hosts its guests at the Seagate Hotel & Spa in Delray Beach, where the private classes and group retreats throughout the property are reserved and restricted exclusively for the benefit of Vita Vie Retreat clients.  Your one week spa stay includes accommodations, meals classes, a spa treatment, and more.   Spa Index readers enjoy special savings.
Combine your love of yoga with a Lumeria Glow Cleanse – our state-of-the-art juice and broth cleanse with restorative yoga to strengthen and heal the connections between body, mind and spirit.    The Lumeria Retreat's Detox Cleanse program is a 5 night package with includes your accommodations, consultation with an alchemist, 5 days of the Lumeria Glow Cleanse, Daily Meditation and Yoga, and optional add-ons.
Situated in a spectacular mountain setting in the southeastern part of British Columbia, Mountain Trek is the destination of choice for individuals looking for a challenging weight loss and fitness spa. The expertise of our professional fitness and health staff combined with the natural inspiring surroundings is perfect for fitness, fun, and relaxation.   This fitness and weight loss program includes morning yoga for stress, nourishing foods for hormone balance, outdoor fitness for weight loss, spa, sauna and massages for detox, and nature, light and air in abundance.   The programs are available in 1, 2, 3 and 4 week increments and are tailored for various fitness levels.
Ananda Spa in the Himalayas is located in the region that gave birth to Ayurveda, the process of identifying and correcting imbalance in the main bio energies of the body to achieve health and harmony. For centuries most of the herbs used in Ayurvedic therapies have been sourced from the natural wealth of these forested foothills.   The Ananda Detox Programme has been carefully designed not only to detox the body, but also the mind. This personalized program includes stimulating and purifying dosha specific ayurvedic therapies, yoga, meditation and Dosha-Specific Ayurvedic diet to help to detox, reduce stress and improve health.
Samui Detox Retreats are designed to help people with many different health issues both physical and emotional. Our programs benefits those with conditions ranging from weight loss, IBS, psoriasis, eczema and acne to depression, hormone imbalances and infertility.   Through our integrated program of cleansing, therapeutic exercise, diet and nutrition and deep relaxation, you will have the unique opportunity to rest, heal and rejuvenate in the beautiful surroundings of Koh Samui, idyllically set in the tranquil mountain of Bang Po on the Northern coast of the Island.
Ama Tierra Costa Rica Yoga and Wellness Retreat is located in a beautiful rainforest which offers the perfect environment for rejuvenation and restoration.  At AmaTierra you will nurture yourself with delicious organic foods and professional wellness / detox services, including yoga and wellness retreats. Take a tasting tour of our organic greenhouse or find serenity on a hike to the stream.   Contact us for more information in detailing the perfect detox retreat for your needs.
The Ann Wigmore Institute was funded by Dr. Ann Wigmore, a pioneer in the use of wheatgrass juice and Living Foods for detoxifying and healing the body.    We offer a variety of educational programs and retreats to suit your needs. The program involves sprouting and composting, enzyme nutrition, blending, culturing, menu planning, detoxification, colon care, lymphatic exercise, and conscious eating, breathing and relaxation.
Share This: