How to Choose the best Bed & Breakfast Inn
As with any hotel lodging, you'll want to consider your location, location, location.  Are you interested in a rural experience with little traffic or urban noise?  Or, do you prefer to be walking distance to restaurants, theaters and museums?  One of the primary attractions of a B&B is the generally close proximity to neighborhoods of interest, often of historic interest, or with Inn owners who are familiar with the neighborhoods and local areas of interest.
You'll also want to consider whether you are comfortable in a converted residence with shared common areas and bath facilities, or, if you'd prefer the privacy of guest suites or cabanas on the grounds.   Are you traveling with a pet?  Ask if the Inn is pet friendly, and if so, what deposits are required.
You'll also want to inquire about meals.  Most B&B Inns offer a complimentary breakfast with your lodging. Some are self service continental (fruit, pastries, coffee and tea) while others prepare a fully cooked meal to order.  While some Inns are health oriented (vegetarian or fitness meals), most specialize in hearty comfort fare.  For that reason, special dietary  considerations should be communicated well in advance of your stay.
If the Inn is in a rural area, inquire if the kitchen offers ala carte evening meals, or has an open kitchen policy which means you may use it to cook meals in the evening.  If not, consider that you'll be relying on nearby restaurants (if any).
What are Bed and Breakfast Spas?
While some Inns may refer to their whirlpool tubs as having a "spa" — we prefer our own distinction:  A spa located within a residential Inn or Lodge in which a guest is provided a private sleeping room and at least one meal (typically breakfast, although additional meals, tea service, or snacks are often be available) prepared and served on the premises.   Residential common areas are usually shared. The spa should not refer to a Jacuzzi or Whirlpool; it should be a dedicated room or outbuilding for spa and wellness services provided by a licensed professional. ©
As for Inns listing spa services, inquire if the on-site services are therapeutic (massage or skincare by licensed professionals), or are relaxation oriented (hot tubs, foot baths, aromatherapy).  If therapeutic services are offered, be sure to book as far in advance as possible.
Listed below are some of our favorite Bed and Breakfast Inns with spa and wellness services.   Also try a deep search by tag to view even more B&Bs with spa services.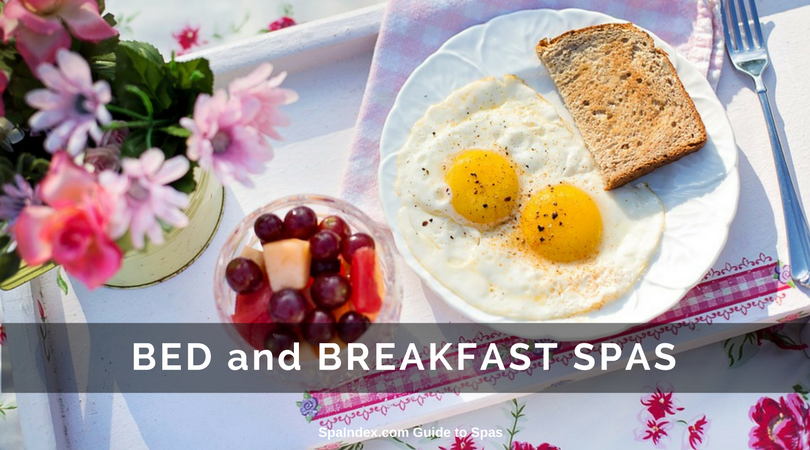 Click here to browse our favorite B & B Spas