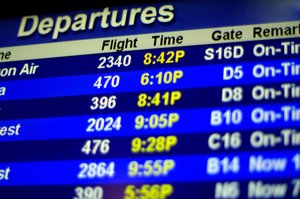 Whether you're an occasional tourist or a seasoned traveler, the next time you visit a busy airport, stop and take a close look around — you'll soon discover airports are providing its masses of air and road weary guests with amenities designed to offer more than the traditional hot dog, cinnamon roll and coffee break.
With Spa Kiosks and Spa Lounges now operating in major airports, you now have the option to pass up a vinyl booth at the food court and instead sink into a plush lounge chair at the airport's massage and pedicure station.
Massage? At an airport?  You could probably think of better or more interesting locations for relaxation treatments. Then again, it's actually a natural fit to offer stress-reduction services and amenities in an environment which typically causes all of us, at one time or another, significant stress.
Airport Stress Levels can vary wildly from High (you have no time to spare as you race down the concourse to catch a flight) to Low (you have three hours to while away as a result of a delayed arrival), making it more important than ever to make the most of the time immediately before and after air travel.
For the latest in Airport Spa Lounges, visit Sea-Tac in Seattle, Washington, Vancouver International in Vancouver, B.C., Newark International in New Jersey, or O'Hare International, in Chicago, Illinois — each of those airports offers full-service spa facilities.
In addition, at Calgary International Airport, in Calgary, Canada, a former flight attendant opened O2raOxygen, the world's first oxygen spa, where travelers can purchase a dose of fresh,  clean air. After disembarking from a crowded aircraft where you have breathed recirculated air for several hours, Suzanne Letourneau says, "They just breathe the oxygen for 15 minutes. Close their eyes and relax."
© Spa Index 08-21-2002