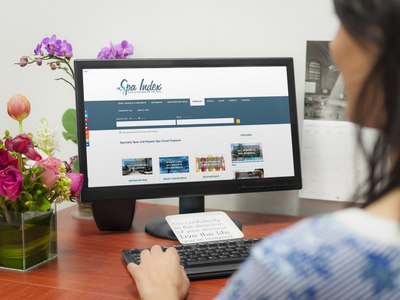 CURIOUS ABOUT TYPES OF SPAS?
What type of environment or services can you expect from your spa and wellness hosts and providers?  
Browse this helpful Guide to Spa Types.
An all-inclusive resort is a holiday or vacation resort at which your stay-package includes meals, beverages, and other amenities.  The general standard is a minimum of three meals daily per person, including non-alcoholic beverages, very similar to a cruise-ship plan, and some All-Inclusive Resort Plans include gratuities and a handful of services or amenities (such as gym and fitness access or newspaper delivery, valet parking or use of bicycles or sporting gear), as well.  Spa services at All Inclusive Resorts are almost always rendered for an additional fee, unless a massage or other service is included in a package plan.   Even without purchased spa services, access to the common spa areas and amenities, including Jacuzzi tubs, steam room and relaxation lounges, are often complimentary.  ©
A spa located within a residential Inn or Lodge in which a guest is provided a private sleeping room and at least one meal (typically breakfast, although additional meals, tea service, or snacks could be available) prepared and served on the premises.   Residential common areas are usually shared. The spa should not refer to a Jacuzzi or  Jetted Whirlpool; it should be a dedicated room or outbuilding for spa services by a licensed professional. ©
A fitness or boot-camp spa are health retreats which focus more heavily on physical activity and less on relaxation or spa treatments.   They are usually geared to those who not totally deconditioned and can withstand more physical exertion. The regimen will always include fitness and personal training, life coaching, healthy cuisine, and a no-nonsense or set-schedule approach to get optimum results in short bursts of time (from weekends to week-long stays). They often have options for massage and spa treatments but the physical program is key. ©
A facility whose primary purpose is fitness and which offers a variety of professionally administered spa services on a day-use basis. †  Club Spas also refer to hotel and day spas which permit guests to visit on a daily basis subject to an ongoing membership fee with attendant privileges.
WHAT IS A COSMETICS or SKIN CARE SPA?
A spa that primarily offers aesthetic/cosmetic and prevention/wellness procedures and services such as facials, peels, waxing and other non invasive procedures that are within the scope of practice of its staff but do not require on-site medical supervision.  †
WHAT IS A CRUISE SHIP SPA?
A spa aboard a cruise ship providing professionally administered spa services, fitness and wellness components and spa cuisine menu choices. †
A hotel, resort, or destination spa which in additional to traditional spa treatments and services, also offers seminars, demonstrations, or classes which teach the best way to shop for, store, and prepare healthy food used in spa cuisine, focusing on dishes which are healthy, low fat, high protein or meet special dietary needs.  Culinary Spas can also include hotels, resorts and lodges which offer cooking classes with a regional flair, such as cooking with locally sourced or grown-on-site ingredients, historic or regional specialties, and kids-in-the-kitchen programs. ©
WHAT IS A DAY SPA?
A spa offering a variety of professionally administered spa services to clients on a day-use basis. Day spas offer many of the same services and procedures as cosmetic spas.  †
WHAT IS A DENTAL SPA?
A facility which offers both professional, licensed dental care as well as relaxation and aesthetic treatments designed to relax the patient before or after dental services. These services may include color therapy, hand and foot massage, manicures and pedicures, body massage, aromatherapy, and skincare.  ©
A destination spa is a facility with the primary purpose of guiding individual spa-goers to develop healthy habits.  Historically a seven-day stay, this lifestyle transformation can be accomplished by providing a comprehensive program that includes spa services, physical fitness activities, wellness education, healthful cuisine and special interest programming. †
A detox spa is a facility which has developed and encourages guests to follow either a "Detox Diet" or dietary plan (e.g., unprocessed or raw food, or the juices of fruits and vegetables only, or vegetarian diets, typically all with the elimination of all refined sugar, caffeine, tobacco and alcohol) which the program directors believe will have cleansing effects. Detox Spas often offer colon hydrotherapy (colonics) and/or hydrotherapy to aid in a "body cleanse." © Tip: We believe great care, advance study, and medical advice should be undertaken by guests before considering following a Detox Diet for any period of time.
A green spa is a facility, either for day use or in a hotel environment, which subscribes to an ecological sustainable ethos and strives to carry out predominantly ecologically and environmentally friendly practices, including but not limited to favoring natural and organic ingredients over synthetic ingredients in treatments; organic and natural textiles  in linens and apparels; use of alternative energy and power; recycling of both goods, textiles, and water; and reduction of noise, light and sensory pollution. ©
WHAT IS AN IN-ROOM OR MASSAGE-ONLY SPA?
Strictly speaking there is no such thing as a "massage only spa" because massage modalities don't offer the literal translation of "SPA – health through water" (although Watsu [in-water massage] would be an exception) or involve aesthetic service. Still,  many hotels and resorts offer so-called "in-room spa treatments" in order to  encourage guests to view massage or limited associated services as part of the means to relax and rejuvenate. Typically, a massage therapist will set up portable massage and treatment tables and perform a variety of massage modalities in the privacy and comfort of your guest room so that you need not travel outside of the room and can shower and change in the comfort of your own guest bath.  This is particularly useful if you are body-shy, have limited mobility, or you are on a strict schedule. Some in-room services include light skincare (e.g.,  treatments or services which don't require the use of sophisticated equipment, such as galvanic current, steam, lasers, and such), and "bath butler services" whereby your guest room's bath is converted to a spa like environment with  luxury amenities, rose petals, wine, scents, oils, and more.  ©Tip:  If "in room services" for massage and skincare are offered and provided by the same therapist, be certain the therapist is both a licensed massage therapist and a licensed aesthetician.  Also see "Mobile Spa."
A facility that operates under the full-time, on-site supervision of a licensed health care professional whose primary purpose is to provide comprehensive medical and wellness care in an environment that integrates spa services, as well as traditional, complementary and/or alternative therapies and treatments. The facility operates within the scope of practice of its staff, which can include both aesthetic/cosmetic and prevention/wellness procedures and services. †
A spa offering an on-site source of natural mineral, thermal or seawater used in hydrotherapy treatments. †
A mobile spa contracts with or employs licensed and trained therapists (which may include massage therapists, aestheticians, and stylists) who travel to the guest's residence, hotel, special event (wedding, church, reception) or office (conferences, seminars) to perform skin care, body care, massage, hair styling, and similar services.  ©
A ranch resort or lodge which offers as its primary recreation a menu of outdoor activities including horseback riding, fishing, hiking, camping, swimming and trail walking, and, dining is more rustic and hearty, often outdoors or on the trail. The ranch spa should offer on site spa and wellness services.  Some ranch spas classify spa services as massage or hot-tub soaks, while others more appropriate classify it as offering massage, hydrotherapy, skin care, hand and foot treatments, and aromatherapy services, of a level more easily performed in a rustic environment (e.g., without more advanced services which require equipment not suitable for a rustic environment). ©
WHAT IS A HOTEL SPA OR A RESORT SPA?
A spa owned by and located within a resort or hotel providing professionally administered spa services, fitness and wellness components and spa cuisine menu choices. In addition to the leisure guest, this is a great place for business travelers who wish to take advantage of the spa experience while away from home.†  While exclusive hotels may restrict access to the spa to overnight guests, in many cases resort/hotel spas also act as day spas for local clientele and may offer special rates for people that live in the community.  Hotel Spas can include "boutique" hotels and Inns (limited rooms), while Resort Spas can be significantly larger.  The spas are not always owned by the resort or hotel, and may be operated by a partner leasing the facilities from the hotel or resort, for the benefit of its guests and the community.  ©
An RV spa resort is a camping or lodging facility which provides space for parking recreational vehicles (RVs) intended to be used as accommodations by the RV owners.  At casual RV Spa Resorts space for parking the RV is be provided, but no hookups for sewer or power.  At luxury RV parks and resorts, dedicated spaces with hookups for sewer and power are provided, as well as common area facilities including fitness rooms, swimming pools, whirlpools, and spa treatment rooms. In additional many traditional resorts offer RV Access in a nearby area so that its guests may pay only for the space to park the RV, but are still entitled to use all common amenities. ©  Tip:  Many motels, hotels and RV parks refer to a whirlpool bath (Jacuzzi) as a "spa."  This should not be confused with a hot springs spa, mineral springs fed spa or pool, day spa, or spa treatment room. 
WHAT IS A SALON SPA?
A beauty salon which offers primarily services for cutting, grooming, and styling hair for men and women, and also offers certain spa services, usually in a smaller space or single treatment room, including nails, skin care, waxing, threading, and massage.   Typically there is neither a private quiet-lounge or relaxation area, nor "wet" — sauna/steam/hydrotherapy  –services. ©
Salt Spas or Salt Rooms and Caves are wellness studios which feature halotherapy services — either passive through a resting in comfortable recliners or lounges in order to breath in the positive effects and negative ions produced by sea salt and sea salt architectural components (including floors and walls) or interactive — through the use of halogenerators or chambers and booths which increase the level of exposure. A Salt Spa encourages guests to relax in a scent-free and pure air environment which is conducive to improving respiratory health and addressing related allergy and other issues. ©
WHAT IS A SPIRITUAL SPA?
A spiritual spa retreat is a wellness destination with overnight accommodations (lodge rooms, bunkhouse, dorm, cabins, or guesthouses) at a retreat centre (e.g., farm, monastery, school) conducted by individuals who encourage the use of  personal reflection, prayer, or meditation, as well as offering body and wellness services which could include yoga, massage, hydrotherapy, colon therapy, steam and sauna, and more.  ©
WHAT IS A VINOTHERAPY or WINE SPA?
Vinotherapy or  Vinotherapie is a beauty therapy process in which either the residue of wine making (the pips and pulp) are incorporated into skincare and body care treatments (scrubs and masques) because the pulp is believed to have anti-oxidant, anti-aging and exfoliating qualities, or, wine (still in  drinkable form) is added to a treatment (usually hydrotherapy) to soften the skin.  Increasingly, the incorporation of grapeseed oil, a natural antiseptic, ground grape seeds as a "scrub", and wine extracts and scents in lotions and potions are also being described as "vinotherapy" as well, although this is more pleasurable than therapeutic.  ©
A weight loss spa or retreat is a  facility which operates under the full-time, on-site supervision of a licensed professional, which may include a medical doctor, dietician or nutritionist, whose primary purpose is dietary and nutritional education, counseling, programming in order to assist guests in achieving healthy weight goals.  Additional services may be available,  but the primary focus of the retreat is a healthy weight by proper nutrition.   With respect to a Weight Loss Camp, the facilities and programs are geared toward the needs of children, teenagers and young adults.  At a health retreat, additional wellness programs are offered,  which may target other health issues, including diabetes, hypertension, and more, as well as offer aesthetic or cosmetic procedures and services. ©
COPYRIGHTS
Definitions marked with † are provided by the International Spa Association. All other definitions marked (c) are copyrighted by Spa Index Media, LLC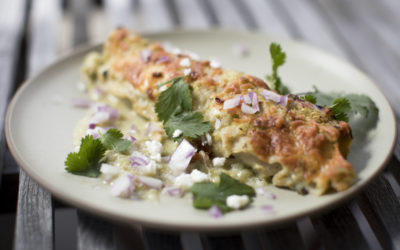 These baked vegetarian enchiladas created by Rancho La Puerta's Executive Chef fairly ooze with a delicious sauteed filling of chard, cheese and onion for a light and healthy main course.