Spa March Madness – Elite 8
THIRD ANNUAL SPA MARCH MADNESS
It's March, and in the USA, that means "fan"-tastic events are taking place for March Madness!  Each year, March Madness is one of the most popular fan participation events on the American sports calendar, but you'll also see fun tournaments being played for everything from Best Brunch Spots to favorite television characters to this season of Dancing with the Stars.
We think it's also a fun way to vote for favorite Spa Resorts and Hotels in playoffs for the vaulted title as Spa Index Readers' Choice Favorite USA Spa Resort.     
THE SCHEDULE
Monday, March 13, 2017
64 Original Contenders Announced
Monday, March 20, 2017
32 Second Round Contenders Announced
Friday, March 24, 2017
Sweet 16 Contenders Announced
Monday, March 27, 2017
Elite 8 Contenders Announced
Friday, March 31, 2017
Final 4 Contenders Announced
Tuesday, April 4, 2017
Our Champion Spa Resort Announced
HOW and WHEN TO VOTE
Click To Vote on our interactive POLL, below (

limit 1x per ROUND

); and/or
TWEET your selection during an active round using #SpaMarchMadness as your hashtag and @SpaIndex  (

limit 1x per user per DAY)

; and/or
Comment on this blog post, below, once per round (

Limit 1x per person per ROUND

).
Comment on our Facebook posts (

limit 1x per user per relevant post

); and/or
TAKE THE POLL! (ONCE PER ROUND, ONLY, PLEASE)
Please note that this poll is SO popular that the many hundreds of votes per day can overwhelm our poll and the server. Consequently, please only take the electronic poll, below, once per ROUND.   Multi votes from the same user and same IP address on our electronic poll will invalidate all votes by the submitting IP address.  You may TWEET up to once per day, however!  Use the TWEET button, above, for daily voting, but use the POLL for one vote per ROUND.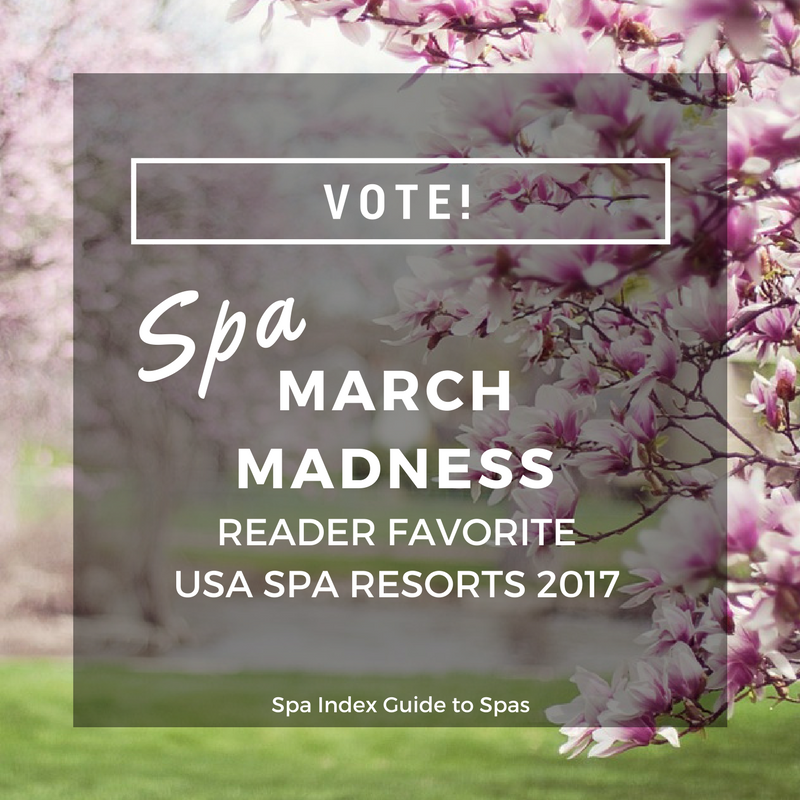 Encourage your friends and followers to vote for your favorite Spa Resorts with this graphic, which you're welcome to share on social media platforms.   Use this graphic and URL.

ABOUT OUR 2017 POLL
We polled our editorial staff, our panel of more than 150 secret Spa Reviewers, and a diverse group of our most loyal newsletter subscribers in every region of the USA, to help us winnow down the list to 64 contender spa resorts ranging from urban city hotels, to mountain retreats, to desert hideaways, to ocean front luxury resorts.

Trust us — it was hard for everyone to choose ONLY 64 resorts, and it will be harder still to now vote weekly as the tournament progresses — because as one said "You won't have a bad experience at any of these stellar destinations."

Those same judges — and our visitors and guests — will now help us vote to advance contenders until the championship is announced — the crowning of the Reader's Choice Favorite USA Spa Resort for 2017.

March 27, 2017 | Spa Index Best Of, Polls