Spa March Madness 2016
It's March, and in the USA, that means "fan"-tastic events are taking place for March Madness!  Each year, March Madness is one of the most popular fan participation events on the American sports calendar, but you'll also see fun tournaments being played for everything from Best Brunch Spots to favorite television characters to this season of Dancing with the Stars.
We think it's also a fun way to vote for favorite Spa Resorts and Hotels in playoffs for the vaulted title as Annual Spa Index Readers' Choice Favorite USA Spa Resort.     
#SpaMarchMadness
We polled our editorial staff, our panel of Secret Spa Reviewers, but mostly a diverse group of our most loyal newsletter subscribers in every region of the USA, to help us winnow down the list to 64 spa resorts ranging from urban city hotels, to mountain retreats, to desert hideaways, to ocean front luxury resorts.
Trust us — it was hard for everyone to choose ONLY 64 resorts, and it will be harder still for those judges to now vote weekly as the tournament progresses — because as one said "You won't have a bad experience at any of these stellar destinations."
Those same judges will now help us vote to advance contenders until the championship on April 8 — the crowning of the Reader's Choice Favorite USA Spa Resort for 2016.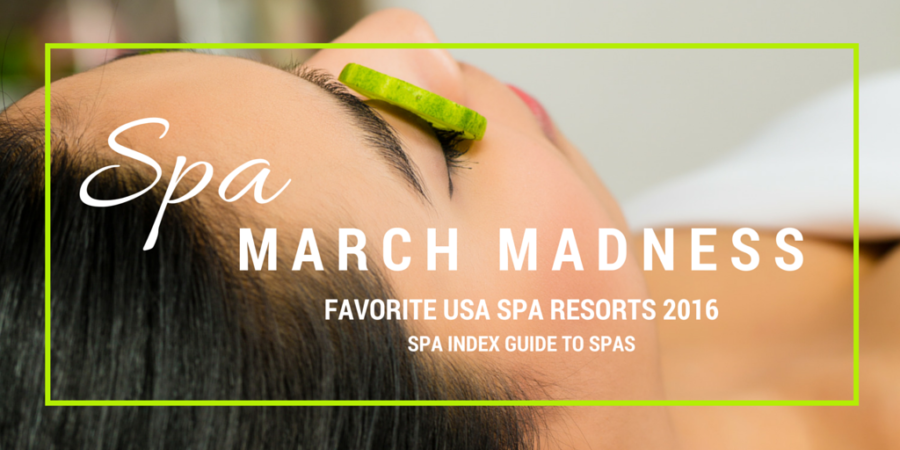 CLICK TO EXPAND OUR BRACKET —  CHAMPIONSHIP CONTENDERS
THE CHAMPION — OUR READERS' FAVORITE USA SPA RESORT
CHAMPIONSHIP ROUND – OUR FINAL 2 CONTENDERS
ROUND 4 – OUR FINAL 4 FAVORITES PROCEEDING TO THE CHAMPIONSHIP ROUND
---
Gateway Canyons Resort (CO)
Setai Miami Beach (FL)
Mii Amo (AZ)
Miraval Resort & Spa (AZ)
ROUND 3 – OUR ELITE 8 FAVORITES PROCEEDING TO THE NEXT ROUND
---
ROUND 2 – OUR SWEET 16 FAVORITES PROCEEDING TO THE NEXT ROUND
---
ROUND 1 – OUR 32 WINNERS PROCEEDING TO THE NEXT ROUND
---
OUR ORIGINAL 64 CONTENDERS
---
---
#SpaMarchMadness
Tues, Mar 22 — Round 1
Fri, Mar 25 — Round 2
Mon, Mar 28 — Sweet 16
Thu, Mar 30 — Elite 8
Mon, Apr 4 — Final 4
Tue, Apr 5 — Championship
W

ed, Apr 6 — Champion Announced
---
How to Vote:
The majority of votes will come from our panel of Secret Spa Reviewers, staff, and our newsletter subscription list.  You may also vote by:
Tweeting your selection during an active round using #SpaMarchMadness @SpaIndex

Commenting on our Facebook posts, ONE SET per user, during each round

Commenting to this blog post, below, ONE SET per IP address, during each round.  Your SET may contain votes for the entire round (e.g., four selections for the Elite 8).
We will add all votes from our sources to our internal votes as we advance our contenders through each round!
March 6, 2016 | Spa Index Best Of, March Madness Spas, Polls