Strawberry Ricotta Trifle
Chef Richard Ruskell developed this low calorie dessert for guests of the Phoenician in Scottsdale.  "Begin preparing this recipe the day before you plan to serve it for the best flavor" says Chef Ruskell.

Strawberry Ricotta Trifle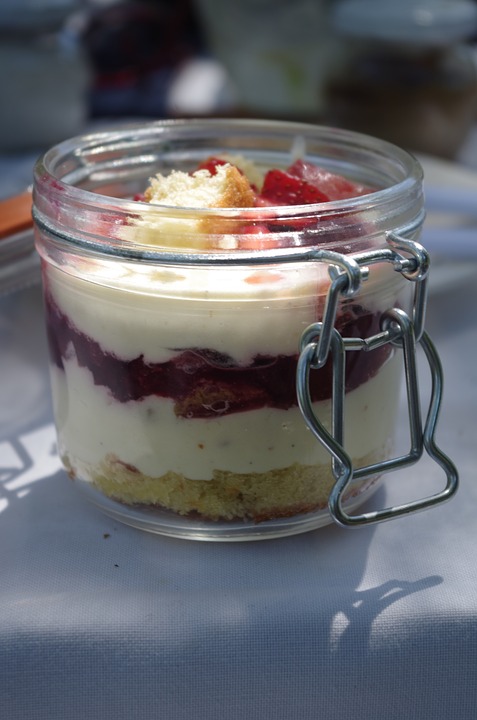 Courtesy of:
Chef Richard Ruskell, The Phoenician Centre for Wellbeing, Arizona
Ingredients
4 cups strawberries, hulled and quartered
1 cup sugar or 1 cup Splenda Blend for Baking
2 cups low-fat ricotta cheese
Nonfat milk, as needed
1 angel food cake, prepared
Fresh strawberries, for garnish
Method
In a medium bowl, sprinkle strawberries with 1/2 cup of the sugar. Cover and refrigerate overnight to macerate.
In a blender or food processor, combine the ricotta cheese with remaining sugar. Process until smooth. If the mixture is too thick, add a little nonfat milk to make it creamy.
Cut the angel food cake into 1/2 inch thick slices. Place the slices around the bottom and up the sides of a 4 cup clear glass bowl.
Spoon some of the strawberries over the cake slices.
Spread about one-fourth of the ricotta cheese mixture over the berries.
Cover with more cake slices. Repeat with remaining ricotta mixture, strawberries, and cake, until all have been used.
Cover the trifle with plastic wrap and refrigerate for at least 3 hours or overnight before serving.
Just before serving, remove the plastic wrap and decorate the top with fresh strawberries.
Notes
We have prepared this with sugar substitutes and other lower calorie sweeteners with great results. We also prefer to add fresh orange zest to the berries while they macerate.
By the Numbers
| Cal:
420
| Fat (g):
7
| Carbs (g):
77
| Sodium (mg):
530
| Protein (g):
13
| Chol (mg):
25
---
June 4, 2013 | Kitchens Spa Index