Biggest Loser Raspberry Sorbet
 The sky's the limit for flavor possibilities with this frozen sorbet recipe, because you can use different berries or fruits, such as peaches or mango. We think it's best as it is, but for a variation we added one big dollop of sugar free fat free non-dairy whipped topping to the blender to make a dark pink "ice cream." You could do the same with a few spoonfuls of fat free half and half (it does have it uses) or even soy milk or creamer.
Biggest Loser Raspberry Sorbet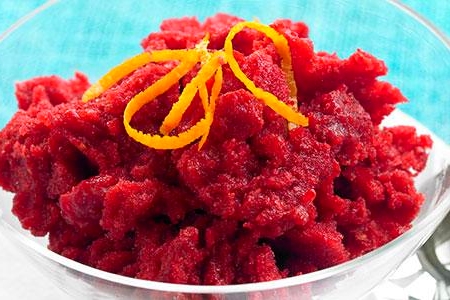 Courtesy of:
The Biggest Loser 30-Day Jump Start by Cheryl Forberg, RD.
Ingredients
2 cups frozen raspberries or other frozen fruit
3 tablespoons apple juice or orange juice
1/2 teaspoon cinnamon or pure vanilla extract (optional)
Fresh mint leaves
Method
Place the frozen fruit, juice, and the cinnamon or vanilla extract (if desired) in a blender or food processor.
Blend or process until smooth, scraping down the sides of the container as necessary.
Add extra juice if needed.
Serve immediately, garnished with fresh mint.
By the Numbers

| Cal:

35

| Fat (g):

0

| Carbs (g):

9

| Sugar (g):

3

| Sodium (mg):

1

| Fiber (g):

4

| Protein (g):

1

| Chol (mg):

0

June 11, 2013 | Kitchens Spa Index Biggest Loser Recipes