Biggest Loser Pumpkin Custard
This recipe for Biggest Loser Pumpkin Custard is so good, you'll consider making it a mainstay at the holiday table. It also makes a wonderful breakfast.
Biggest Loser Pumpkin Custard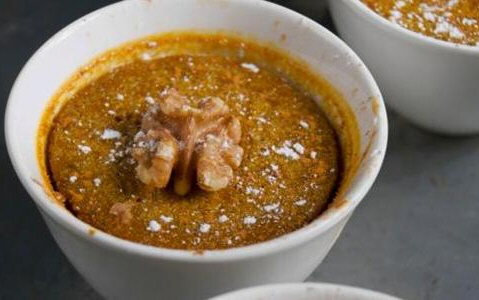 Courtesy of:
Biggest Loser Premier Membership meal plan
Ingredients
2 cups pumpkin, cooked
3/4 cup evaporated nonfat skim milk
1/2 cup fat-free egg substitute
2 tablespoons maple syrup
1 tablespoon cornstarch
1 teaspoon cinnamon
1/4 teaspoon nutmeg freshly grated
1/8 teaspoon ground ginger
Method
In a 3-quart casserole, whisk the pumpkin, milk, egg substitute, maple syrup, cornstarch, cinnamon, nutmeg and ginger.
Cover with vented plastic wrap; microwave on high for 10 minutes, stirring once.
Stir, cover and microwave on medium for 15 minutes, stirring twice.
Let stand for 15 minutes.
By the Numbers
| Cal:
78
| Fat (g):
0
| Carbs (g):
16
| Sodium (mg):
57
| Fiber (g):
2
| Protein (g):
4
| Chol (mg):
1
---
November 21, 2013 | Kitchens Spa Index Biggest Loser Recipes, Pumpkin