Low Fat Coffee Creme Brulee
This recipe for low fat coffee creme brulee is worth the effort of baking and caramelizing with  torch.   It incorporates both instant coffee granules and Kahlua, skim milk, eggs, reduced fat cream cheese, and more.  Perfect for a romantic dinner.
Low Fat Coffee Creme Brulee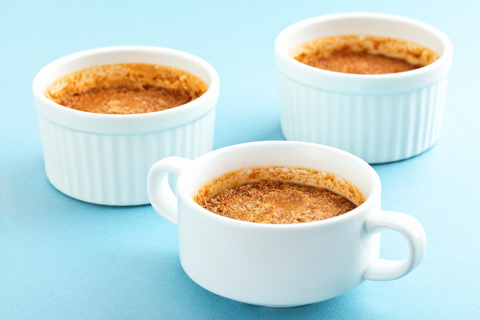 Ingredients
2 cups 2% milk
1 1/2 cups evaporated skim milk
2 tablespoons instant coffee granules
2 tablespoons Kahlua
1 teaspoon cornstarch
3 eggs
4 egg whites
2 teaspoons vanilla
7 ounces fat free sweetened condensed milk
2 tablespoons sugar
3 ounces low fat cream cheese
5 ounces fat free cream cheese
1 1/2 cups brown sugar, sifted
Method
Combine milks, coffee, Kahlua and cornstarch in a saucepan and heat, stirring until the coffee granules dissolve. Combine with remaining ingredients and puree until smooth in a food processor.
Divide into individual custard cups and cook in a water bath at 325 degrees for 1 1/2 hours until set. Chill.
Sprinkle brown sugar over tops of chilled custards trying to cover completely.
Caramelize quickly with propane torch.
By the Numbers
Serving size:
1
| Cal:
242
| Fat (g):
33.6
---
January 24, 2014 | Kitchens Spa Index Lake Austin Spa