Smoked Turkey Hummus Wraps
This recipe for Smoked Turkey Hummus Wraps is courtesy of Everyday Recipes by Ste Anne's Spa in Ontario, Canada.  Wraps are almost always a family favorite for lunch as they are easy to pack, don't tend to get as soggy as sliced bread, can be customized in a variety of ways with the fillings staying put, and providing the wrapper is a modest size, are lesser in calories than two slices of sandwich bread.  Feel free to doctor this wrap with your favorite vegetables, taking advantage of seasonal offerings (for instance, thinly sliced raw zucchini in place of the peppers, and even shaved carrot and celery makes a delightful "crunch."
Smoked Turkey Hummus Wraps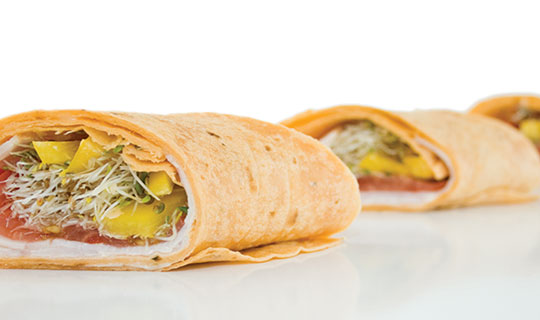 Courtesy of:
Ste Anne's Haldimand Hills Spa, Ontario
Recipes:
Sandwiches and Wraps
Ingredients
3 large whole wheat tortillas rounds
1 cup hummus
1 1/3 cup smoked turkey (thinly sliced)
1 bell pepper (thinly sliced)
1 cup alfalfa sprouts
Salt & pepper to taste
Method
Spread hummus on tortillas and season with salt and pepper.
Top with smoked turkey, bell pepper and alfalfa sprouts (or veggies of your choice)
Roll the tortilla, slice in 2 and arrange on a plate
Notes
Not a fan of hummus? Try light cream cheese instead of hummus or use sun-dried tomato / spinach tortillas for a different color and flavor. Also, leftover chicken and turkey chopped and mixed into the hummus makes a great spread when you don't have plentiful lunch meat.
Everyday Recipes from Ste. Anne's Spa. Designed by Executive Chef Christopher Ennew and a dynamic team of professionals who are passionate about food and cooking, the cookbook features outstanding recipes for breakfast, lunch, afternoon tea, and dinner that have been converted to a smaller, family-sized scale.
---
 

April 21, 2015 | Spa Index