Salmon with Sesame Asparagus – Eden Health Retreat
Lean, green and nutritious! The humble asparagus might surprise you with its overall value in a healthy food regime. This Salmon with Sesame Asparagus recipe is a tasty way to add it to your weekend culinary delights and contribute to your wellness at the same time.
Salmon with Sesame Asparagus
This is a colorful, fast, and nutrient rich entree, terrific on an outdoor grill but just as easy in a skillet.
Ingredients
For the Marinade
1/3 cup soy sauce
1/3 cup rapadura sugar
1/3 cup water
1/4 cup olive or coconut oil
For the Entree
1 serving (approximately 4 oz) of salmon per person (preferably with kin on one side)
1 kg of asparagus, trimmed (will serve 6)
Melted butter or one of the oils if you prefer
2 tablespoons shallots, minced
2 tablespoons sesame seeds, lightly toasted
1 lemon
Sea salt
Baby tomatoes
Method
Season salmon fillets with lemon juice, pepper and salt
Make the marinade. In a small bowl, stir together soy sauce, rapadura sugar, water, and preferred oil until dissolved. Place fish in a large resealable plastic bag with the marinade, seal, and turn to coat. Refrigerate for at least 2 hours.
Preheat grill grate or skillet for medium heat. Lightly oil or butter.
Remove salmon from marinade, discard marinade. Place salmon on the preheated surface, cook salmon skin side down firstly, for 5 to 6 minutes per side, or until the fish flakes easily with a fork.
Place oil and asparagus in a glass baking dish and toss so that the asparagus is completely coated with oil. Bake at 200 c for about 8 minutes, shaking the dish every 2 minutes or so.
Sprinkle on the shallots and sesame seeds and bake, with one or two shakes for 1 minute more. Transfer to heated serving bowl and squeeze on lemon juice. Season to taste.
Toss baby tomatoes on a grill or skillet after coating with oil, cook to preferred tenderness.
Plate the asparagus, tomatoes, and one fillet per person.
---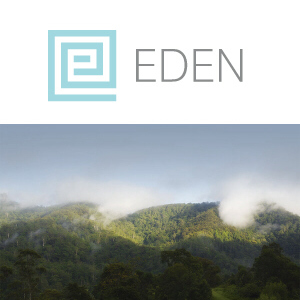 Eden Health Retreat

This beautiful health retreat and destination spa is in Queensland, Australia.  A stay at the retreat promises to help restore the balance by offering a holistic program specially designed to alleviate stress and maintain optimum health through healthy eating, exercise and pampering. People of all ages and walks of life come to the Eden Health Retreat – whether to manage their weight, improve their diet, stop smoking, combat stress or to just take some well earned time out from their busy world.

October 29, 2014 | Spa Index Eden Health Retreat, Seafood