Rosemary Roasted Beet Salad with Goat Cheese
The beets in this salad give a hearty and rich, earthy flavor, which pairs well with the sweet caramelized onions and peppery arugula. The creamy goat cheese, and crunchy buttery hazelnuts pull it all together to make this salad fit and delicious!
Rosemary Roasted Beet Salad with Goat Cheese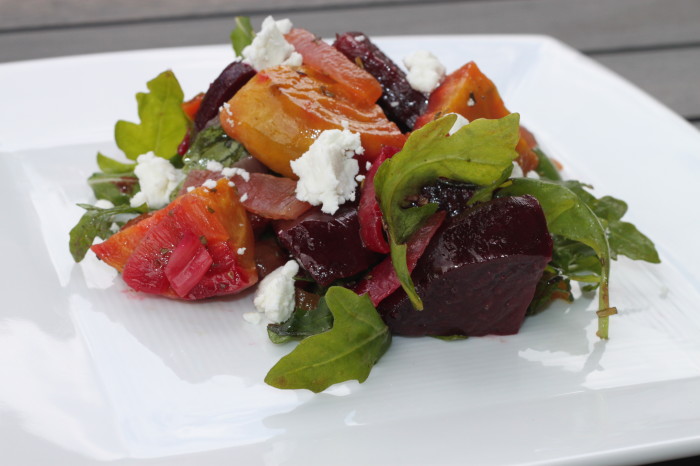 Courtesy of:
ProACTIVE Chef Shauna Shaik
Ingredients
2 medium red beets
2 medium yellow beets
1 tablespoon finely chopped fresh rosemary
2 tablespoons of olive oil
1 teaspoon kosher salt
1/2 teaspoon black pepper
2 cups of arugula
1 yellow onion, sliced
Juice from half an orange
Juice from half a lemon
1/4 cup of crumbled goat cheese
2 tablespoons toasted chopped hazelnuts (see note)
Method
Preheat oven to 400 degrees.
Peel and slice the beets in half-inch rounds, then quarter each round. Toss the beets with the rosemary, olive oil, salt and pepper in a bowl.
Spread the beets out on a cookie sheet lined with parchment. Roast the beets for 35 minutes or until fork tender. Remove from the oven and let cool. (Beets also can be transferred to a plate and chilled in the refrigerator).
While the beets are roasting, heat a sauté pan over medium heat and add 2 tablespoons of olive oil. Add the onions and 1/2 teaspoon of salt, stir, and lower the heat to medium low and let caramelize for about 20 minutes, stirring occasionally.
Toss the arugula with the orange and lemon juices and a pinch or two of salt to taste. Add chilled beets and caramelized onions. Top with goat cheese. Adjust seasoning as needed.
Notes
NOTE: To toast hazelnuts, heat a dry sauté pan over medium heat. Place hazelnuts in the pan and move around occasionally until lightly golden and fragrant.
---
ProACTIVE Chef Shauna Shaik received her culinary education from Kendall College, where her interest in globally inspired flavors was paired with her passion to create fit food that tastes amazing. http://proactivechicago.com


March 17, 2014 | Spa Index