Red Mountain Spa Strawberry Shortcake Recipe
Summer means strawberries, red and juicy from your local fruit stand.  Red Mountain Spa's lower calorie version of  Strawberry Shortcake is a delicious way to use this nutrient dense summer fruit.   As with any recipe, you can substitute the whipped cream with another topping of choice, including coconut cream or non-dairy topping, and you may use alternative sweeteners if you don't wish to use white sugar.    Try it with peaches and other berries, or a mix of your favorites.
Red Mountain Strawberry Short Cake Recipe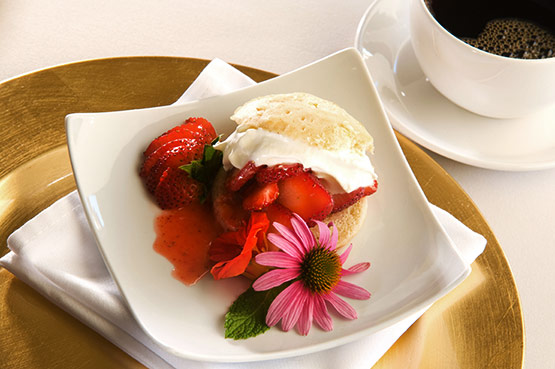 Ingredients
1 cup strawberries, sliced
6 teaspoons of sugar
1 each egg
1/2 teaspoon kosher salt
1/2 cup sugar
1 tablespoon baking powder
5 tablespoons canola oil
1/2 teaspoon cinnamon
1 teaspoon lemon zest
1/2 cup 2% milk
2 - 1/4 cup all purpose flour
1 tablespoon lemon juice
6 tablespoons whipped cream
Method
Combine sliced strawberries and sugar. Mix well and allow to rest for at least 30 minutes. The mixture should become very juicy. as the berries macerate.
Preheat conventional oven to º350 F.
Whisk the egg, sugar, lemon juice and oil together in a bowl.
In a separate bowl, mix the lemon zest and dry ingredients and stir until well mixed.
Slowly add the dry ingredients into the liquid ingredients (egg, sugar, lemon juice and oil) and mix to create a thick dough.
Add the milk and mix well.
Lightly grease a baking pan, drop 3 tablespoon size mounds on the baking sheet, 2 inches apart.
Bake at º350 for 12-15 minutes. Let cool for 15 minutes.
Prepare the whipped cream.
Place bottom half of the shortcake on plate. Top with sliced strawberries, some of the juice from the strawberry/sugar mixture, and whipped cream.
Top with the other half of the shortcake and enjoy.
Notes
Red Mountain provided this Nutritional Key: Nutritional Key: Calories/Carbs/Proteins/Fat/Fiber 346/18/11/18/7. That didn't sound right to us, as this recipe uses more carb ingredients than 18 grams. We ran each ingredient through our calculator and divided it into 6 small portions. The stats shown below are based on our own calculations, and 6 portions. Bonus Tip: If you have really sweet, farm fresh berries, you don't need as much sugar to macerate. Slice, sprinkle with lemon juice and just a little bit of sugar, and let your tongue be your guide, rather than the numbers.
By the Numbers
Serving size:
1
| Cal:
435
| Fat (g):
19
| Sat Fat (g):
5
| UnSat (g):
4
| Carbs (g):
60
| Sugar (g):
23
| Sodium (mg):
112
| Fiber (g):
2
| Protein (g):
7
| Chol (mg):
53
---
Whether your goal is weight loss, improved athletic performance, stress relief, increased energy or simply trying something new, Red Mountain Resort offers an extensive range of enjoyable yet highly effective programs, fitness classes and workshops for all ages and abilities. Our fitness professionals can also create a customized program that assesses and addresses your specific needs.
---
July 10, 2015 | Spa Index Red Mountain Spa Recipes, Summer